Cape Breton, Nova Scotia Winters – How the Old Tall Tales Became Reality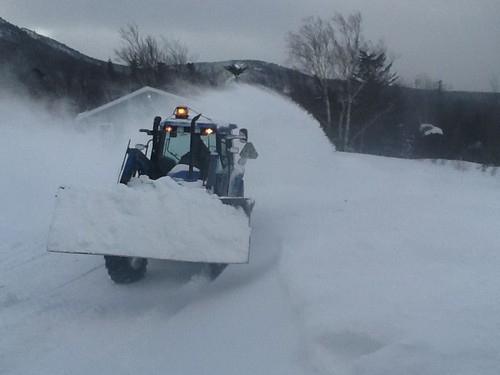 I was born and still live in Cape Breton, Nova Scotia.  Most people in Cape Breton are part of rural small Scottish communities rich in Gaelic culture, story-telling, tall tales and ghost stories have always been a basic element of our every day life.
A tale we would hear when I was a child was "I remember there was so much more snow than nowadays. I recall walking to school and the snow piles were so high that your grandparents would tell us, Be careful not to touch the wires on the power poles because you could get electrocuted."
Well to be honest this wasn't something only my Mom said, rather many of us children would hear this type of story from parents, grandparents, aunts, uncles and more. Countless evenings I would sit in the kitchen getting as close as possible to the red hot wood stove burning hardwood or coal and I would hear this saying replayed a thousand times by different relatives.
Each time I heard one of my relatives tell this story about how high the snow was there was always a little more snow then the last  telling of the tale.  They often talked about the dangerous trek to school. Yes, the dangerous long trek to school because prior to my generation it appears school was never cancelled, regardless of the weather and dangers it imposed.
Honestly,  I started to become skeptical about the tales my relatives told after the age of 8 – that was until this winter. After the weather we received in December 2013 and much of January 2014 I am now a true believer.  Typically we see temperatures 0 to -6 degrees Celsius on the Island during that time period but we weren't so lucky this year.
Battered with storm after storm, strong winds and temperatures dropping at times to -30 Celsius with the wind chill factor, I believe the elders in my family would say, "oh it's just an old fashion Cape Breton winter, I guess you young ones believe us now!"
There was another old saying we often heard when I was young .  I can see myself sitting around the hot stove and hearing my relatives say, "the proof is in the pudding," or in our case  this winter season, in the height of the snow drifts.