Verruckt: The World's Tallest Water Slide Preview Video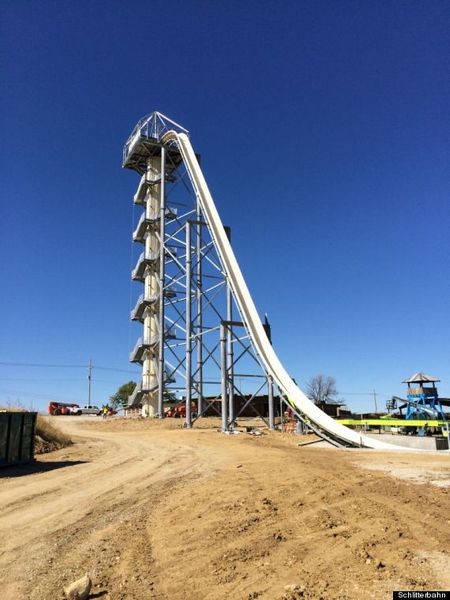 Kansas City is soon to be home of the world's tallest water slide, Verruckt. I am pretty sure that is ATOMIC WEDGIE in German because this beast is taller than Niagara Falls.
In May of this year, Schlitterbahn park patrons will be able to experience this terror first hand. A few months ago, Jeff Henry, Schlitterbahn's co-owner, released a statement and few photos of the attraction. He didn't confirm any official heights, but he did assure thrill-seekers that it would break records.
"This new MEG-A-BLASTER speed-slide is going to wow our guests and is going to be a game changer for our industry. Our greatest challenge will be to find thrill seekers brave enough to ride."
Now, we are getting a video of the nearly completed slide courtesy of a drone. We still don't have an official height (rumors say it hits 170 feet), but lets just take note that Niagara Falls is 167 feet (51 m) tall. You can equate that to sliding down a 17 story building. The current record holder is Kilimanjaro in Brazil standing 164 feet (49 m) tall.
At least you won't tackle this alone. You and 3 other people man a raft and plummet down the slide hitting the 60 mph marker. Another hill awaits after you have gone down the initial drop.
Physics always astounds me, but I still don't think I am brave enough! Water slide accidents are rare, but do happen.
In 2012, a 19 year old man fell off the Venom Drop at Six Flags Hurricane Harbor in California. Miraculously he survived. In 2001, a 41-year-old woman flipped off a 6-story high water slide and didn't make it. However, most injuries come from the intense speeds you reach while plummeting. Cervical spine injuries are the most common issue according to studies. Most of the victims of water slide injuries are children under the age of 12 and women in their adulthood.
So, seek thrills, but remember to follow every recommended safety method and follow instructions.