Paradise Point Review: San Diego Family Friendly Adventure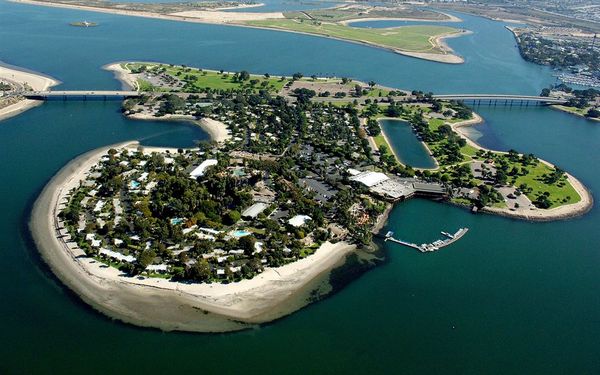 To really experience Southern California at its finest, a stay at Paradise Point in San Diego is a must! My family found this quietly hidden piece of paradise four years ago and have gone back each year since to experience both the comfort and the luxury of this 44-acre island hotel located minutes from downtown San Diego and Sea World. Amazingly, each time we've gone, we've had a new experience, seen something we hadn't before, tried different activities, and/or chosen a different restaurant to eat at. The beauty of Paradise Pointe is that you can make your vacation whatever you want it to be with the abundance of activities they offer, and the location of the resort.
Each time we have stayed, we've opted for the amazing bay view bungalows. Having the sand, the water, and a few fire pits right in front of your private little home's large window is not only scenic, it is almost like having a playground full of fun for children right in front of your bungalow's patio. Each bungalow has a great layout and they make excellent use of the 450-650 square feet of space. Choose from a garden, lagoon, or bay view. Personally, we first chose the bay view and loved it too much to reserve anything but in later visits. We will likely try the lagoon view next, just to change things up next time.
The bungalows are really well laid out and have a nice large bathroom and a kitchen with a dining area! A perfectly-sized living room sits behind a nice large window that is great for seeing the beautiful view, but can easily offer privacy when the curtains are closed. The bedroom is just the right size and closets and dressers give enough space to comfortably house all of your clothes during your stay.
Our first visit consisted of plenty of walks on the beautiful grounds that immediately transport you into the tropics with landscaping that includes 600 types of exotic foliage, a mile long beach, and quaint long walkways that take you through the entire Four-Diamond resort.
We just took everything in. It was fun just walking to the gift shop/general store! And this store REALLY came through as I somehow left my bathing suit at home. I thankfully found what is now my favorite bathing suit in the store and the price was actually reasonable.
We did do some swimming as well and that was probably my daughter's favorite activity. With five large pools (one is an adults-only pool), guests would never have to walk too far for a quick dip. We loved the main pool which has a beach-style entrance and is perfectly heated. Behind the amazing pool is a Jacuzzi and a very good-sized gym with an assortment of machines. Poolside service is available to feed your hungry or quench your thirst, and kids are entertained with the option of fun floating animals and toys while they swim.
A few short steps down is the main store and then the amazing spa which boasts almost any service imaginable including massages, facials, a variety of body treatments, foot scrubs, scalp treatments, manicures/pedicures, a whirlpool, salon, retail store and more. This 7,050 square foot spa reinforces the "paradise" in the resort name. I visited the spa on my second visit and am anxious to go back for another service next time. The staff is wonderful and the facial I had was miraculous.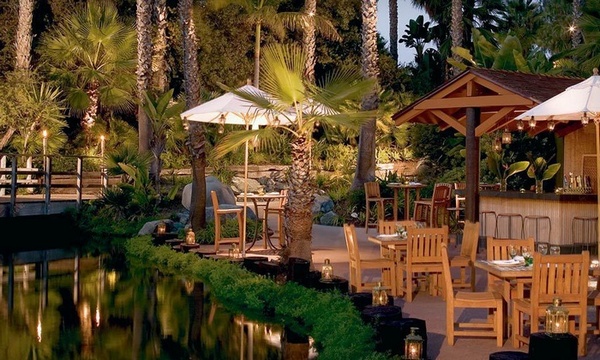 Our first visit included riding a quadracycle surrey one afternoon, and a trip to Sea World the next day. We came back to our relaxing bungalow, got ready for a nice dinner at Tidal, and had an amazing meal complimented by a gorgeous view and wonderful staff. Later that night, we took a trip to the main store for some ice cream and treats. Our second visit included a walk over to the marina where we rode a Sea-do and had a super-fun time in the water. We came back tired and enjoyed a nice rest on our patio planning our evening.
We wanted something casual and fun, and had already eaten at the Barefoot Café for lunch, so we opted for the cool little hidden pizza place, Caveman Pizza Company. It was fun, the pizza was great, and it was just right for a relaxing meal. When we got back to our bungalow, we enjoyed a nice fire in the fire pit, and just had some great family time. The next day my daughter and I had a great time walking through the sand picking shells. My husband was at the gym, and we all met up at the pool for some swimming. Then, headed back to our bungalow and my husband and I relaxed on the sand as our daughter waded in the shallow water in front of us on what felt like our own private beach.
That night we ventured out to Little Italy and walked around enjoying all that San Diego has to offer. It was close, and parking is easy.
Every morning, we love to go get treats and coffee from the coffee shop in the main lobby (which has an amazing breeze and seating area). While each room has a stocked coffee maker, nothing beats bringing a good book and having coffee in the main lobby.
It was our third visit that my daughter discovered that she could buy food for the many ducks on the property, and for the fish as well. She had us walking everywhere to feed all of her new friends. We didn't mind because the walk in itself is a relaxing, beautiful adventure. There are so many great spots for taking pictures that we've created photo album after photo album from each of our trips. Even with all of the activities that we experienced, there are still a few that we have yet to try. There is an 18-hole putting golf course, a basketball court, 5 champion tennis courts, kayaking, paddleboards, jet skis, ping-pong, and croquet!
So, you can probably imagine why this has become our favorite destination. Despite only being a couple hours away from us, we always feel like we've gone to an exotic island the moment we reach the entrance of Paradise Point. If I could buy one of the bungalows and go every weekend, I would! Or, perhaps I'd live there full time! There is truly no place like this in San Diego. Not even in all of Southern California. Nothing comes close to what Paradise Point has to offer.
The greatest part of each trip is that we make it what we want it to be, and it has been a different, unique experience each time. One thing is always consistent, though. The staff—in all areas of the resort—go above and beyond to make you feel pampered. Trust me, you will not be disappointed with Paradise Point.
In fact, if you are like me, you won't even want to leave!