Pin This: The Best Time to Book Travel Arrangements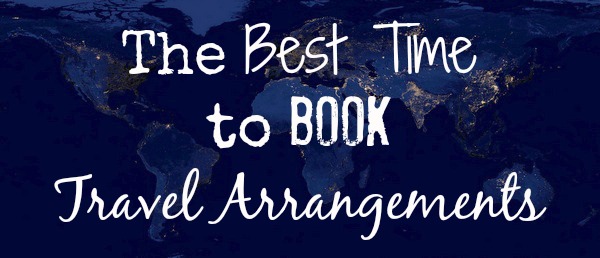 It's true – there is a time and place for everything. When it comes to booking travel arrangements, there are "best times" that can save you money. Whether you are booking flights, hotels or car rentals, we have the times outlined for future budget-friendly traveling.
Hotels are slightly more stable than most travel industry services. Seasonal rates are what you should be looking at when it comes to saving money. As for how far in advance you should be booking…either go for last minute deals or look for advance booking discounts if you are willing to commit several months in advance. Thanks to data gathered by Agoda during 2013, these are the best times to book your hotel in various locations…
Best Time to Book Hotel Rooms In Select Cities
New York: January – early March
London: January – mid March
Tokyo: First week of January
Rome: January – February, Mid-October – First Week of December
Los Angeles: First week of January, First Week of September
Sydney: First two weeks of January, October – Mid-November
Paris: Most of January, First week and last week of February, Mid-August
Renting a car can seem like a mystifying crapshoot. You throw the dice and hope for the best. However, timing and location do matter.
Save Money Booking a Rental Car
*Fares tend to be cheaper on the weekends.
*Bringing the car back early can turn your weekly rate discount into a higher daily rate charge.
*Skip Insurance – You might already be covered via your current car insurance or even your credit card.
*Don't rent at the airport. Price compare nearby offsite rental locations and then use public transport to get there.
*Don't book at the counter. Have a reservation.
Flights slide up and down the price point scale thanks to dynamic pricing, which can end up cost you hundreds extra if you make this common mistake. Also, using the last-minute tactic that might have helped you save on hotels, will cost you when it comes to airfare. When booking your airline tickets, keep this time table based on 2013 pricing data in mind…
***When To Book Cheapest Airline Tickets
Domestic Flights: 30-100 days in advance/ 54 day marker sweet spot
Europe: 151 days in advance
Asia: 129 days in advance
Mexico: 89 days in advance
Africa: 166 days in advance
South America: 80 days in advance
Cheapest Days to Fly: Tuesdays and Wednesdays
Cheapest Day to Book Flight: Tuesday Afternoon
Note that all these times can and, most likely, will fluctuate.
***As noted, flight prices have changed. Click HERE to see updated times for the best time to book a flight….