The Golden Rules of Saving Money While Traveling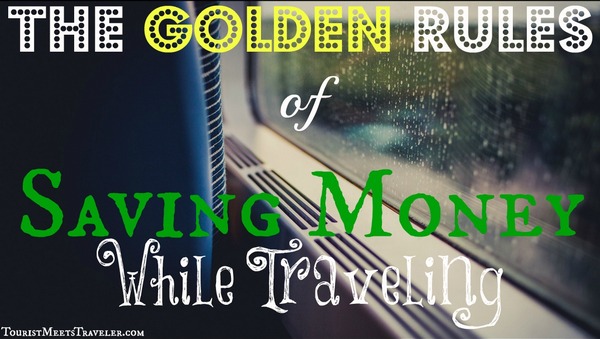 One of the top reasons people don't travel…expense. Gas, plane tickets, food, accommodations and even forgotten toiletries drain your bank account. You'll come across enticing claims of people abandoning their thankless cubicle job and traveling the world. It sounds amazing, with a dash of too-good-to-be-true; but it's just not a reality for some.
However, traveling can be more accessible and wallet-friendly than you think. More often, solo travelers can score more freebies than families, but you can still save money while exploring. Try these tips and you'll be saving money while traveling all over the world.
*Currency Conversion, Use an ATM – If you need cash – find an ATM. Airport kiosks are convenient…for a reason. Their exchange rates are high and you could be charged shipping fees depending on how you want the money delivered. Some make the argument for traveler's checks; it's ensured money, but AAA's foreign currency and check fees are pricey. Plus, finding a merchant who accepts them can be challenging. Which brings us to plastic…
*Credit Cards – A good card can also save you from fees and even help you travel for free. They are a slippery slope if you aren't responsible and budget-conscious, so keep a registry of every transaction to help you keep grounded. You can find several wonderful options, but I am a fan of Capital One's Venture card. It has no annual fees and no foreign transaction fees. So, getting Euros from ATM won't cost extra and the currency conversion rates are fair. Plus, you earn miles for every dollar you spend which you can use to "erase" previous travel purchases or book new adventures.
*Skip Hotels – They are so 2002. A trend that travelers are embracing is home-swapping and sites like Airbnb. It's often significantly cheaper, roomier, unique and doesn't have hidden fees or noisy hotel room neighbors. You can find everything from just a room to an entire house, igloo or mansion to rent. The experience alone is also worth it. Often, hosts will leave maps, suggestions and even programmed GPS devices to help you explore the area like a local. Couchsurfing's website will even hook you up with free places, often just a couch or blow up bed, someone is willing to share for free.
*Call if a Hotel is a Must – Some just aren't comfortable with renting out someone's home. If you are more comfortable at hotel, search those lovely discount travel sites (Kayak, Priceline, etc), but don't book it online. Always, always, call the specific hotel and ask for discounted rates, but don't dial the generic 1-800 number. You won't get anywhere. Locate the number to the front desk of the branch and ask to speak with someone to book a room. Kindly and politely inform the clerk you found a price on a discount website, but was hoping to book through the hotel directly. Hotels pay discount travel sites fees, typically higher than what they pay travel agents, and will be happy to entice you with even better rates to avoid having to pay fees. Plus, you are less likely to get bumped if the accommodation overbooks.
*Cook Your Own Meals – Staying somewhere with a kitchenette will save tons of cash. Eating every meal in a restaurant adds up. If you can cook one meal a day yourself, you can save an average of $10 per person per day. For a 2 week trip that is $140 for a solo traveler, for a family of five – $700. It's an easy trade for some light grocery shopping. Hit local markets for cheaper prices that will give you a real taste of the city. Ask for recommendations to prepare dishes if you are wary with cooking something foreign to you. Grabbing some meat and bread from a deli is another favorite must-try experience. Take you meat, cheeses and bread to the park and enjoy a picnic for an experience you won't find even at a restaurant with the best outdoor seating.
*Discount Cards – Are you a senior citizen? Student? In the military? Have AARP? All these statuses come with discounts. Ask retailers, airlines, restaurants if they offer discounts. It never hurts to ask. Even if you don't fall into these categories, visit your destination's website for tourist discount cards.
*Visitor's Center – Stop there. You will often find shelves upon shelves with brochures packed with coupons. This is another great place to find discount cards and suggestions from locals. Here you will be able to find information about using money-saving public transportation…
*Public Transportation – Taxis are huge budget-busters. Just about every city offers an unlimited day pass that saves you money on the already cheaper-than-a-cab prices. Learn the routes or ask someone at the visitor's center or booth you are purchasing the pass from what bus they'd recommend to take to the museum, hotel, or restaurant you are looking for.