Vacation Ruining Factors You Can Control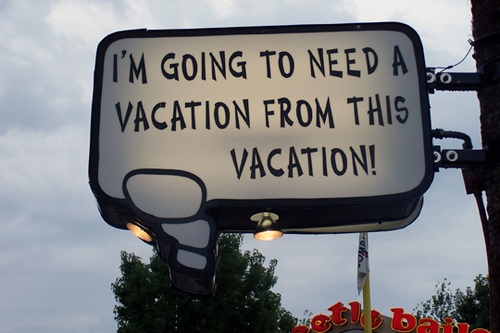 We've all been there. Two exhausted and frustrated parents are white-knuckled behind the wheel of a mini van while a tot screams uncontrollably as a tween stares out the window completely unappreciative of the time, effort and money this "vacation" cost. You begin to question if the trip was worth the mutiny was worth it.
Sometimes travelers bring the vacation ruining factors on their own. Focus on the things you can control and rest easier knowing you have set yourself on the path of good vacation.
Have a plan, not an itinerary.
More vacations have been thwarted by trying to pack in far too much on tight schedule. Those pricey plane tickets encourage us to soak up every minute of sightseeing, fun and exploration, but you are wasting your money if you don't enjoy any of it. Allow a day or two with no plans toward the middle/end of your vacation. You can just relax by the pool and if you or your family gets bored, revisit something you enjoyed for a couple hours. It is a vacation after all!
Unplug.
I mean it. Turn email alerts off, turn the iPad off and leave your phone for making dinner reservations and the occasional GPS if you get lost. I have gotten myself wrapped up in looking for restaurants on Yelp and monitoring wait times for rides at Disney or letting some app dictate what I do. If you need dinner recommendations, try your hotel concierge or ask a local. The concierge can often score dinner reservations even if the place is booked and might even have a coupon. A local will be able to give you insights on great places that aren't tourist traps. The friendlier residents might even have a suggestion on something fun to do afterward.
Work smart, not hard.
Planning a vacation is just part of the fun for me, but some dread it. If you are one that just wants to throw a spare toothbrush and underwear in a bag and go, invest in a Travel Agent. It may sound passé, but they can save you time and money. They can also score you deals you can't get on your own. The typical agent doesn't charge customers. (If you find one demanding payment, seek another agent.) So, it is a free service and I highly recommend an agent if you are traveling with a large group or exploring internationally. Just be clear and concise on what you want. If you want to make sure you get a hotel with a pool, express that you won't entertain options that don't have one.
Take pictures.
Not just of your kids standing with a giraffe or state sign. Take photos of your passports, tickets and other important documents. If you lose these papers, you can be screwed. If you have a photo, it will express the process of replacing them significantly. This tip saved us at Disney once. We lost a ticket in the Fast Pass kiosk, but were able to replace it thanks to my picture showing the numbers on the back.
Time it right.
If you are cruising during hurricane season, expect a rocking boat and damaged islands. If you book flights into New York in January (especially during this 2014 snowpocalypse season) don't be surprised with delayed and cancelled flights. There are instances when you don't have much choice in timing, but do what you can and research your destination or ask that travel agent to score discounts on shoulder seasons and find the safest time to travel.
What is your favorite tip to maximize your vacation enjoyment?