Visting Paris: Top Free Things To Do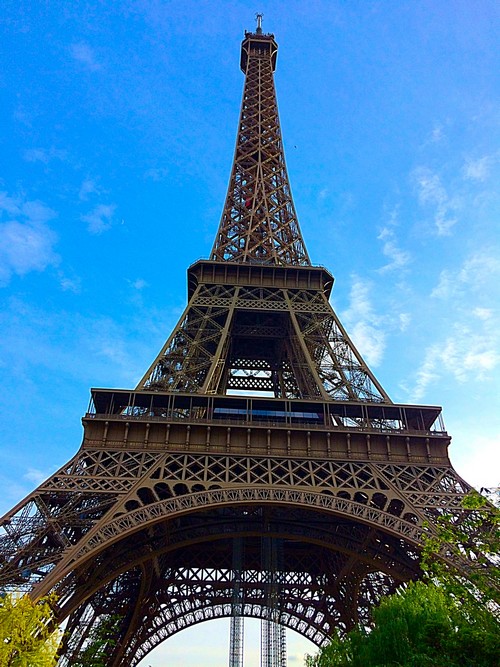 Paris is one of the most hauntingly beautiful cities I've ever visited. Below its surface is a tapestry of bones that line the pathway of the catacombs. At its peak stands the triumphant Eiffel Tower that highlights the city by day and glistens by night. And in between lives a bustling city that perfectly balances the richness of its history with the advances of modern day. Speaking of modern advances, Paris has had no problem keeping up with modern day inflation. If you plan to experience all the beauty and baguettes that Paris has to offer, you better be prepared to pay.
I'm all for paying for meaningful travel experiences but if there are cheap or free alternatives, I'd prefer to sign up for the latter. While I wouldn't trade in my gorgeous duck confit dinner or Seine River cruise for anything, some of my most favorite experiences were absolutely free. If you're interested in taking advantage of some of these experiences yourself, take a look at the list below. Some are obvious while others are not so obvious but they are all well worth it in my opinion.
Walk along the Seine River – The Seine River is an excellent place to be among locals. This is where you will find French couples cuddling up and groups of friends relaxing with a bottle of wine. A walk along this Parisian landmark will be both a fun and soothing experience.
Visit the Eiffel Tower during the day and at night – No one visits Paris without seeing the Eiffel Tower. That goes without saying. But it's important to see this architectural masterpiece by day and by night. Why? It's two very different experiences. Under the sunlight, you can see all of the intricate details, but by night, it glows as a proud symbol of Paris. At the top of the hour, every hour after sunset, the Eiffel Tower twinkles. Not in the tacky carnival lights kind of way but in a glamorous, whimsical kind of way. It is a sight to see, even from afar. My favorite thing about the Eiffel Tower is that it is unlike your average landmark that makes you feel like you're in a tuna can of tourists. There is so much free space in which you can roam around, sit on the grass, and really have your moment enjoying being in the tower's presence.
Visit the Arc de Triomphe – Walk down Champs Elysees and pay a visit to this monumental arch. Avoid the hectic traffic by walking through the underground tunnel and marvel at the intricate sculptures and engraved names of the heroic people who fought for France.
Peruse Montmartre – Montmartre is a lovely neighborhood in Paris that has skyrocketed in popularity over the years. While many starving artists can no longer afford to live here, it still retains some of its bohemian vibes. Here you can visit the famous Moulin Rouge, get a lesson on the language of love at the Jehan-Rictus Square, and climb a seemingly endless number of steps to the Sacre Coeur Basilica. You can also find lots of little food shops and catch a live music show if you're lucky.
Stroll through Luxembourg Garden – Luxembourg Garden has everything you could want in a garden—grass, flowerbeds, sculptures, fountains, the whole nine. My favorite part? The games. I'm not talking soccer or basketball. At this garden, it's all about the chess and "boules." There are some fierce chess tournaments. I loved watching the older locals go head to head in these mind games. Toward the garden gates, you find groups of Parisians playing a game known as boules wherein the objective is to throw heavy balls as close as possible to the target ball. I regrettably had to turn down a very kind invitation to join a game due to having no knowledge of the rules at the time, but I am now determined to come back and play one day.
Go to the market – Flea markets, food markets, fashion markets, Paris has them all. Obviously the products sold at the markets will cost you but window shopping will not. People watch as you walk through the rows of aromatic French treats, antique bird cages, and silk scarves. Practice your French with the vendors. Or, just take a gander at the goods sold and the Parisian way of life.
Take in Notre Dame's beauty – Europe has no shortage of basilicas but Notre Dame was one of my absolute favorites. My reasons are threefold. First, it's free to enter. Second, you can take photos inside the cathedral (this is very rare). Third, they continue to hold mass and service here daily. So not only can you gaze at the gothic splendor of Notre Dame inside and out, but you can be part of the mass and experience it first-hand. Then, take your photos and reflect on them after your trip. It makes for an exquisite experience that anyone can appreciate.
Check out Love Lock Bridge – The thousands of locks that currently fill the rails of the original Love Lock Bridge has poured over to an adjacent bridge, but an experience on either bridge would be memorable. If you have an old lock sitting at home, bring it with you on your trip to Paris. Write down yours and a loved one's name, lock it to the bridge, and throw the key into the Seine River. Romance in Paris. What could be better than that?
Perhaps one of the best things you can do in Paris is to simply be among the locals. Walk or take the metro instead of a cab. Not only is it more cost efficient and health conscious, but it will make for a more authentic experience. Contrary to popular belief about the French, I met some of the friendliest people during my time in Paris. People who were happy to help, laughed often, and just enjoyed life. I couldn't have asked for a better experience.