Travel Accessories You Must Have: The Lifesaver III Portable Power Pack – Recharge Your Electronic Devices Anywhere!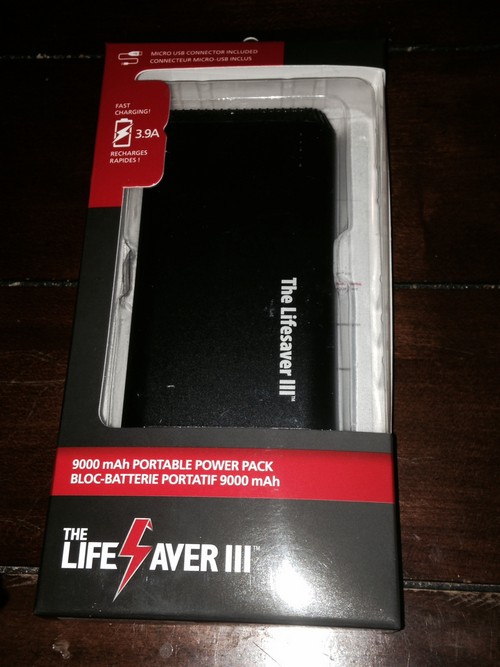 How important is a reliable portable power pack for the traveller? Well how many times have you been ready to with use your smartphone to take that perfect picture, the one that you won't get again, only to find that the power is too low?  How about being on that long flight reading your E-book and right in the middle your iPad or Kobo battery power dies?  We have the accessory solution that assures that you can recharge your battery-powered devices and avoid these experiences, The Lifesaver III!
The Lifesaver III 9000 mAh Portable Power Pack by Everik certainly lives up to its name, if my experience is anything to go by. The Lifesaver is a new fast charging, dual USB Portable Power Pack that will literally save your life if you're a frequent travel – or, for that matter, even if you're not. How many of us have run out of power on a flight or en route to our destination, only to suffer through reading the horrible airline magazines or staring mindlessly at the overhead screen above us? Or needed to finish work on a deadline, but couldn't because our laptops ran out of power? Well, you won't have that worry with the Lifesaver III.
The product is basically a compact backup battery for any smartphone, eReader, tablet, iPhone, iPod, iPad, PSP, Nintendo DS, and basically any USB powered devices. The battery has a dual charging capacity of 2.4 and 1.5 amp, and with fast charging, 2 amp input. It can charge a smartphone to its full capacity in less than an hour, which also means I'll have a horrendous time ever returning to a regular charger should the need arise. Plus, it can charge a smartphone and tablet simultaneously, which means we won't need to block our limited charging outlets with cables and wires that make you trip everywhere.
It also comes with a 9000 mAh Li-polymer battery, which means that it has high energy density and low maintenance – and obviously, it's easy to carry during travel. The best aspects of the battery are that it's lightweight and portable, and all-around incredibly convenient. Seriously, what did I do before this? I cannot handle regular chargers anymore, and it's SO wonderful to not worry about losing battery in the middle of a flight or after I reached my destination. I'm so dependent on my phone and use it so much that even fully charged, the phone won't last me longer than a few hours – even less if I'm constantly using data. But in this case, I don't have to worry about losing access to my phone, even if everything else stops working.
The battery also has an LED shake sensor charge indicator, plus a micro USB connector. But more than anything, this battery REALLY comes into handy when there are power outages or other such emergencies. Even during travel, there are ways to get around not having a charger or having limited battery power. But when there's a power outage or a massive storm raging in your area? You're shit out of luck. If the power goes, it GOES. You're stuck without your phone, your computer, your iPad, and basically all means of communicating with the outside world – unless you're one of those people who still has a cordless phone in your house, in which case, god bless you. Actually, even those wouldn't work in a blackout, would they? Yeah, everyone's basically screwed once the power goes and the generator goes down – unless you have the Lifesaver, in which case you can always charge your iPhone and iPad! Granted, that'll only buy you a couple extra hours if the power still refuses to come back, but hey, that still makes a difference.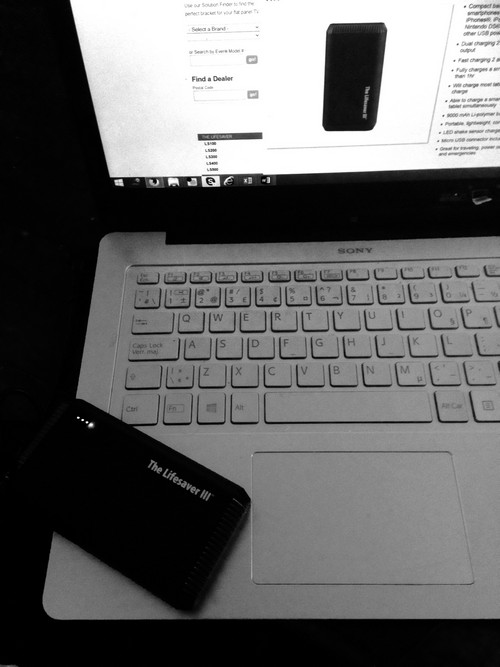 Basically, I highly recommend this product if you travel a lot, if there are frequent power outages in your area, if you have a smartphone that runs out of battery often, or basically, if you're just sick of constantly charging your tech and before you know, the battery's gone poof. Trust me, the Lifesaver III is a literal lifesaver.
You can get more details about the product here.
Disclaimer: Celeb Dirty Laundry has not received any payment as a result of this review. We received the product in order to facilitate this review. All opinions are our own.