California Restaurants: Dining at Food Network's Guy Fieri's Favorite SoCal Spots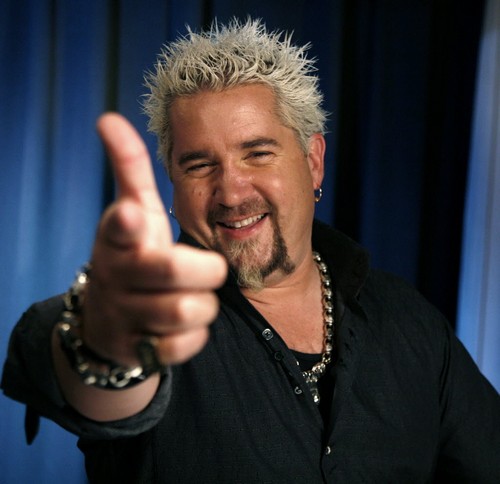 Guy Fieri is one of my favorite Food Network personalities. With his bleached blonde hair, tattoos, and frequent visits to flavortown, it's hard not to love the guy. I am an avid Diners, Drive-ins and Dives viewer, visually savoring Guy's every bite behind the scenes of the best little eateries in the U.S. I'm sure I'm not the only person who would give anything to fill his shoes as he samples soft-shell crab sandwiches and lemongrass chicken. So when he stops by my neck of the woods, I follow his every recommendation.
When I say my 'neck of the woods,' I'm talking as north as Los Angeles and as south as San Diego (any further than that and I consider it a vacation). In LA, I once took a little detour to the Eagle Rock area to try The Oinkster, a little restaurant that was featured on Triple D a few years prior. There I had an amazing pastrami sandwich with crisp coleslaw, sweet caramelized onions, and gooey gruyere. With some garlic aioli for French fry dipping purposes, my meal was complete.
A little south of LA is another Triple D spot that is perfect for breakfast. Schooner or later is a café located in Long Beach where you can sit on the dock and enjoy a gorgeous crab melt. The best part? They are not stingy on the seafood so you definitely get more bang for your buck. Throw in a bloody mary with your melt and you'll be one happy camper.
At the heart of Orange County sits another restaurant that's been graced by Guy's presence. Mama Cozza's has been serving up hearty Italian food for over 40 years. At this cozy restaurant, the locals come back for none other than pasta in their famous domery sauce—a combination of Italian sausage, baby clams, garlic, and spices.
Take a scenic drive down to Ocean Beach and you will experience the best bacon cheeseburger of your life. Hodad's is my all-time favorite of Guy's recommendations. This tiny burger shack simmers their bacon on low for hours before forming it into a thick and juicy patty of porky heaven. Layer that bacon saucer with lots of melted cheese, a beef patty, and your favorite burger fixins and it is perfection between bread.
Another one of my favorite Triple D favorites just happens to also be in the San Diego area. In my opinion, Pizzeria Luigi is the best New York-style pizza you will find in California. It offers a perfectly thin and chewy crust and fresh toppings. Whenever I'm in the area, I cannot pass up a slice of Luigi's garlicky margharita pizza. With a deal like any two slices and a soda for $6, it is the best value in San Diego.
Whether you're a born and raised southern Californian or just stopping by, I highly recommend dining at one of the above restaurants for your foodie fill. But don't just take it from me, do it because Guy said so.