Wizarding World of Harry Potter #DiagonAlley to Officially Open in July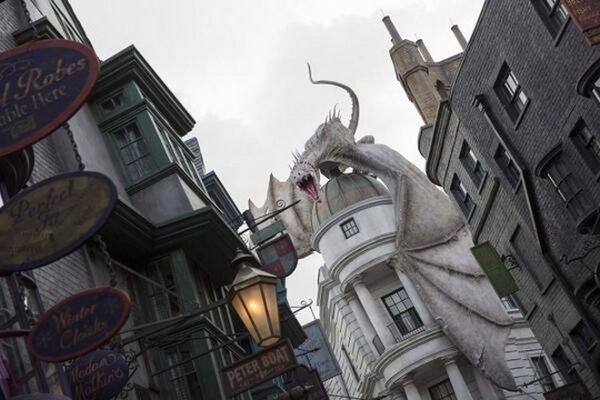 Lucky muggles, witches and wizards are in Universal Studios, Orlando covering the pre-opening media blitz for the Wizarding World of Harry Potter Diagon Alley.
A red carpet has been rolled out for the stars of the film including Matthew Lewis (Neville Longbottom), James and Oliver Phelps (Fred and George Weasley), Robbie Coltrane (Hagrid), Warwick Davis (Professor Flitwick), Tom Felton (Draco Malfoy), Helena Bonham Carter (Bellatrix Lestrange), Bonnie Wright (Ginny Weasley), Evanna Lynch (Luna Lovegood), Domhnall Gleeson (Bill Weasley). Robbie even used Hagrid's pink umbrella to tap virtual bricks to reveal the passage between muggle London and Diagon Alley.
Park Spoiler Alert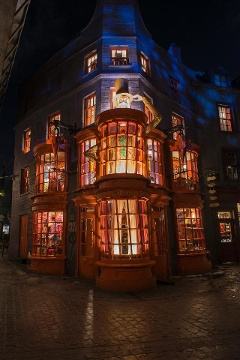 Once inside, secrets of this highly anticipated expansion began revealing themselves…
*Walking into Diagon Alley is a treat to watch. While you won't notice much upon your own entrance, watching someone else vanish into the Wizarding World is an illusion you won't grow tired of seeing. Using mirrors, guests pass through the brick wall onto Platform 9 3/4.
*The Hogwarts Express ride is a journey in itself. From Hogsmeade to Diagon Alley, there is a licorice spider attack and Voldemort shows up outside your train window. Diagon Alley to Hogsmeade is a more intense ride as Death Eaters attack London, Dementors create a cool icy effect and the Dark Mark appears in the sky. Chocolate Frogs also manage to sneak their way into your cabin.
*At Gringotts, you can exchange your muggle money for wizard currency.
* 34 different areas around the park are interactive with the new, improved wands sold at Ollivander's. Guests will stand on a metal plate, wave their wands in the shape shown while saying an incantation and magic happens. Spells often have several different outcomes, so guests could spend a large chunk of the day just watching this magical spots.
*All the new drinks are incredibly sweet..
Fishy Green Ale is a tea-flavored drink with blueberry "fish eggs" on the bottom. As you drink them, they explode a sweet and sour flavor.
Tongue Tying Lemon Squash is an amazing and incredibly sour lemonade.
Otter's Fizzy Orange Juice is like a carbonated watered-down orange soda with a rim of cinnamon and sugar complimented by a fresh orange slice.
Gillywater is basically a flavored water that serves as a base for additional flavors you can add to customize your own drink.
Alas, the official opening date for the public isn't in July 8, 2014. However, guests who buy the exclusive Harry Potter vacation packages from Universal will be able to visit Diagon Alley starting June 29th!