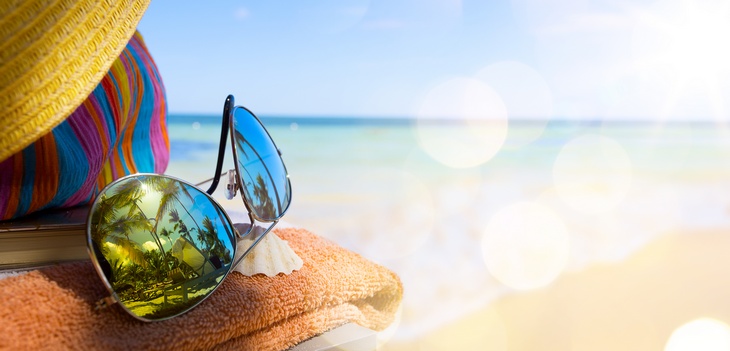 During the summer, the beach calls to us all. Whether you are seaside or lakeside, these 10 Beach Day Life Hacks will make your trip easier.
1. Use baby powder to help you remove damp sand from your skin.
2. Using gel-based aloe, fill an ice cube tray and freeze overnight. These aloe-ice-cubes will instantly relieve sunburns.
3. Steep 5 black tea bags in 2 cups of water for 15 minutes. Cool the tea in the fridge and then soak a small, thin towel in the tea and apply to a sunburned skin. Let the tea soak into your skin to speed up healing and relieve pain.
Related: Pinterest Worthy Travel Tricks: Instant Sunburn Relief
4. Store your valuables in a diaper! Place your keys, wallet, or jewelry in the diaper and wad it up so it appears to be used. No one will want to touch it.
5. Place cupcake liners under your frozen treats to keep them from dripping onto skin.
6. You can also use cupcake liners to keep bugs and sand out of your drink! Poke a hole through the center of the liner and place a straw through it. With the liner facing down, place the straw combo over your drink.
7. Use a fitted sheet to create a sand-free area on the beach. Place your cooler, beach bag, folded towels, and extra gear in the corners to hold up the sides of the sheet.
8. Toss a shoe organizer over the back seat of your SUV or van to help keep your beach gear organized and handy in the trunk.
Related: Beach Bummers and How To Avoid Them
9. Freeze water balloons use them to keep your food and drinks cold. When they've thawed, it will be time for a fun water balloon fight!
10. Blow up an inflatable kiddie pool and place blankets in it for an ultra-cushy and comfy spot to curl up and watch fireworks.
As always, don't forget the sunscreen! The best way to care for your skin and health is to prevent burns.