Baddeck, Cape Breton Island, Nova Scotia "Something For Everyone In Nature's Paradise"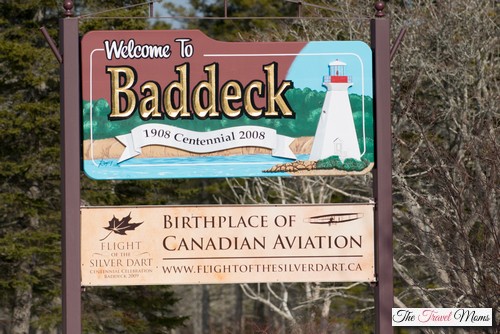 Baddeck is a quiet village on the shores of the Bras d'Or Lakes in central Cape Breton Island (voted Travel & Leisure Magazine's Best Island in North America!) perched beneath the Cape Breton Highlands at the beginning of the Cabot Trail.  Baddeck is sometimes seen as a starting or stopping point but I'm here to tell you – it is the destination in itself!  This quiet little village of under 1000 people boasts an array of unique shopping, artisans, restaurants, live music, museums and historical locations, world class golf and of course – outdoor adventures! 
Baddeck is sometimes seen as a starting or stopping point of a vacation, but I'm here to tell you – it is the destination in itself!  We spent a few days exploring Baddeck with family from out of town.  My in-laws loved every minute of the visit and it was great to see our area through their eyes.
I think my favourite day of their visit was our outdoor adventure day.  I got up early and grabbed breakfast, coffee and scones at one of the café & bakeries on the main street. Then I wandered down to the waterfront to watch the day begin from the boardwalk while everyone else slept in.  It was so quiet and peaceful.  Boats bobbing on the water, eagles soaring overhead, and not a cloud in the sky.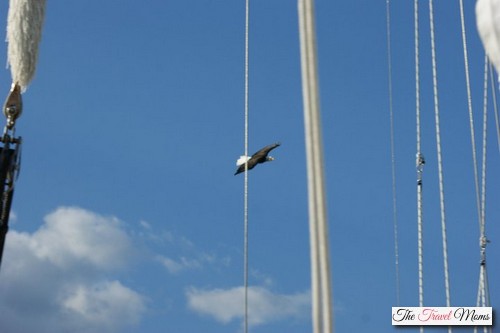 After breakfast I grabbed the family and we headed out to Uisge Ban Falls just outside of town (Uisge Ban is Gaelic for 'white water').  This is an easy hike along a mountain stream leading to a gorgeous two-step waterfall.  The water is clear and cold as it flows out of the highlands.  Sit back on the rocks for a while and take it all in. It was wonderful that something so good for the soul, required so little time and effort!
Then we made our way back to town and chatted over lunch on an outdoor patio.  Baddeck has something for every taste from seafood platters and fish & chips to pastas & pizzas, Chinese or Canadian style cuisine…but local seafood is my favourite.  Fresh lobster and crab with just a bit of melted butter…yum!
After hiking to the falls in the morning it was time to give our legs a rest and work our upper bodies – in a kayak!  There are guided tours, or kayak rentals available on the waterfront.  We paddled out to Kidston Island just a few hundred feet from shore in Baddeck Bay.  Once we reached the Island we pulled the kayaks up on shore and did some exploring!  Looked for starfish and other marine life, watched the eagles that nest nearby as they brought food home for the young, and cooled off with a swim at the sandy beach looking back toward the village.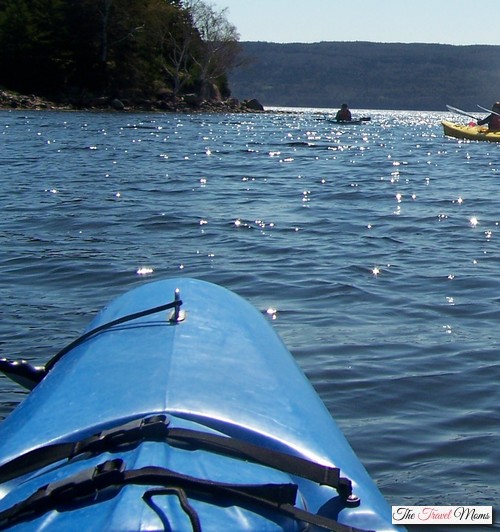 As we headed back in the kayaks we looked off to the left – that big, beautiful black schooner docked at the end of the wharf was our next ride!  The Amoeba is a well known fixture on Baddeck's waterfront.  Captain John and his crew take 1.5-2 hour sails every day around the bay and it is an experience not to be missed!  A late afternoon sail on this gorgeous tall ship was something we will remember for a very long time.  We sailed past Alexander Graham Bell's summer home, saw eagles dive to the water to catch the fish that Captain John keeps on board just for them, and saw the village from a whole new perspective.
As the afternoon drew to an end and we sailed back to the wharf it was time to think about dinner – so many options!  We followed our noses (and ears!) to find just the right evening meal and live entertainment.  And speaking of live entertainment – Baddeck Gathering Ceilidh's are another must-do while in the area.  Every evening in July and August you will hear the sounds of traditional Scottish music, tapping toes, and dancing feet, and happy folks clapping and cheering!  You can't help but be drawn into the music and you will find yourself tapping along.
Those of us who weren't too tired (and most were not!) went in search of more music. It was easy to find live entertainment (and a cold beverage to two) at Thistledown Pub or the Bras d'Or Yacht Club.  (If you plan to be in the area early in August watch for Baddeck's Regatta Week activities!)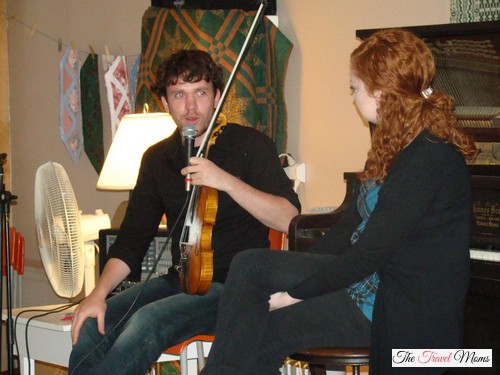 After a good nights sleep it was time to get up and go on with another day of exploring Baddeck.  After the outdoor adventures of the previous day  we switched things up – Alexander Graham Bell Museum, Bras D'Or Lakes Interpretive Centre, lots and lots of shopping (or golf – there is world class golf right here in town)…  But that's a story for another day!
Spend the weekend immersed in adventures and activities for the whole family.  When you arrive here you'll have a choice of accommodations from resort style settings to B&B's or cottages and campgrounds.  www.visitbaddeck.com.  Baddeck makes a perfect home-base for your adventures around Cape Breton Island.

[CLICK ON THE THUMBNAILS BELOW TO MAKE THE PHOTOS LARGER]