Perfect Hawaiian Vacation at Embassy Suites Waikiki: Tropical Vacation Paradise in Hawaii – What Dreams are Made Of!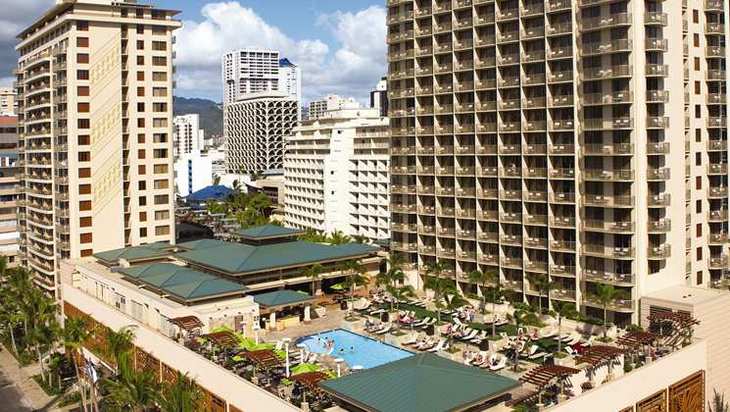 Let me start by saying that I could not wait to return to Hawaii. I try to spend 3 months out of the year there, but had a ton of travel to other destinations that prevented me from returning. However, the stars aligned and I was able to get back to my own persona Shangri-La and stay at the Embassy Suites Waikiki. My airline of choice this time around was Delta and Hawaiian airlines for my return. One additional thing I must add is that the planes have all been upgraded. We can now charge our phones and watch individual movies from our seats. Depending on which air carrier you can watch free movies as I did on Delta which made a long flight go by quickly.
First Impression
Today I am going to review the Embassy Suites Waikiki. I stayed here for the first 3 days (7/23-7/26), then stayed in a rented a condo for the duration of my trip. No particular reason aside from me staying so long that it would have been financially impossible to live like a Rothschild. Starting my trip at the Embassy Suites was the perfect kickoff to a wonderful trip. My Embassy experience began as soon as we pulled up into valet. Parking on Waikiki is so hectic, so having the benefit of valet parking is a bonus regardless of where you stay. Upon turning over the keys we were directed to the outdoor concierge area where we were greeted with an overwhelming "Aloha Spirit" from the front desk team. As soon as I disclosed that I was checking in, my boyfriend and I were treated to fresh squeezed juice as we waited for our room keys to be programmed.
Once registration completed we went up to our room and had our expectations blown away. The massive room had a wraparound balcony, refrigerator, living room, office space, kitchen area, and full size bathroom. I expected a mere room and got something comparable to a penthouse suite overlooking one of the most beautiful beaches in the world. As I described it on Instagram, it was my "The World is Yours" moment. Again, it was the perfect start to the perfect Hawaiian vacation.
Amenities
Some of the hotel amenities included full breakfast provided to each and every guest each morning, a Manger's cocktail reception every night from 5:30-7:30pm, gym, business center, pool, and a number of shops and restaurant's on the property.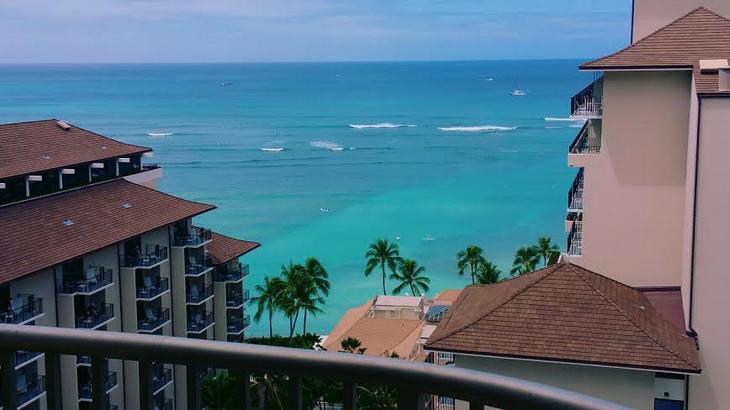 Location
I almost forgot to mention that Waikiki Beach is just steps away from the entrance of the hotel property. In fact the location was so convenient, I didn't need the use of a car. Most everything was just steps away. Actually, let me rethink that statement- my expectations were to just lay on the beach, people watch, and drink. If you have the same goals in mind then you won't need a car… if you plan to be more adventurous I would suggest either a rental car on days of activity, LYFT cab service, and/or private or group tours.
Food
This property provides freshly made breakfast which includes cooked-to-order omelets, baklava, bagels, breakfast meats, juice selections, vegetarian, and gluten free options in a rooftop setting with views of the Pacific Ocean and Waikiki Beach. Each day has a different theme so you could either be treated to pancakes, French toast, or waffles. During the Manager's Reception in addition to the cocktails attendees received fresh vegetables, nachos, chips, and salsa. I know that may seem a little boring but it was actually pretty delicious fare.
Team TMT highly recommends the Embassy Suites Waikiki for families, family reunions, lodging for large groups such as wedding parties. With its spacious rooms, complimentary breakfast, and scenic views you can't go wrong with this option for your Hawaiian vacation. For more information visit their website here.
This article was written by Kitty Bradshaw Website | Instagram | FaceBook | Twitter