Disney's Star Wars Themed Cruise: Star Wars Day At Sea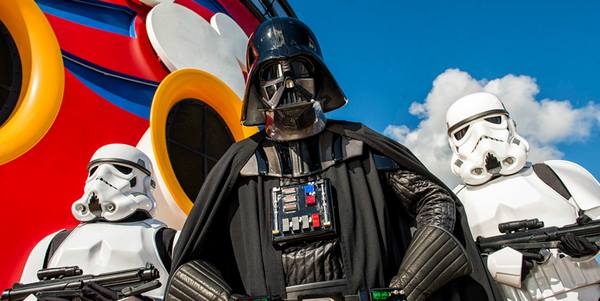 In a galaxy far, far away…
Or at Port Canaveral, you can experience the glory of sitting poolside with Stormtroopers or challenging Darth Vader in a lightsaber duel. Disney's Star Wars themed cruise, Star Wars Day at Sea will have guests board Disney's Fantasy cruise ship, headed to the Western Caribbean.
The company touts the cruise stating, "Star Wars Day at Sea combines the power of the Force and the magic of Disney." Various events and activities will be offered during the one day event including:
Deck party celebration
Meet-and-greets with favorite Star Wars Characters
Star Wars-themed activities for younglings of all ages
Out-of-this-world food and beverage offerings
Exclusive merchandise
Those youngling-friendly activities include a Jedi Training Academy, where kids can learn to wield a lightsaber. To please parents, copious amounts of "fun" themed beverages like "Princess Leia on the Beach" are rumored to be available. The films will also be shown and Disney promises that the day will have the "only at-sea screenings of Episode VII."
It sounds like a floating Comic Con event, but after the "one-day extravaganza," the rest of the cruise will be return to Disney's regular "jam-packed itinerary of excitement and adventure," along with a visit to Castaway Cay.
Sail dates begin in 2016 and are currently limited to:
January 9
January 23
February 6
February 20
March 5
March 19
April 2
April 16
Book soon as it's pretty safe to assume these special event sailings will be booked up faster than you can say, "May the force be with you!"