Themed Cruises: Pop Culture Travel Adventures on the Seas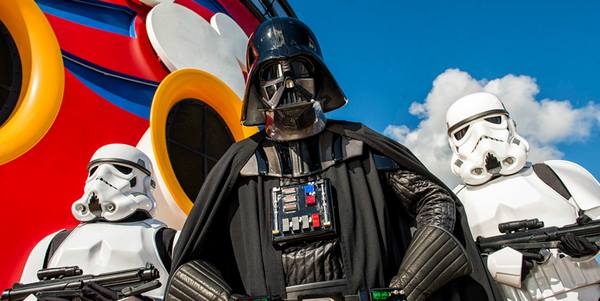 Cruising is an amazing adventure where someone else does the driving. It's incredibly easy, fun, and the endless amounts of food and entertainment make the perfect getaway. Among the various ships and offers, travelers can find an array of choices when it comes different experiences. These themed cruises will make fun pop culture travel adventures on seas pleasing music-lovers, TV show/movie fanatics, and even those who want something out of this world…
Star Trek Cruise Via Cruise Trek
Live long and prosper. This cruise will boldly go across the seas like a floating Trek convention. Star Trek fans, Behind-the-Scenes production staff, special guests, and celebrities, gather on annual venture filled with Q&A sessions, games, meet and greet sessions. For 2015, the Cruise Trek will travel to "The Caribbean Oasis" November 7 – 14, 2015.
The Star Wars Cruise Via Disney Cruise Lines
If you prefer your space adventure to include lightsabers, Disney will offer a Star Wars Day at Sea on Disney Fantasy. In January 2016, cruisers can enjoy a full day of George Lucas' world. Passengers will head to the Caribbean and enjoy themed drinks, a Jedi Training Academy, and special movie screenings. You can find out more in-depth details by clicking here…
Top Chef Cruise – Celebrity Cruises
This themed cruise has grown from it's first sailing thanks to the many offerings of fun aboard. My firsthand experience of the cruise I earned, was amazing. Fans will delight in live Quick Fire Challenges, games with Cheftestants, meet and greets, book signings, meals cooked from your favorite chef, and, if you are lucky enough, you'll get to experience Hubert Keller dropping the bass during his gigs. Pack your knives and go on this cruise that takes food to a new level.
Game of Thrones Cruise Via Crystal Cruises or Holland America
The excursion will be an adventure to remember for GOT fans. Crystal Cruises' boat even stops at Winterfell (Castle Ward in Northern Ireland). There you can test your archery skills or try your hand at battle. You can enjoy all your medieval fantasies, see the costumes the actors wore, and learn how the locations are transformed to create a place where dragons are still a problem.
New Kids on the Block Cruise Via NKOTB
Oh, oh, ohhh, oh! If you were a child of the 80's and 90's, then you'll appreciate this NKOTB non-stop floating party. The concerts, the beach parties, and the swooning hearts of fellow fans spending 2 days at sea with NKOTB will make an unforgettable journey with as they helped the boy band machine dominate the music world.
Themed cruises have always been a blast. It creates and automatic bond with fellow guests and a great way to start a conversation. Plus, it lets you vacation with an underlining enjoyment of your favorite things in life.