Disney Magic's Bibbidi Bobbidi Boutique – Disney Cruise Can't-Miss Activity for the Aspiring Prince or Princess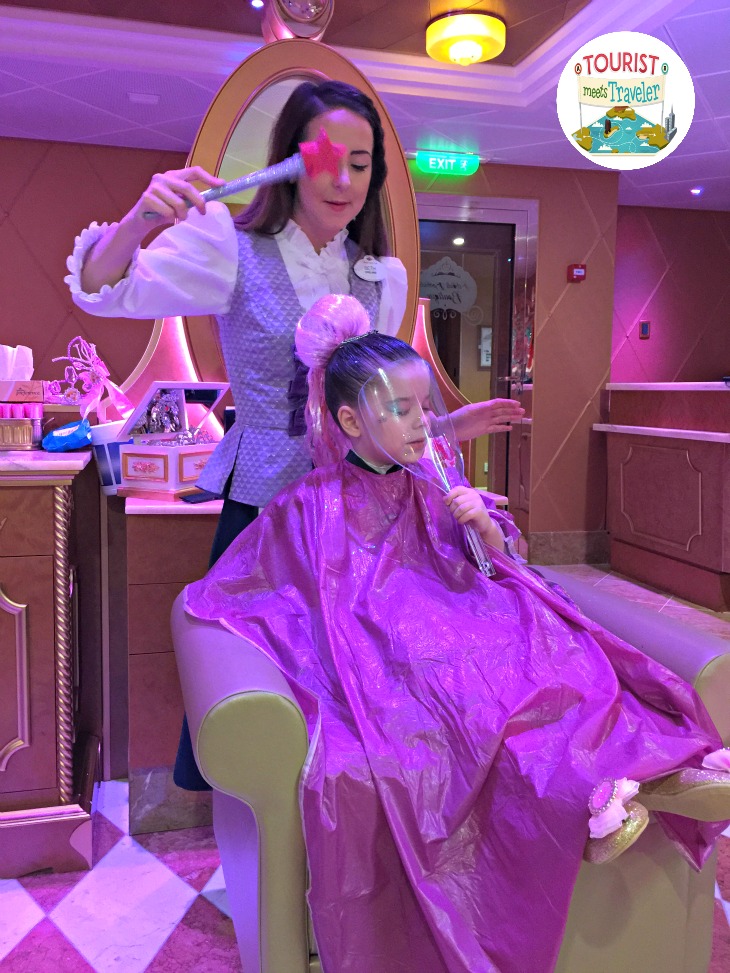 This year my daughter Robyn and I decided to end 2015 with a bang – and we finished the year off on a Disney Magic Cruise with my four-year-old granddaughter Ava. The cruise was absolutely magical, and I loved every second of the quality time I got to spend with my daughter and granddaughter right before the holidays. Robyn is pregnant with twins – so I knew I was going to have to keep Ava occupied often during the cruise, so that she could get her rest. One of the many activities I signed her up for was a trip to Disney Magic's Bibbidi Bobbidi Boutique.
The Bibbidi Bobbidi Boutique was by far one of Ava's favorite parts of the entire cruise – and worth every penny! The Disney Salon is for aspiring Princes and Princesses ages 3-12 years old. And, it's set up just like any salon you would visit back home – frankly it's nicer than any salon I have ever visited for myself. I was a little envious while I was watching Ava get pampered by her Fairy Godmother, Beth. The Bibbidi Bobbidi Boutique's website described the salon as "whimsical" and they did not disappoint. It truly felt like we were sitting inside a Disney inspired Palace – and the vanities were so glamorous!
Cinderella is one of my all-time favorite Disney movies! As a little girl, watching Cinderella's Fairy Godmother sing 'Bibbidi Bobbidi Boo' and wave her magic wand – it is impossible not to get caught up in the magic of Cinderella's transformation from rags to elegance. So, I may have been a bit more excited about the trip to the Bibbidi Bobbidi Boutique as Ava was, but I knew that once she got caught up in the excitement, it would be a magical experience for her. And, it was!
I booked an appointment at the Bibbidi Bobbidi Boutique – not entirely sure what we were in store for. We arrived at the salon and were promptly whisked away to a chair. A super friendly woman named Beth introduced herself to Ava as her Fairy Godmother, and Ava warmed right up to her. I was a little nervous about how my granddaughter would do seeing as how she is only 4-years-old, but Beth was amazing with her and had her at ease and totally relaxed.
At the Bibbidi Bobbidi Boutique, the kids get to select the Disney character they want to be made up as – and even get to pick your own outfit from the Disney store to make sure you fit your favorite character to a "T."  Ava chose one of her favorite Disney Princesses – Rapunzel, and Beth got to work on her hair, make-up and nails. Ava was so excited we could barely get her to wait to see the finished product in the mirror. Beth had her laughing and giggling the entire time, and I had so much fun watching Ava get pampered like real life Princess!
When Beth was done working her magic, and had given my granddaughter the 'Diva' hairstyle – Ava looked like a tiny Princess, and she was beaming. Ava wouldn't stop asking us to take her photo for the rest of the day, and every time we ran into some other kids her age, she raved about her trip to the salon and her Fairy Godmother Beth, and getting her hair and makeup done. What little girl doesn't love playing dress up? As you can see from the photos, Ava looked absolutely adorable!
If you are embarking on a Disney trip in the near future – we highly recommend making reservations at the Bibbidi Bobbidi Boutique for your little ones! You will want to make sure you book your appointment several months in advance though, as the Fairy Godmother's are very busy. And, the Boutique isn't just limited to Princesses, there was an adorable little boy in the chair next to Ava and he was having a blast getting made-up as a Pirate. Ava's appointment at the Bibbidi Bobbidi Boutique was her favorite part of the entire Disney trip – and I know she will cherish those memories, getting made up like Rapunzel, for many many years to come.