Have A Peanuts Family Movie Night – Win A Digital Download of "The Peanuts Movie" #PeanutsMovieNight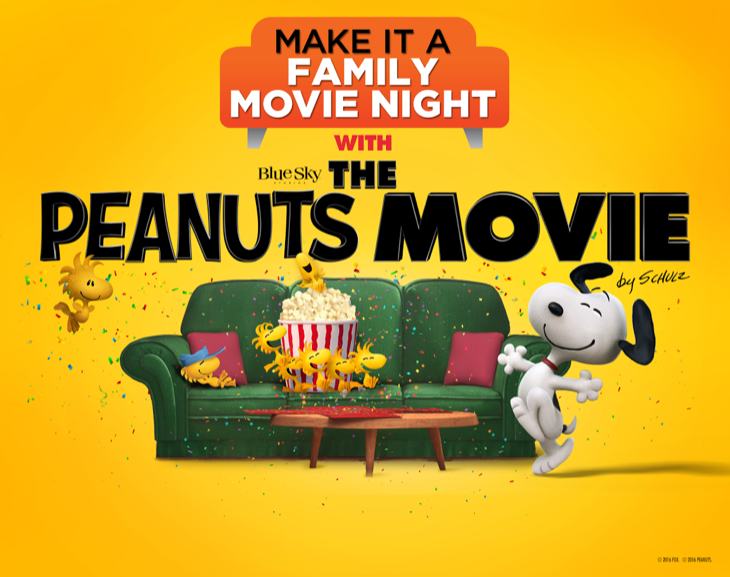 Movie night is a tried and true tradition in our home, and we all gather around the TV once or twice a month for a full-blown viewing party. This month there was no argument needed, and we all unanimously decided that we would be watching "The Peanuts Movie." The animated feature film features all of our favorite Peanuts characters – while Charlie Brown tries to win over his long time crush, the "Little Red Haired Girl," Snoopy Brown races to save his love Fifi from his nemesis the Red Baron.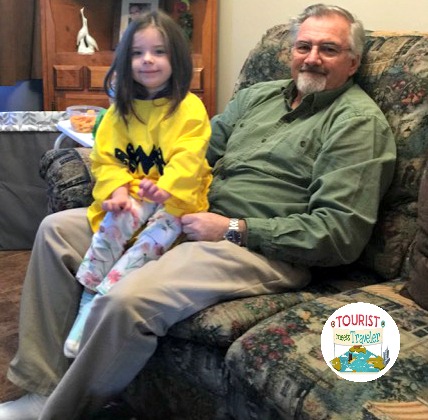 When The Peanuts Movie premiered in theaters, I was one of the first people in line with my granddaughter Ava and nephew Jayden. Snoopy is a favorite in our family, we are obsessed! And, I absolutely love that everyone enjoys The Peanuts gang, regardless of their age. There is something truly magical about enjoying a movie with three different generations of our family – who all enjoy it equally. My granddaughter Ava is just as mesmerized by the cartoon as I was when I was her age!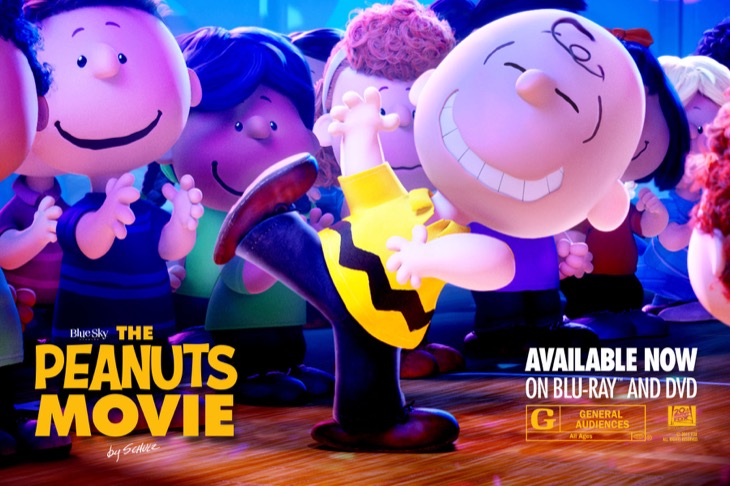 Spring is in the air – and nothing says sunshine and warm weather like the 3D twist on the classic Charles Schulz comic, starring the Peanuts gang. The Peanuts Movie, from 20th Century FOX and Blue Sky Productions was released on DVD, Blu-ray and Digital HD on March 8, and we got our copy just in time for an "It's Spring Time Charlie Brown!" themed movie night.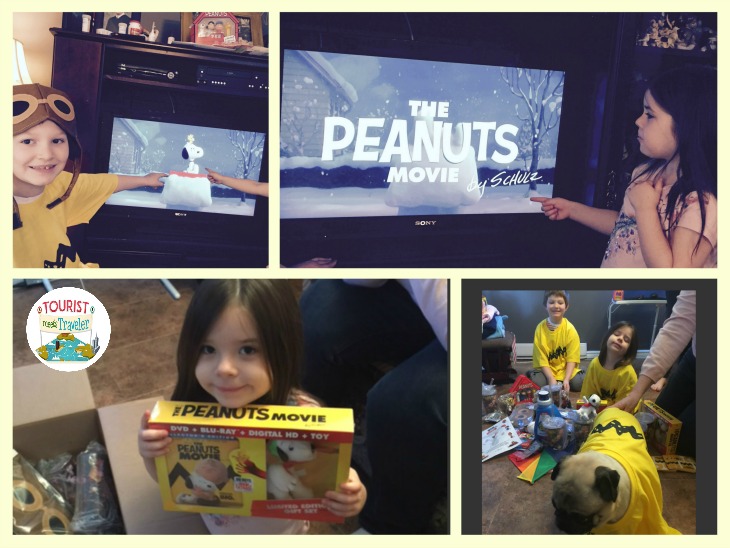 My mother, my daughter Robyn, my granddaughter Ava, and my nephew Jayden and I all gathered in the living room for the big event. Sure, the kids had already seen the movie when it was in theaters – but they have been begging me ever since to watch it again. Ava brought along her plush Snoopy for the festivities, and the kids got decked out in their Charlie Brown T-Shirts. And, we made TONS of popcorn and snacked on it while drinking out of our Snoopy cups.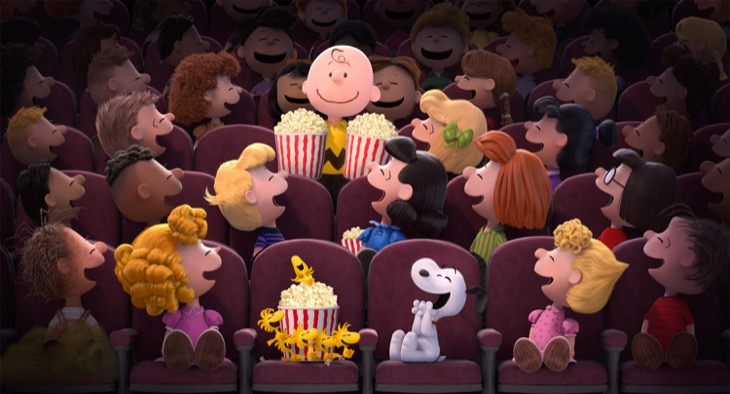 Our Peanuts movie night was a huge success, and honestly one of my favorite movie nights to date. It's amazing that everyone from my mother, to my 4 year old granddaughter equally enjoyed the movie and were so in to the festivities! The Charles Schulz comic is truly timeless and every one of all ages absolutely loves the Peanuts gang. It's a perfect way to bridge the age gaps in our family and bring us all together.
If you are hosting a family movie night in the near future, then I highly recommend gathering around the TV with your family to watch "The Peanuts Movie." You will not be disappointed, and your kids will enjoy it almost as much as the grown-ups do! Have your kids bring along their Peanuts toys or books – and serve up some delicious movie snacks, like pizza and popcorn. The 2015 film is available on DVD and Blu-Ray at major retailers, or you can enter in to the giveaway below to win a Digital Download of The Peanuts Movie.
THE GIVEAWAY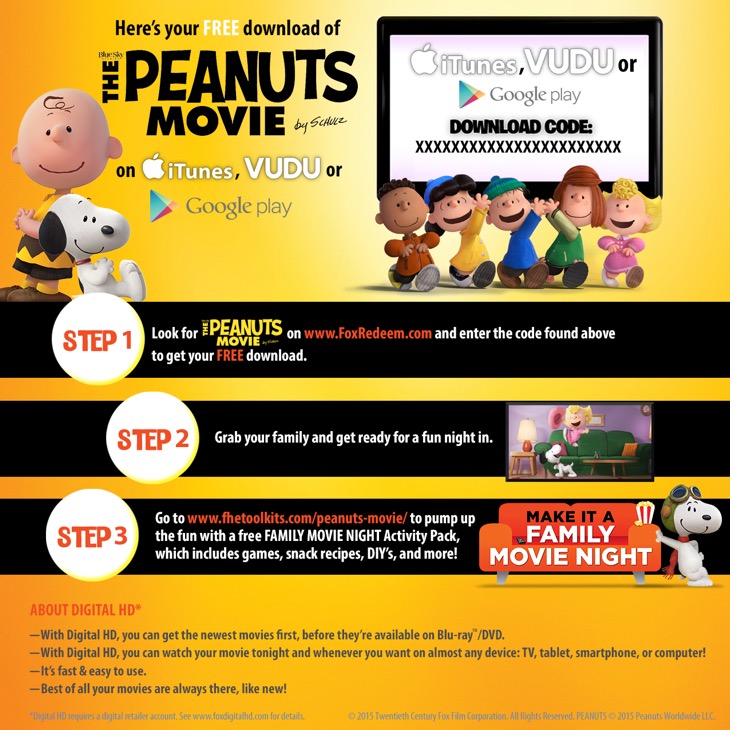 PRIZE: We are excited to also offer a giveaway to two (2) Tourist Meets Traveler readers who will each receive a Free Digital Download of The Peanuts Movie!  Read the instructions above to see how it will work – I'll provide winners with a code.
RULES: Open to US only. Must be 18 or older to enter.
The giveaway ends on 03/25/16.
I will notify the winner by e-mail and you have 48-hours to respond or I will have to choose another winner.  Good Luck!!
Simply follow the Rafflecopter entry form below for your chance to win. Be sure to return tomorrow to complete the daily entries. It takes a bit of time for the Rafflecoppter to come up, so don't rush away 

a Rafflecopter giveaway
Disclosure: I am a Peanuts Brand Ambassador and was provided with gifts as a participant in this promotion. The opinions in this post are 100% mine.