Viking River Cruise: 'The Danube Waltz'- A European Christmas Market Tour Of A Lifetime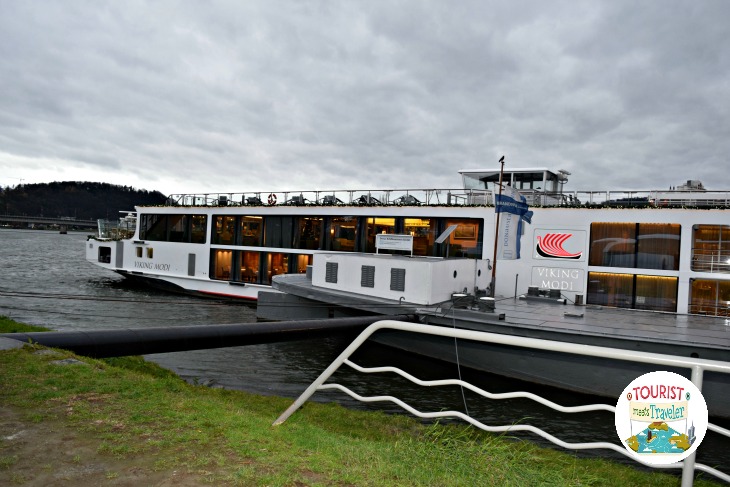 When we first received an invitation from Viking to take a winter Viking River Cruise to see Europe's Christmas Markets, I was unsure. To me, December plus a cruise ship meant cold. And generally, when I think of winter travel, I prefer to go south to warmer climates, but my husband convinced me it would be a nice break and a change of pace.
We decided to go and made all the arrangements for our cruise called "The Danube Waltz." It was an eight day cruise beginning November 28 that went from Passau, Germany to Budapest, Hungary. I'm thrilled we decided to go. My husband and I have travelled extensively and I have to say that the Viking Danube Waltz Christmas market cruise was the travel experience of a lifetime.
During our eight days aboard the Modi, new vacation horizons opened for us. We enjoyed a standard of excellence and enjoyment unequaled in our decades of travel. From dining and service to touring and accommodations, Viking exceeded expectations and is an absolute must for every tourist who appreciates quality. In all respects, there was value and enrichment offered to every passenger.
Here is a look at our fantastic winter cruise on the Danube.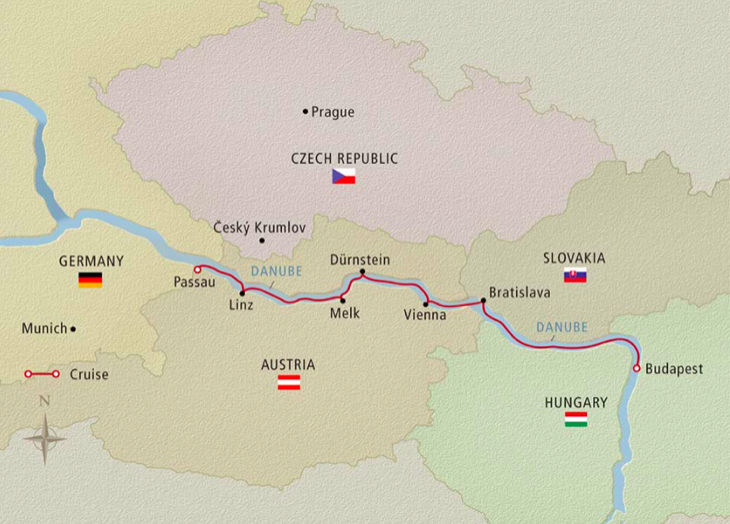 Day 1: Passau, Germany
We flew directly into Munich from Montreal on Lufthansa. As we left baggage claim, we were immediately met by two Viking Cruise representatives. They made sure we got on the right bus to Passau for our transfer to the boat. They made sure we were comfortable, had bottled water, and were all set for the roughly two hour drive.
Once in Passau, we disembarked the bus and were greeted by our friendly program director, Titiana. From there, Viking handled our luggage and all we had to do was head to the ship and check in. The embarkation process was very fast and within minutes, we received our key cards for our state room. We then headed to the Aquavit Lounge to have a buffet lunch while our rooms were prepared.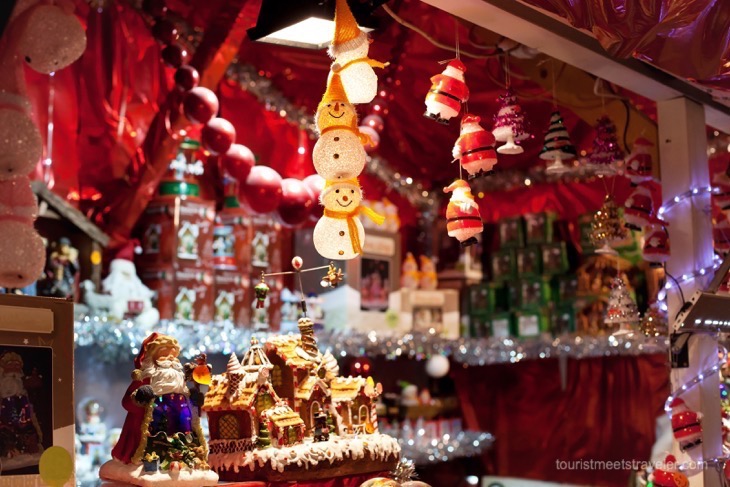 After lunch, we headed to our rooms and were pleased to find our luggage was already there. The beds were comfortable and the rooms very nice. We unpacked our luggage then decided to take a quick walk into Passau to visit our first Christmas Market and it was magical from the start.
Day 2: Passau, Germany
The ship stayed in Passau overnight and we decided to explore the city before we sailed away. It was a bit rainy that day, but we decided to take the walking tour of the city and we did not regret it. The town is quite charming and very pedestrian friendly. There are delightful cobblestone streets that are crammed with history. We had the choice of a gingerbread baking demonstration or a cathedral visit.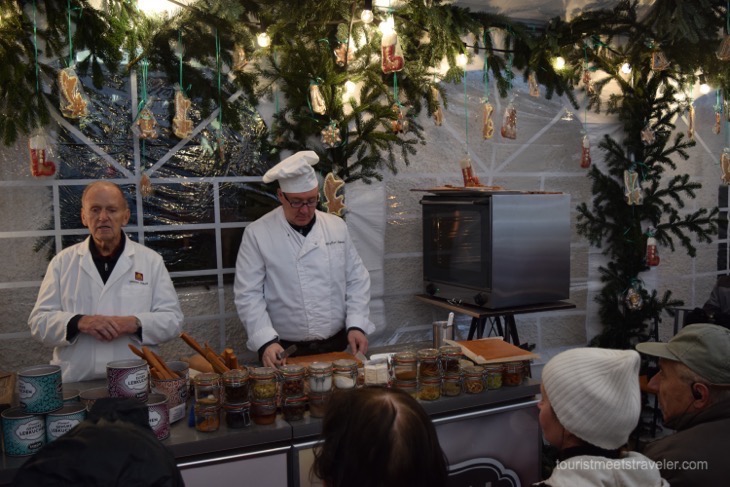 We opted for the gingerbread experience, but the other was just as tempting. The cathedral visit was St Stephen's, the site of the largest organ in Europe, and included an organ concert. Because we went for the baking tour, we set out for Simon Café. They had a tent set up for the demonstration. The experience started with a hot mug of Glühwein, an excellent local mulled wine.
Passau is home to the oldest gingerbread recipe in Germany and the Simon family that owns the café has been baking it for five generations. We learned about making gingerbread and sampled some. It's very different from what most people think of as gingerbread. The locals call it Lebkuchen and it is delicious. We also watched a lesson on making Advent wreaths and bought gingerbread to take home.
Last, before returning to the ship, we walked through the Christmas market in Passau. It's called the Christkindlmarkt and is located in the historic town center right by St. Stephen's cathedral. There are about 75 stalls there that sell Christmas goods, handcrafted items, local delicacies, arts, crafts and delicious foods line Bratwurst and, of course, more Glühwein!
[Check out the sideshow below with our photos of Passau, Germany]
Day 3 – Linz, Austria
The ship left Passau and sailed overnight and we docked in Linz the next morning. Our excursion options there were to tour the city of Linz or take a short drive to Salzburg to tour there. We opted for Salzburg which is a stunning two hour drive from the Danube providing shockingly beautiful views of the Alps. The countryside through which you ride is spectacular – this is a very green area – about 50% is either forest or grasslands so it's gorgeous.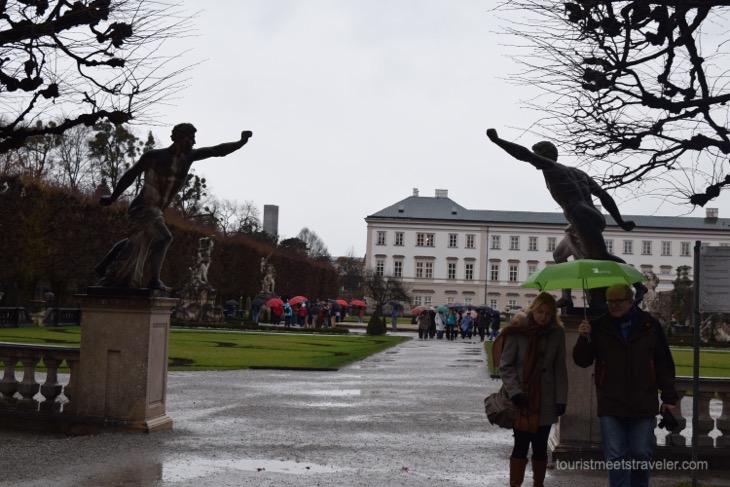 We stopped halfway through the drive at a rest stop by the Mondsee lake which was prominent in the movie The Sound of Music – the wedding was filmed in the basilica there. We snapped some pics, grabbed a coffee, and were back on the road to Salzburg. Once in the city, we embarked on a guided walking tour that focused on the city's rich history in the Altstadt (old city).
This included the UNESCO World Heritage Site, Hagenauer House – which is Mozart's birthplace – and many other sights and sounds. There is a heavy influence of Baroque architecture and even a palace. We also hit up a number of Christmas Markets – some larger, some smaller – on the tour, but we were free to leave the group and roam at any point if we preferred and meet back with the group.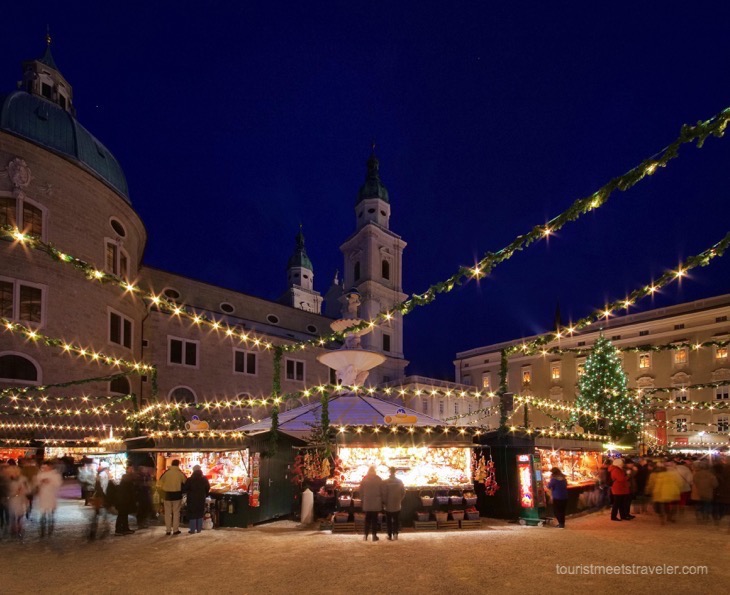 We decided to break from the group and go exploring independently. We decided to skip a sitdown lunch and instead explored more of the Christmas markets and sampled goodies there as we strolled. The local foods are all delightful and there was more Glühwein to be enjoyed as well. We met back with the group later and headed to the ship for dinner and some relaxation after an invigorating day of walking.
[Check out the sideshow below with our photos of Salzburg, Austria]
Day 4 – Melk, Austria

We next traveled about 60 miles down the river to Melk, Austria which was the smallest city on the cruise tour. There is an enormous church there – Melk Abbey – up on a hill overlooking the Danube. It was founded in 1089 and is a Benedictine monastery still in use and is designed in the Baroque style. After touring the public areas of the abbey, we headed back down into the town.
The Christmas market in Melk was more modest than the others, but I still found some lovely holiday items to purchase.
DAY 4: Durnstein, Austria
The ship departed Melk as we sat down to lunch and we enjoyed views of the Wachau Valley as we dined and sailed. It was chilly, but we braced ourselves and took our camera and some more Glühwein and sat on the top deck to snap photos of the countryside.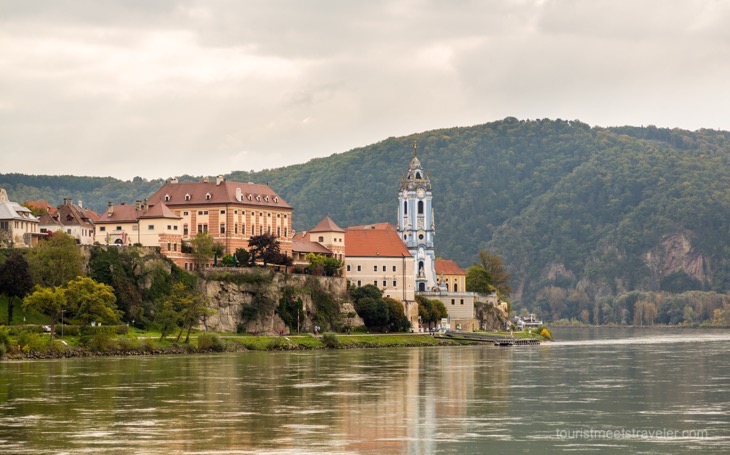 Program Director Titiana pointed out sights of interest to those that remained in the lounge. This leg of the cruise took us to Dürnstein, Austria and as we sailed down the Danube, we passed many castles that ranged from ruins to still-beautiful. Dürnstein castle itself is a ruin high up on a cliff that looks like something from a gothic novel.
That evening, we had excursion options for a village visit or winery tour – we chose the wine and went to nearby Mörwald Winery, a short drive from the ship. We sampled local wines from the family owned winery as our tour guide, Trinca and owner Gerhard, showed us their modern facility. In addition to the red and white wines they make, they also craft an excellent apricot schnapps – we took a bottle of that home with us.
[Check out the sideshow below with our photos of Austria]
Day 5 – Vienna, Austria
The ship cruised overnight again and we woke to find were in Vienna, Austria. We hopped a bus into the city since the river is a 20-minute ride from the city center. Our bus took us on the Ringstrauss (Ring Road) that circles the inner city of Vienna where there are old cobblestone streets and remarkable architecture. The street lies in the path that used to be a city wall around old Vienna.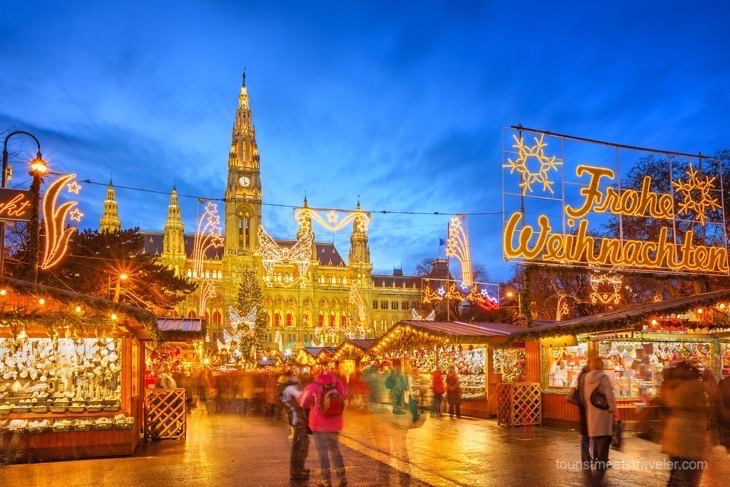 We left the bus to begin our walking tour with a skilled and knowledgeable tour guide. We saw the renowned Vienna State Opera House among other sites. There are medieval, Renaissance and Baroque elements and architecture throughout reflecting the rich history of Vienna. We decided to lunch at the Christmas markets – there are more than 25 there!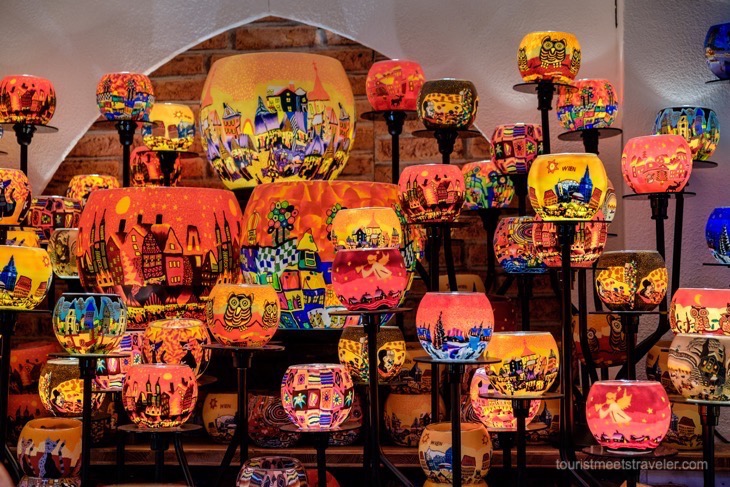 The largest market has about 150 stalls including arts, crafts, ornaments, more local cuisine and of course, my new favorite hot drink of choice – Glühwein. We also had the option of adding on a tour of Schönbrunn Palace for 40 Euro more, but decided to skip the Baroque palace this time. There was also a classical concert for 63 Euro featuring the works of Austrian composers Mozart and Strauss at the Vienna Opera House.
[Check out the sideshow below with our photos of Vienna]
Day 6 – Bratislava, Slovakia
A short leg down the river next took us into Slovakia's capital Bratislava. Bratislava is a fantastic central European City and reminded us of Prague-its blend of old and new makes it tremendously appealing to North Americans. We had less time than we would have liked in the Slovakian capital to roam around because it was fascinating and very comfortable. Bratislava is located at the juncture of three countries – Slovakia, Hungary and Austria. You can see the nearby Carpathian Mountains and the city rests on the banks of two rivers – the Danube and the Morava.
Bratislava Castle is located high above the city and we learned that this area has been populated since the Bronze Age and was a Celtic settlement at one time. We went into old town to check out the amazing architecture and the Christmas Market. We sampled more Glühwein and a local treat – cabbage-filled potato pancakes. We then had to head back to the ship so we could sail to our last stop, Budapest, Hungary.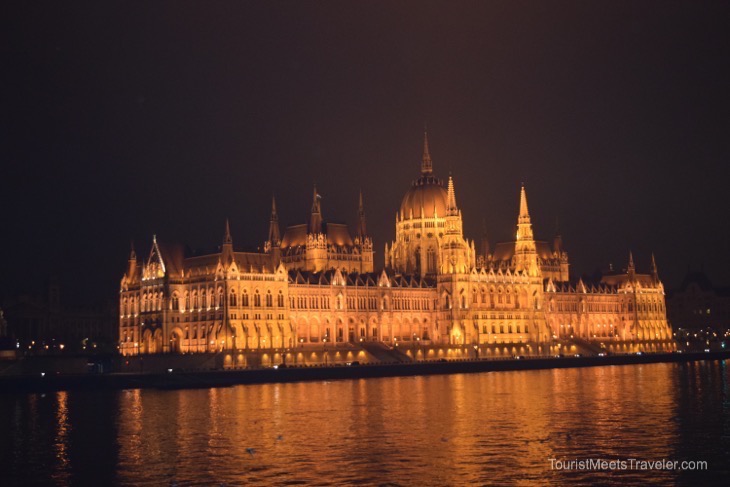 Our captain made sure that we all bundled up and headed up to the top of the boat for the entrance into Budapest.  We passed the Parliament building all lit which captivates the senses with its beauty.  I've seen the parliament in daytime and it's impressive but in the nighttime it's stunning!
[Check out the sideshow below with our photos of Bratislava, Slovakia]
Day 7 Budapest, Hungary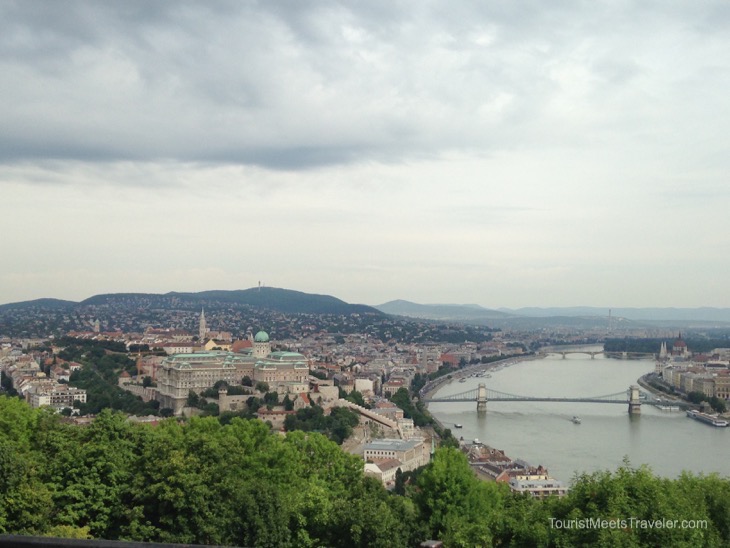 We got up early on our next to the last day of the cruise and took a bus tour of both sides of the city. There are two areas – Buda and Pest. Buda is the older area and Pest is more modern. The ship docked on the Pest side near the Four Seasons Gresham Palace. This is a modern hotel installed in a palace built in 1906. It's fascinating to see.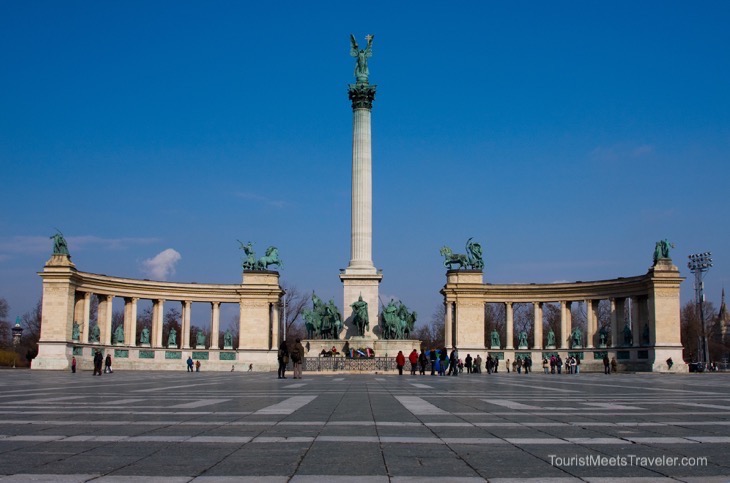 We saw a number of sites on the bus tour including the neo-Renaissance State Opera House, Heroes Square featuring the Tomb of the Unknown Soldier and then in Buda, we saw the Castle of Buda and walked up to Fisherman's Bastion, a neo-Gothic fortress with seven towers representing ancient Magyar tribes that settled the area in the late 800s.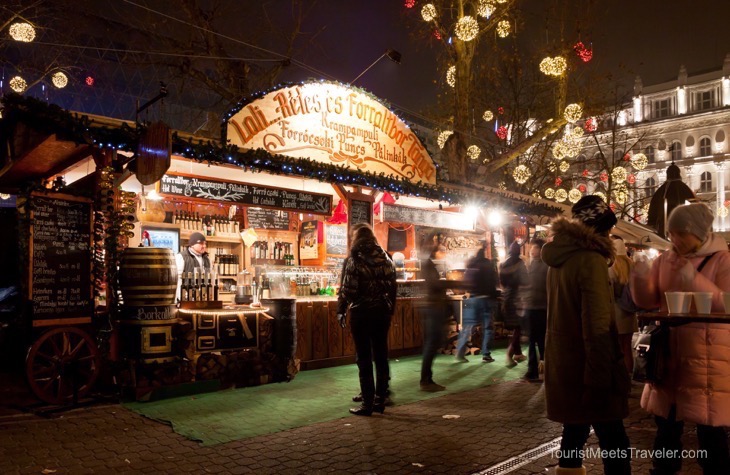 We walked up to Matthias Church which was built in the 1300s and lovingly restored – it is a sight to see. We decided to skip lunch on the ship and go to the Christmas markets instead. There are two large Christmas markets in Budapest, both within comfortable walking distance (less than 10 minutes) from the ship. We also stopped by Budapest's Great Market Hall at the Pest end of Szabadság Bridge.
Day 8 Budapest Hungary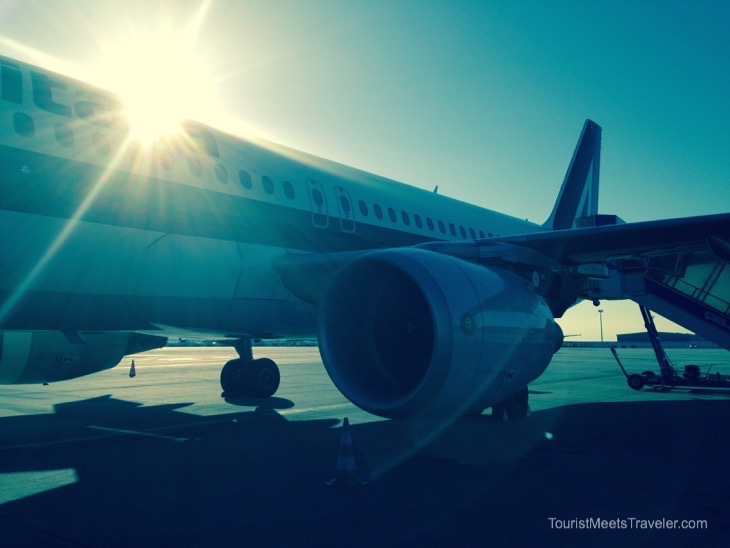 This was the day our adventure ended. We had a great time so we were sad to pack our bags to leave. The disembarkment process was low stress – our packed bags were handled for us (much heavier now with all the Christmas goodies we purchased) and were loaded onto the bus. We were taken to the airport and escorted to check in which made the process very simple.
[Check out the sideshow below with our photos of Budapest, Hungary]
Trip notes
The Viking River Cruise is all-inclusive offering complete tours at every port-of-call with several extra optional outings at nominal charge.  Onboard guests are treated to gourmet dining including wine and beer with every meal and the lounge offers a full service bar for those wanting extra drinks at very reasonable prices.  There are excellent coffee and hot drink stations with delicious baked goods available 24-hours-a-day included with the tour.
While sailing down the Danube, we were able to stay very active on the ship by checking out on-ship demonstrations of local cuisine, enjoying musical performances, language lessons and much more in a wide array of activities.  There is a rich and varied social life on board not only every evening but during the day as well for those not participating in the tours.  With only 140 passengers you make friends easily and a happy informal ambiance is enjoyed.
There were game nights, an Austrian themed night, plus tours of the "backstage" areas of the ship so we could see how the boat operated. In all, it was an incredible experience that I'm so glad we took. The beds were comfy, the on-board food delicious and the ship's staff offered attentive personal service to all the guests. Our Viking Danube Waltz cruise was a once in a lifetime adventure that we look forward to repeating.
It is impossible to exaggerate the warmth and courtesy of the entire staff aboard he Viking Modi.  From Thomas, the Hotel Manager and Captain Istvan Fekete to the waiters and housekeeping staff all guests are made to feel special.  The service on our Viking Tour was superior to any we have experience in our extensive world travel.
We highly recommend you take a Viking River Cruise, head over to their website and check out all the amazing river cruises offered, RIGHT HERE!