The Peanuts Movie Lite Brix Collections – A Flying Ace Snoopy Giveaway!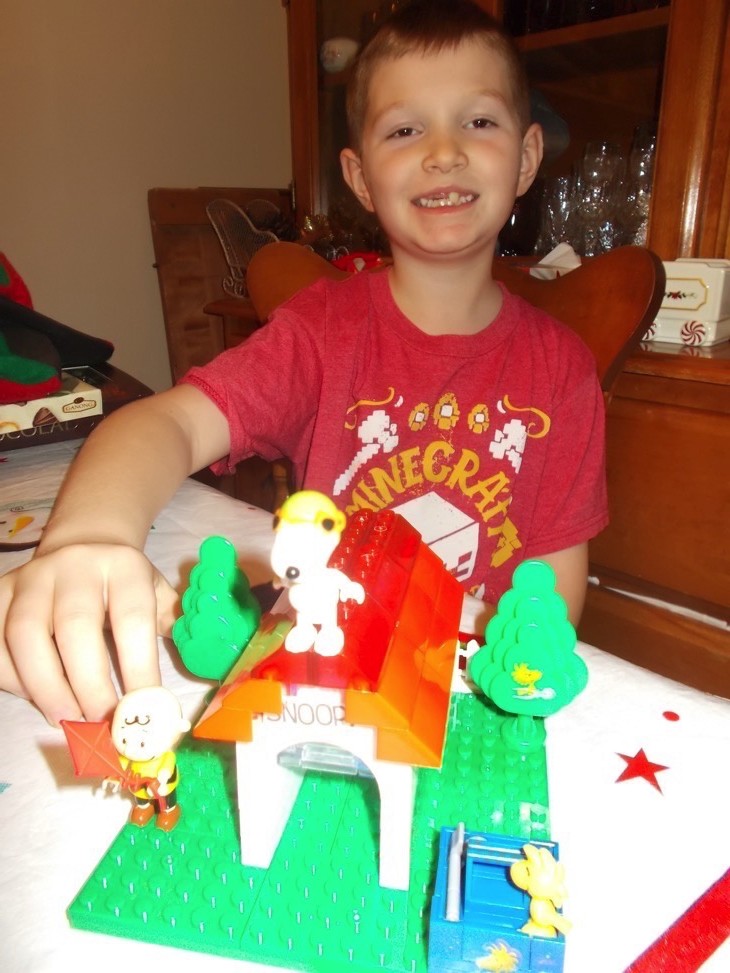 The holidays are always a magical time, and our family's holidays have been extra magical thanks to the Peanuts gang. Our home has been filled with Peanuts Christmas memorabilia, trips to the theater to see the premiere of the 3D Peanuts Movie, and of course several viewings of Charlie Brown's Christmas special. The holidays might be winding down, but that doesn't mean that the magic has to stop! This year my nephew Jayden received a Peanuts Movie Lite Brix – and his face lit up like a Christmas tree when he opened it, he has been playing with the Snoopy toy non-stop ever since!
The Peanuts Movie Lite Brix comes from the geniuses at Lego – and is an easy to assemble Lego creation that one put together displays the Flying Ace Snoopy, his pal Charlie Brown, and of course his little yellow pal Woodstock. What sets the Lite Brix toys aside from other Lego kits is that they are battery operated and actually light up once they are put together!
In honor of Peanuts' anniversary and the premiere of the official 3D Peanuts movie, Lite Brix unrolled an entire collection of Peanuts toys. Besides the Flying Ace Snoopy – you could also pick up the Lemonade Stand, Skating Pond, Baseball Game, and School Dance. My nephew wants to collect all of them so that he can put together an entire light-up Lego Peanuts Village!
We all know that Snoopy flies like a pro, so the Peanuts Movie Lite Brix also comes with foam propellers for the Flying Ace. One of the awesome things about the Lite Brix collection is that it is compatible with other Lego pieces – which my nephew has a ton of – so he has been mixing and matching them and building on to the beagle's dog house. Snoopy's flying dog house is starting to look more like a flying three story mansion!
My family is obsessed with Snoopy, Charlie Brown, and all things Snoopy – so my nephew was thrilled when his new toy began playing the official "Linus And Lucy" song, which he of course knew by heart. Since he opened his Lite Brix on Christmas morning and put it together, he has been leaving it on in his bedroom as a nightlight. It didn't come with batteries, however it surprisingly doesn't drain the juice in the ones that we put in it. My nephew has been rocking with the same AAA batteries for a week now – and he plays with it non-stop, and leaves it on over night.
Just because the holidays are winding down – doesn't mean that you have to wait until next year to gift one of your little ones the Peanuts Movie Lite Brix Flying Ace Snoopy. The awesome toy is actually very affordable and retails for around $24.99 at major stores and on Amazon. But, we are going to give away one for free to one of our lucky readers. It will make a perfect late Christmas gift, or even a "just because" gift for one of the die-hard Snoopy fans in your family. If you want to win your own Peanuts Movie Lite Brix, don't forget to enter in to the giveaway below!
THE GIVEAWAY
Prize: (1)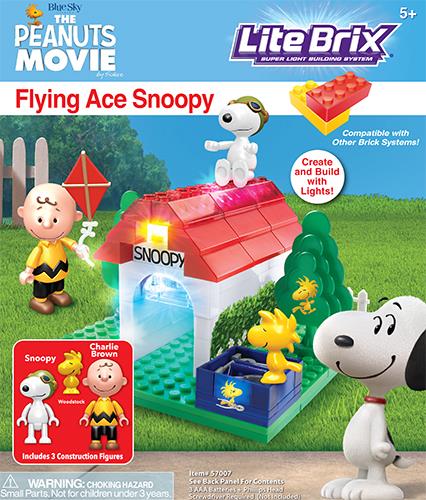 : Peanuts Movie Lite Brix Flying Ace Snoopy
Rules: Giveaway is open to US and CANADA, ages 18+ years of age .
The giveaway ends on 01/14/16.
Simply follow the Rafflecopter entry form below for your chance to win. Be sure to return tomorrow to complete the daily entries. It takes a bit of time for the Rafflecoppter to come up, so don't rush away 

a Rafflecopter giveaway
After you enter the giveaway you can keep track of Snoopy and the rest of the Peanuts gang on social media by checking out @Snoopy or @Snoopygrams.
Disclosure: I am a Peanuts Brand Ambassador and was provided with gifts as a participant in this promotion. The opinions in this post are 100% mine.