Win a Peanuts Personalized Art Print #Giveaway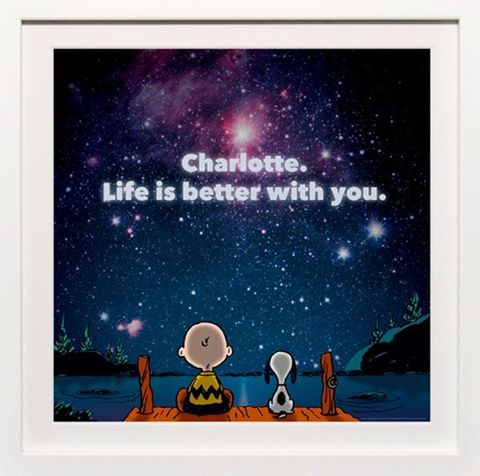 June is a busy, busy month in our house. Summer vacation if officially upon us, schools out, the teens in our family are graduating, My weekends are booked solid with cookouts, grad parties festivities, and even a few birthday parties. June is by far one of my most favorite months of the year, summer is kicking off, my social calendar is in full swing, and I found myself scrambling to find last minute gifts.
As you all know, I am a HUGE fan of Snoopy and the Peanuts Gang. There's just something about Charlie Brown, Snoopy, Woodstock and all of those adorable Peanuts characters that make me smile, remind me of my childhood, and gives my tight-knit family something to bond over. Peanuts has become a family tradition in our house, I watched it when I was a kid, I watched it with my kids, and now we watch it with my grandkids.
So, when I found myself frantically shopping for last minute birthday, and graduation gift ideas, I found my way to this AMAZING site, Art You Grew Up With. Of course, they have an amazing Peanuts and Charlie Brown selection, because seriously who didn't grow up reading those comics and watching the adorable cartoons?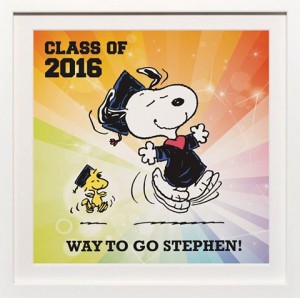 Art You Grew Up With creates beautiful canvases with your favorite Peanuts characters on them, and a personalized message to your loved ones for any special occasion, or as a "Just Because" gift. There are various pieces of original artwork from the Charlie Brown comics that you can have personalized, the prices range from a very affordable $25 – $45. Each print is 5X5 inches, or if you choose to have them framed, 8X8 inches.
The pictures come on archival paper with a matte background, a license of authenticity for you collectors out there, and framing is optional. There are tons of websites out there that will print fraudulent copies of Peanuts pictures, but Art You Grew Up With is the real, certified deal and 100% legit, with licensing options from the comic.
Art You Grew Up With has great options for gifts for any occasions, especially if you are anything like me and have a ton of birthdays on this year's shopping list. I also got a super cute baseball-themed Peanuts picture for my nephew as a present, I know he will love to hang it on the wall with some of his other Charlie Brown items, but this one is special – it has his name on it! If you are frantically trying to find the perfect and unique Graduation gift for someone on your shopping list, the site can also help you out in that department as well.
You can head over to Art You Grew Up with and start shopping for the Grads and Dads in your family, especially the Peanuts and Charlie Brown fans! If you happen to live in Chicago, then you are in luck, you can actually stop by the gift shop in person, they are located in Macy's Department Store on State St. And, don't forget to enter our giveaway below for a chance to win a piece of free Charlie Brown and the Peanuts Gang artwork from Art You Grew Up With!
GIVEAWAY
We will be choosing a lucky winner from the Rafflecopter below to receive a gift code to enter into their website and score a free piece of artwork! Are you a fan of Charlie Brown and Snoopy? What's your favorite piece of artwork at the Art You Grew Up, check out their official Instagram page. Let us know in the comments below!
PRIZE: The winner of the giveaway will receive:  a "Peanuts Gang artwork from Art You Grew Up With"
RULES: Giveaway is open to US and CANADA, ages 18+ years of age .
The giveaway ends on 06/29/16.
I will notify the winner by e-mail and you have 48-hours to respond or I will have to choose another winner.  Good Luck!!
Simply follow the Rafflecopter entry form below for your chance to win. Be sure to return tomorrow to complete the daily entries. It takes a bit of time for the Rafflecopter to come up, so don't rush away.
a Rafflecopter giveaway
Disclosure: I am a Peanuts Brand Ambassador and was provided with gifts as a participant in this promotion. The opinions in this post are 100% mine.