14 Romantic and Unique Valentine's Day Vacation Getaways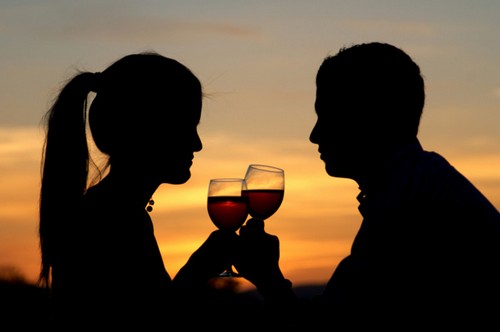 Cupid's time of year is rapidly approaching – that special day when you show your significant other how you truly special they are – Valentine's Day. Valentine's Day is one of most popular and universally celebrated holidays. The concept of romantic love predates the legend of St. Valentine and is at the very root of what it means to be human. Valentine's Day, the day of love, and the day to make a special show of that love provides an opportunity to put on your creative and expressive hat. After all this is the time when you get to tell, both in word and deed, just how much that special person matters to you.
This year instead of expressing yourself by buying flowers, chocolate, wine, etc., why not take your significant other on a trip? Flowers die, chocolate puts on weight, but a trip builds memories you will share forever.  Travel with a loved one is one of the most intimate experiences available and one with which your special someone will be absolutely delighted. So treat your loved one to a Valentine weekend break or an even longer holiday and enjoy some one-on-one time with your Valentine.
Once you've decided to makes this year's Valentine's Day celebration really special, how do you choose that romantic trip? Well, have no fear, we've found 14 romantic and unique destinations which are perfect for a Valentine's Day getaway – and it is not too late to plan one now.
Thanda Private Game Reserve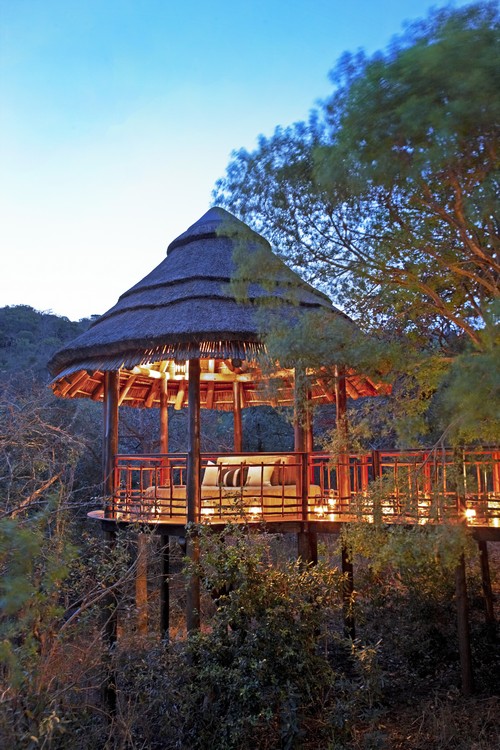 How about a romantic safari? I'd love to take a safari as I'm sure it would be one of the most rewarding and exciting vacations to experience. I live in the city so the thought of being so close to nature is very attractive. This is definitely on my bucket-list! Who in their right mind would pass up the opportunity to see animals roaming freely in their natural settings? Especially animals like the ones still wild in Africa!
Thanda Private Game Reserve located in the heart of South Africa's Zululand offers a wonderful luxury safari experience with its award-winning accommodation, superb guest service and warm Zulu welcome. This private reserve comprises 14,000 hectares of spectacular wilderness with excellent Big 5 game-viewing opportunities, as well as the chance to see rarer animals, together with a strong community and conservation commitment. Below are a few nature shots from the reserve and they are stunning.
Thanda has just launched a superb 3 night African Affair romance package that combines traditional and Zulu touches for an authentic African experience – from decadent pampering and star-lit dinners, to local love declarations, it guarantees a truly wild & thrilling time on safari! Can you imagine spending Valentine's Day here? I can!  I can't imagine that anyone would ever forget seeing their first wild elephant, or the partner who made it possible…..
Chestnut Hill B & B – Virginia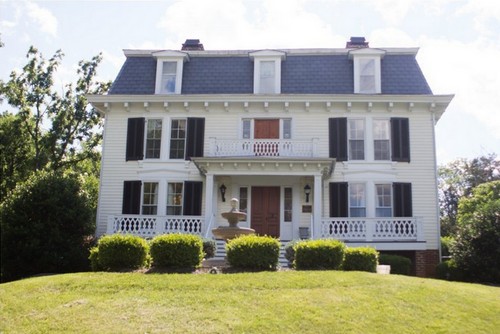 A wonderful idea for a romantic Valentine's Day is to stay at Chestnut Hill B & B in Virgina. Chestnut Hill B&B has won the "Top 10" B & B again for the fourth straight year. The historic home was purchased in 2003 at auction for a single $1 by Troy and Kathleen Ayers. The price was great but there was a caveat – the house had to be relocated to an adjoining property to make way for an access road to the Prospect Heights Middle School. The Ayers spent the next six years meticulously renovating the building, taking great care to preserve its original details and craftsmanship. Built in 1860, Chestnut Hill is listed on Virginia's Register of Historic Places.
Visitors can explore local vineyards, historic sites, and other attractions. The inn has a history of romance hosting more than 30 weddings in 2013 and is on track to double that number in 2014. Chestnut Hill offers a range of wedding packages, ranging from single-day events to weekend-long galas for up to 150 guests.
The jewel-like setting lends itself to scenic outdoor celebrations, and wedding coordination services are available. For many brides, part of the draw is the Ayers' rapt attention to every detail. "We do our best to anticipate what our guests are looking for, and then do everything we can to help them achieve it," says Kathleen Ayers.
Westgate River Ranch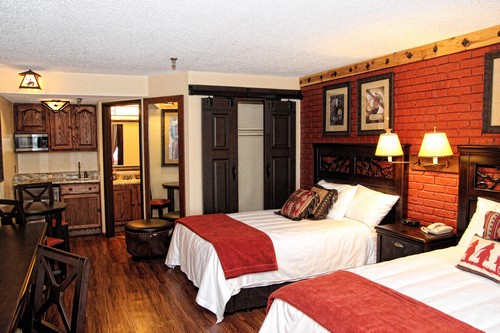 Who wouldn't like to spend time on a ranch? What a great idea, get away from the city, ride a horse, shoot skeet, watch buffalo graze! Find your inner cowboy or cowgirl! Westgate River Ranch is the largest guest ranch east of the Mississippi and located in Central Florida.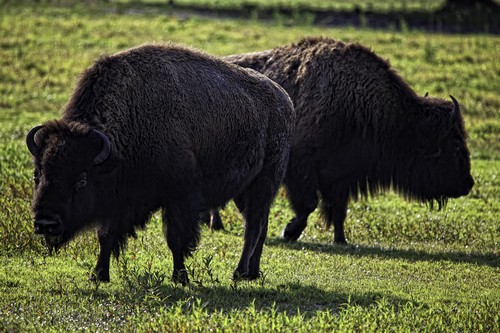 The ranch offers a truly unique vacation experience, situated on 1,700 lush acres in the heart of Florida's cattle lands and surrounded by approximately 400,000 acres of state and federally protected wetlands. Despite its serene, distant appeal, it's only an hour drive from Central Florida's theme parks. It's a place where guests can get away from it all, while still being in the middle of everything!
For couples looking to celebrate together, the ranch is offering a great package: Celebrate Valentine's Day with a cowboy twist! Starting now, couples can book a two-night stay for Valentine's weekend. The stay includes a sunset hayride on Friday evening, complete with champagne, leading to a romantic candlelit dinner for two. The package includes two drink vouchers for Saturday night at the ranch's saloon.
Not your typical guest ranch experience, this hidden Central Florida gem has appealed to virtually any traveler and is located just an hour south of Orlando. The resort marries Florida cowboy history with unique vacation amenities, offering an ideal option for those looking for a bit of adventure or an escape for those wanting to get away from it all.
The recently renovated ranch has introduced a new component to its accommodations called Glamping, a combination of glamour and camping, providing an option for those who want to combine the fun and camaraderie of camping with some of the conveniences of a luxury hotel room. Just think of it as camping in style.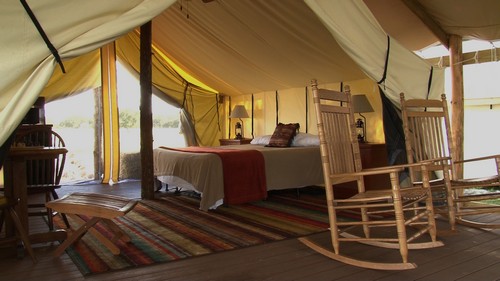 A pre-set tent features a full set of bedroom furniture, ceiling fan, air conditioning, mini refrigerator and board games as well as an outdoor grill. All of the glamping tents come with access to their own private bathroom facilities, which is great for families. Ten new glamping sites were erected in 2013 as part of the ranch's multi-million dollar renovation. Horseback riding, skeet shooting, and a full Saturday night rodeo are additional components that add to the authenticity of the ranch.
Grand Hotel Kronenhof in Pontresina, Switzerland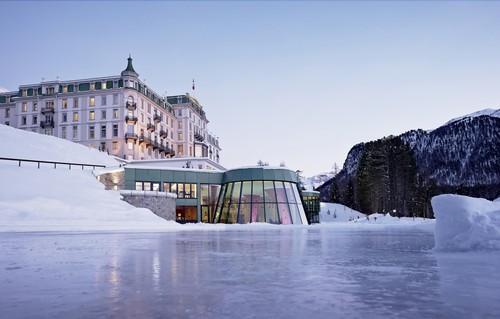 For a romantic setting which will remind you of the classic version of Dr Zhivago – the Grand Hotel Kronenhof in Pontresina, Switzerland conjures up images of pristine snowy landscapes and snuggling up indoors (in a private spa suite) watching snowflakes gently float to the ground….
The Grand Hotel Kronenhof is a majestic neo-Baroque property tucked away in a small and pretty Engadine valley, has a very romantic "Time for Two" package in store for Valentine's Day.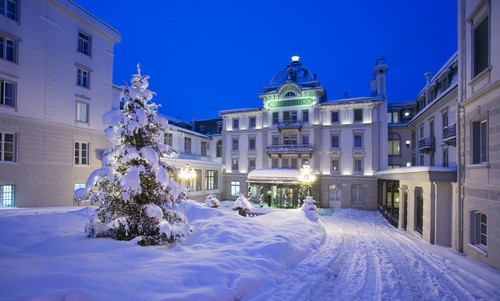 A trip to Pontresina starts with a magical train ride from Zurich, which takes in the narrow-gauge Rhaetian train, part of the famous Glacier Express route and a UNESCO World Heritage railway; the way the train dips in and out of tunnels and chugs over the super high suspension bridges of the valleys takes your breath away while the little hill-top villages passed en route look picturesque clad in snow.
At Pontresina station, "Time for Two" guests are picked up by the hotel's chauffeur-driven car and taken to the Grand Hotel Kronenhof, where Champagne on ice is waiting in the room to toast the start of their romantic break. Champagne can be followed by a visit to Kronenstubli, the hotel's intimate, wood-paneled restaurant, serving international food with local flair.
For pure relaxation, the "Time for Two" package includes two hours' use of the Kronenhof's private spa suite, where the couple can enjoy a hydro jet bath together, before lounging on a double waterbed while watching the snowflakes fall outside against a dramatic backdrop of snow-capped mountain peaks, followed by a simultaneous 25-minute aromatherapy massage or a steam bath.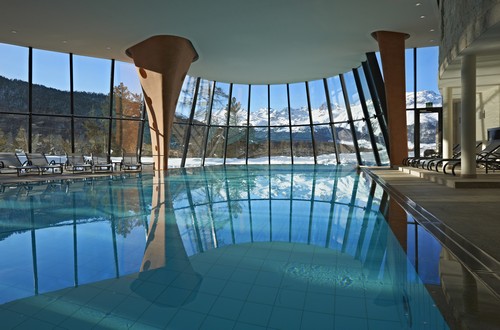 Possibly the most fairy-tale element of the "Time for Two" package, however, is a ride along the tree-lined Val Roseg in the hotel's very own horse-drawn carriage, with a mug of Gluhwein and warm blankets under which to snuggle. The perfect opportunity for a proposal, perhaps?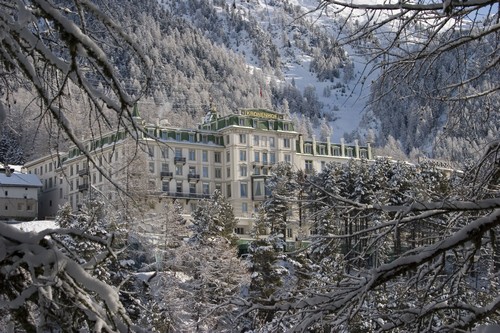 Loved-up couples can also take the telecabin up to 3300 metres, for a stunning 360 degree view over the French Alps and the Italian Dolomites or for a little light-hearted fun they can wrap up warm and explore snowy forest paths, race downhill on toboggans or try their hand at ice skating on the hotel's own natural ice rink.
Jamaica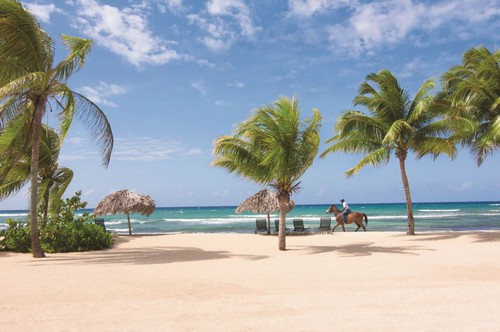 If you are thinking of a warm way to spend Valentine's Day, hop on a plane and head to beautiful Jamaica, a country of sun-drenched beaches, warm tropical breezes and rich cultural heritage. Jamaica has a great variety of activities and accommodations. It's a great place for both adventurous couples and couples who want to relax.
Some unique options for Valentine's Day:
Couples can have a personal butler and maid in a private villa at Half Moon, a Rock Resort. Spa treatments at the resort use local Blue Mountain Coffee and special herbs like the Fern Tree Bush Bath.
Sandals allow couples to "Stay-at-one-play-at-three." So basically, couples never have to choose just one place to stay – they can try them all..
Breathtaking off-the-beaten trail options include the Enchanted Gardens – a beautiful nature walk and rare bird sanctuary that used to be a resort owned by a former Prime Minister.
The Blue Hole is a sight to behold – a lesser-known mineral spring with bright blue water that is pristine – a true non-touristy area.
Or, couples can try the Luminous Lagoon filled with an almost magical glow that the locals call "Glistening Waters." They must go out on a boat in the night to see the sea sparkle beneath them.
There are also have a variety of hotel packages for this Valentine's Day. One example is below, and there is even a discount code if you decide to head to Jamaica.
The Oasis at Sunset *is offering a Romantic Escape package including a stroll on the private beach, complimentary his and her massages and a bottle of sparkling wine in the room with tropical fruits dipped in chocolate on Valentine's Day.
Lake Placid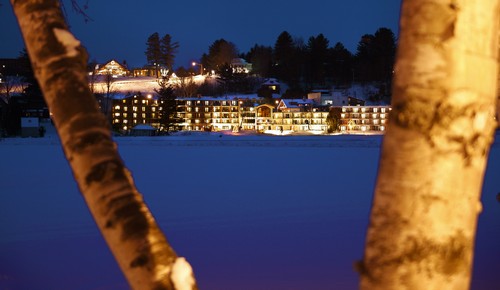 One of my personal favorite Valentine's Day locations in Lake Placid. You don't have to visit the Alps or the Rockies to have a romantic experience in the mountains. In fact, the Adirondacks in northern New York offer six-million-acres of 'Forever Wild' wilderness ripe for adventure, winter sports, seclusion and any other factors you can think of to create a romantic retreat for two – all without the price tag of a European or Western vacation.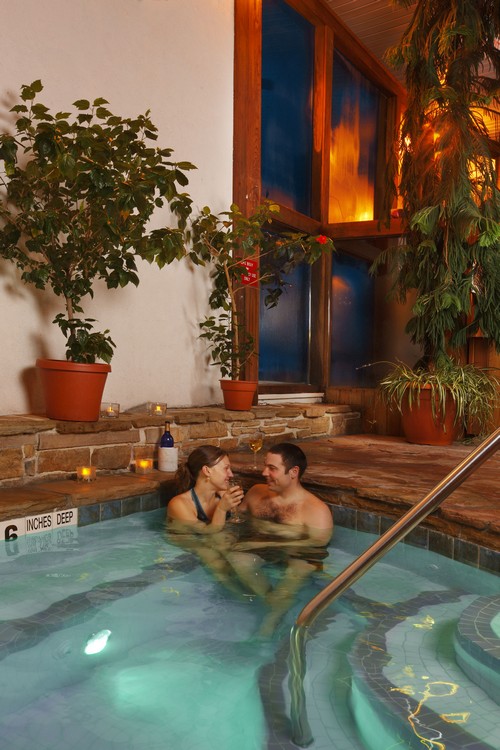 From its quaint Main Street and Olympic legacy to its outdoor offerings and cozy spots next to warm fireplaces, Lake Placid is one of the East's top romantic destinations. See why during a stay at the Golden Arrow Lakeside Resort this Valentine's Day…
Valentine's Day in Lake Placid – The romance package at the Golden Arrow provides the perfect touch for a weekend getaway with that special someone. For just $100, revel in a luxurious mountain escape with this romantic deal, including a bottle of wine, a commemorative wine glasses, corkscrew, wine tasting at the Goose Watch Winery located on Main Street Lake Placid, and a delicious breakfast in bed courtesy of the resort's Generations Restaurant.
Make a romantic getaway this February even more special with a stay during Valentine's Day at the Golden Arrow. As a special treat to guests who purchase the Romance Package on Valentine's Day, Friday, February 14, the resort will offer a 10% discount off their room rate for the day.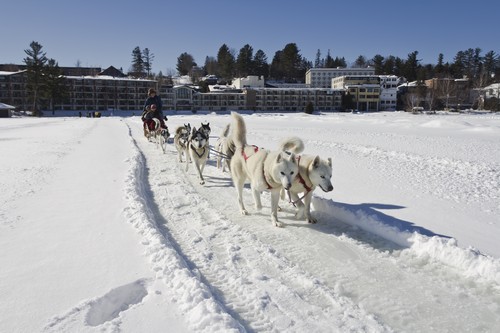 With a variety of affordable outdoor activities near the resort, including dogsled rides on frozen Mirror Lake, a scenic plane ride and even a thrilling toboggan experience, this Valentine's Day can be one filled with Adirondack adventure, too.
Charlotte Harbor & the Gulf Islands – Florida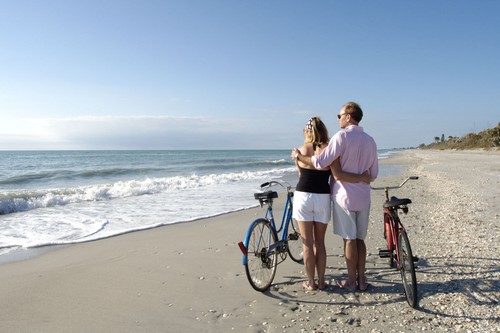 Romance comes naturally in Charlotte Harbor & the Gulf Islands – Sunset Kayaking, Secluded Beaches, Candlelight Dining add up to a Perfect Lovers' Getaway for Valentine's Day. Nature-lovers and other romantics who want to escape the crowds will fall in love with this secluded coastal hideaway halfway between Sarasota and Fort Myers on the Southwest Florida Gulf Coast. Charlotte Harbor & the Gulf Islands offer the perfect balance of charming coastal communities and undeveloped vistas where 84 percent of the shoreline is protected preserve and nature reign supreme.
Whether you enjoy active or passive pursuits, here are a sampling of six ways to celebrate romance in Charlotte Harbor & the Gulf Islands:
Sail away together – Spend the day sailing on Charlotte Harbor and discover a new romantic pastime together. Yachting Vacations offers sailing classes, including how to handle a 35′ yacht. Dolphins and seabirds often come along for the ride.
Find art that gladdens the heart – Wander historic Punta Gorda's brick-laid streets lined with majestic palms. One-of-a-kind boutiques and classic "key west" style Florida homes add to the charm in this town dotted with art galleries. The Visual Arts Center features an extensive gallery and gift shop.
Dine by candlelight – For waterfront dining, Portofino's on the Peace River in Port Charlotte offers scrumptious seafood and Italian fare. Enjoy views from the deck or two inside dining rooms. For casual dining, head to Englewood and try either Gulf View Grill, which has the added benefit of romantic waterfront sunsets.
Romantic Accommodations and Packages – From luxurious retreats to beachfront resorts, villas and familiar chain hotels, the area offers accommodations for every taste and budget.
Weddings – With over 20 years of experience Extraordinary Eventz can plan a wedding, destination wedding, rehearsal, shower, anniversary or any other kind of romance-inspired event. A variety of wedding packages are available inclusive of: professional wedding consultation and coordination, personalized wedding ceremony, filing of the marriage license, photography, music, flowers, venue search and selection, reception menu, wedding cake, favors and more.
Bermuda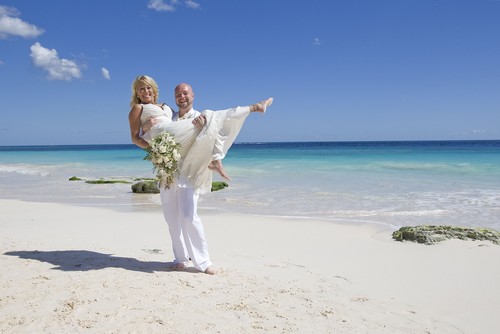 Located less than a two-hour flight from most East Coast gateway cities, the nearby island of Bermuda provides the perfect romantic backdrop for a Valentine's Day getaway. Couples can take in the stunning pink sand beaches that stretch for 21 miles along shimmering turquoise seas, enjoy luxurious accommodations perfectly tailored for romance and relax in one of the island's many magnificent spas. Bermuda also boasts more than 150 restaurants to fit any traveler's budget, from simple and inexpensive to elegant dining – perfect for special occasions – as well as more wreck dives and golf per square mile than anywhere else in the world, ideal for the adventurous couple.
Visitors to the island in February are able to participate in the island's Love Month activities, a series aimed at relationship-strengthening and helping couples to reconnect and reinforce their bond while spending time together in this nearby island paradise. Love Month activities include a couples' golf tournament, special love-themed walking tours of the historic city of St. Georges, romantic cruise tours of Hamilton Harbour and more. Island resorts also offer special romantic packages, some of which are detailed below:
The Fairmont Southampton: Located on Bermuda's spectacular south shore, this resort sits on nearly 100 acres, overlooking the island's famed pink sand beaches and beautiful blue seas, providing the perfect setting for romance.Special Romantic Offering: Bermuda Moon Dance Package – Couples can enjoy a special evening for two, which includes a five-course dinner prepared by the resort's Executive Chef on the property's secluded beach, orchestrated by a private butler. Couples are also given the option of a horse and carriage ride from the hotel to the beach, a saxophone serenade throughout the evening and a bubble bath prepared, complete with aromatic candles, for when they return to their room.
Rosewood Tucker's Point: With sweeping views of lush green hills and the crystal clear water, the effortless elegance of Rosewood Tucker's Point ensures that guests feel like royalty during the romantic getaway of their dreams..
Santa Fe, New Mexico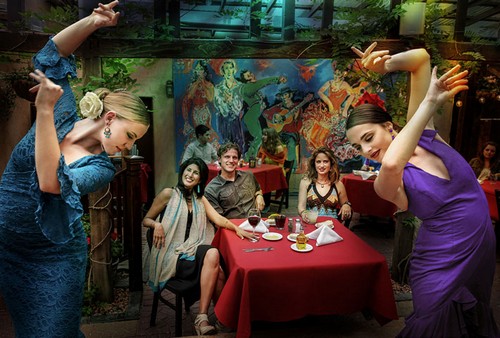 Santa Fe, New Mexico is a destination long appreciated by romantic couples! With its old-world charm, signature adobe architecture and friendly relaxed vibe, Santa Fe has been a top romantic destination for decades. Narrow winding streets are fronted by small shops and top-notch restaurants, winter days are typically sunny, while nights can be snowy, covering the mountain peaks on the city's edge, and Santa Fe's pampering hotels (many with rooms featuring fireplaces) and spas provide a welcoming retreat at any time. Santa Fe's cultural mix of Native American, Spanish and Old West traditions are alive today and add to the away-from-it-all feeling throughout the city.
Valentine's Day brings out any number of holiday packages around town where romance and savings intersect, from hotel specials to romantic restaurant meals. Nearby skiing, 20 minutes away at Ski Santa Fe, is an added wintertime bonus for an exhilarating day high in the Southern Rockies. Santa Fe has been named a top American romantic getaway by a variety of publications, from Travel + Leisure to Redbook to Liveability.com, and one visit, or look, tells the story.
Montreal
Montreal is the perfect romantic getaway with its Old City unique European vibe.  On Valentine's Day take an excursion to Old Montreal and see how Montreal was in the old days, a thriving colonial outpost centuries before most American cities were even founded.  Many of the original buildings have been preserved for centuries and the area has an "old world" European feeling.  You and your valentine can walk on the cobblestone streets, feel the culture, visit museums and eat at one of the many French restaurants.
From fine restaurants to late night eats, Montréal is the perfect place for foodies.  To really get a feel for Montréal, take a look at the menus. The city has the highest concentration of eateries on the continent—nearly 65 restaurants per km2. From five-star restaurants to hard-and-fast local favorites, Montréal offers one-of-a-kind experiences to tantalize any palate all year round.
If your looking tips and suggestions for a custom-tailored Montréal Valentine's experience, there is a great website to take a sneak peek into your next Montréal stay. See what makes the city pulse. Discover what's on the scene and get ready to feel the ambiance, the charm, the energy.
Entre Cielos Luxury Wine Hotel & Spa – Argentina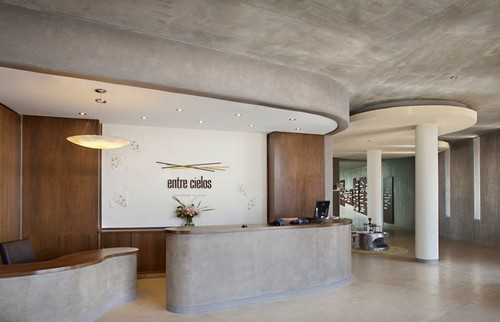 It's Summer-warm in February in Argentina, a lovely escape from the cold and spend St. Valentine's Day. Entre Cielos Luxury Wine Hotel & Spa – Entre Cielos lies in the beautiful Mendoza region in the foothills of the Andes. The hotel and hamam+spa's modern design creates an elegant, poetic environment, respectfully integrated into the landscape, where you can be sure of warm and friendly service.
This extraordinary Luxury Wine Hotel & Spa lies at the foothills of the Andes surrounded by vineyards. Inspired by the outstanding natural beauty of the region. Entre Cielos has been created for those who appreciate design and architecture, great service, stunning views, and wellness for the mind, body and soul. Entre Cielos has 16 individually designed luxury rooms including a floating wine loft above the vineyard.
The land surrounding the hotel produces the world's finest Malbec wines and you can celebrate and enjoy wine any and every moment. With luxury lodging and gourmet experiences, the authentic hammam spa combines perfectly for the holistic approach of living life. You can also enjoy Mendoza's great outdoors with different activities in the Andes Mountains and by visiting different wineries to appreciate nature and its delicious bounty
New Orleans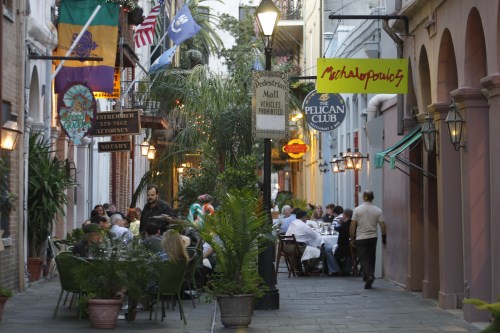 A fun and interesting idea for Valentine's Day is a trip to New Orleans. New Orleans offers temperate weather, an authentic and mysterious French Quarter, and the best restaurants and hotels anywhere, making the city a top destination for Valentine's Day
New Orleans offers a variety of free entertainment, romantic itineraries, and romance packages for two. There are a number of picture-perfect places to celebrate the holiday with a kiss or offer a surprise marriage proposal:
The Moonwalk at Dusk
On the streetcar going down St. Charles Avenue
The Sculpture Garden at City Park
Any French Quarter lush and beautiful courtyard
During a carriage ride in the French Quarter
The fountain at Audubon Park
On the top deck of the Steamboat Natchez
A French Quarter rooftop patio
In a corner booth at a dimly lit jazz club
At the Lakefront at sunset
While in town, couples may want to try: Dancing, dining, and romance on the Steamboat Natchez or the Creole Queen. There are romantic hotels to choose from, with many offering discounted packages for Valentine's Day. Get married while you are in New Orleans. Enjoy the sights and sounds of New Orleans on a romantic tour or relax at one of New Orleans' luxurious spas. There is something for everyone in New Orleans.
Las Vegas – The Venetian and the Palazzo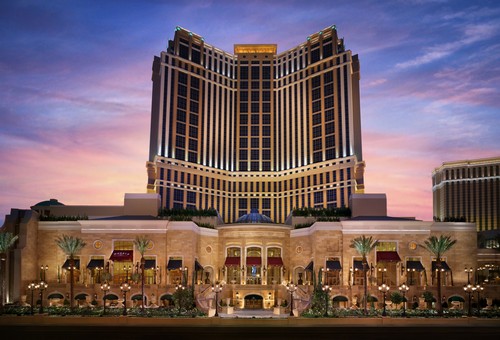 The Venetian and the Palazzo in Las Vegas offers an awesome Romantic Getaway package which is a great idea for Valentine's Day's Day. It's a lot closer than Italy but still has that romantic vibe from the gondola rides to the first class restaurants.
The romance of Venice envelops every moment of your stay at the most exquisite resort in Las Vegas, The Palazzo. It's in every bite of gourmet breakfast, delivered to your spacious view suite. It's in the gentle ripples of the Grand Canal that carry your gondola past St. Mark's Square. And it's in the flickering candlelight of an intimate dinner at Pinot Brasserie. It's all here waiting to enchant you – all you have to do is book your stay.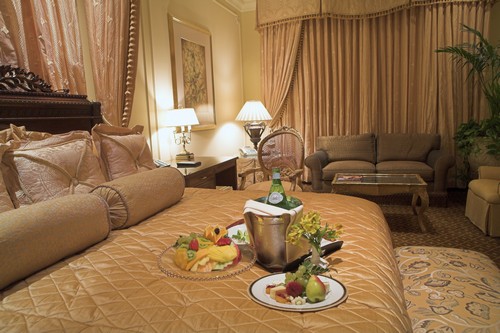 The property features the best of a Venice Romance here in the states, from the Gondola rides to scrumptious Italian cuisine at Mario Batali's Carnevino or hotspot LAVO. The restaurant features 20-foot ceilings of old wood and low chandeliers crown an area featuring a curved bar and leather seating for a fun and romantic vibe. If you prefer a taste of French romance guests can choose from Buchon, Pinot Brassiere or Morel's Steakhouse and Bistro.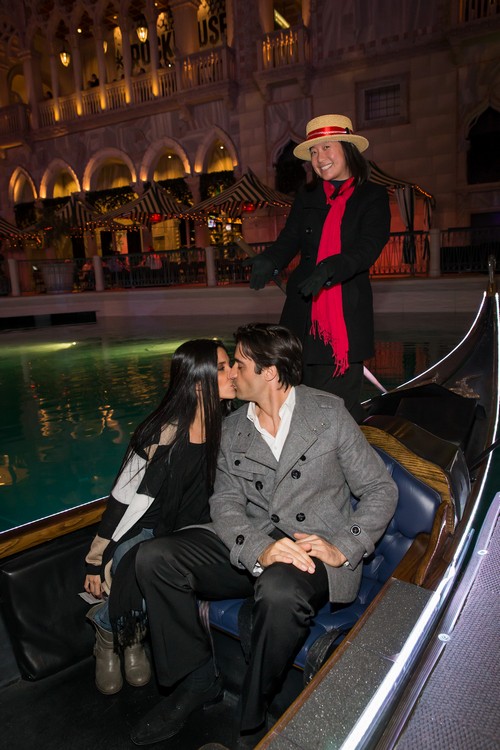 Another great Valentine's idea is to spend an utterly relaxing day with your Valentine at the premiere spa venue in Las Vegas, Canyon Ranch Spa Club luxury day spa at The Venetian and The Palazzo.

Along with the Ultimate Couples Relaxation Package and the Body and Soul Package, each package includes a meal allowance for Canyon Ranch Grill and access to the incredible Aquavana thermal suite and co-ed Conservatory.
Sonoma & Napa Wine Country Getaway
As Valentine's Day draws near couples seeking a wine getaway can fall in love with Sonoma & Napa Wine Country. Wine aficionados and novices alike with revel in California's picturesque wine country. Excellent food, accommodations and sights can be easily found in the area. There are so many superb wineries to choose from but we have laid out a plan for you below for a great Valentine getaway.
Book a Night At…
Inman Family Wines
Inman Family Wines is a wine producer of small-lot Pinot Noir, Chardonnay and Pinot Gris from Sonoma County's Russian River Valley with a very romantic farmhouse located in the vineyard: The house is surrounded by vines and a large organic garden out front to which guests have full access. There are few things more romantic than an intimate dinner made with ingredients you picked, while also enjoying wine from the very vineyard in which you are dining.
Then Start the Day at…
Paul Hobbs Winery
Paul Hobbs Winery is one of the most respected wine makers in the world and his winery in Sonoma is home to Lindsay House, a very elegant tasting space. With indoor and outdoor entertaining areas, professional cooking facilities, and a modern aesthetic, it is the ultimate tasting venue. For Valentine's Day, they will be hosting a romantic food and wine tasting from 1:00 – 3:00 pm.
After, head to Napa to visit…
Sequoia Grove
Sequoia Grove is in the heart of Rutherford, this winery has a very heart-of-the-earth setting. The beautiful, nature-driven ambiance is harnessed by a grove of sequoia trees where one can enjoy a picnic or a bottle of their balanced Chardonnay and Cabernets. In addition, there is a large patio and a restored tasting room made from mostly reclaimed materials.
Frank Family
Frank Family's tasting room is consistently recognized by wine tasters and aficionados across the board as one of the best and friendliest in the country. An ideal way to finish celebrating Valentine's Day would be to sample Winemaker Todd Graff's four sparkling wines: Blanc de Blancs, Sparkling Rosé, Rouge and a vintage Reserve, all of which are made in the traditional French méthode champenoise style and sold exclusively in the tasting room.

So there you have it – 14 wonderful travel choices that will turn this Valentine's Day experience into one that you and your partner will cherish forever.  Don't forget that when we look back it is our travel experiences, our vacations spent in special locations with our partner that stand out the most. A romantic Valentine vacation is sure to be a wonderful experience as you and your loved one form lasting memories together.  Travel allows us the freedom from daily concern and the time to focus on our special someone – even the best relationship will be refreshed and recharged after a Valentine's Day travel experience.  After you turn this Valentine's Day into a vacation I expect you'll make it an annual event.