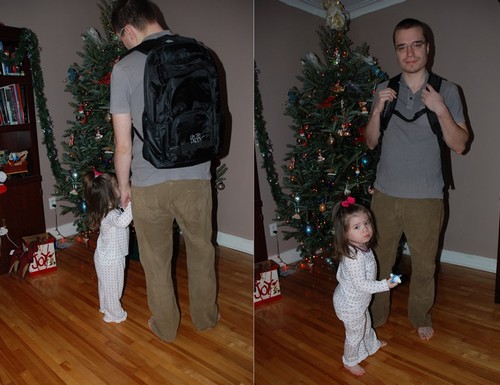 Grandma invited me to come over and make Christmas cookies with her this week.  I was super excited since I love going over to my Grandma and Grandpa's house – they are so much fun and I also love baking.  Before I left for my Grandma's house Mommy had to pack up a few things that are critical to my well-being – you know, my special sippy-cup, my iPad, and of course my favorite book, National Geographic Angry Bird Star Wars, the Science Behind the Saga, for nap time. Daddy was taking me to Grandmas today because Mommy had some work to do around the house (I think Mommy's idea of work when I'm out is a bubble bath…).  Mommy just got Daddy a great new backpack for us to try out, Daddy Diaper Pack, so he can carry all my favorite items mentioned above as well as my diapers, toys and lots more.  The new backpack is a Daddy Diaper Pack made by Daddyscrubs.com and Mommy and Daddy both love it.  Instead of Mommy having to carry a diaper bag around, Daddy gets to carry everything now.  The backpack not only holds my things it carries a lot more.  Daddy loves it because it does not look like a diaper bag.  I don't think Daddy wanted to carry Mommy's pink diaper bag anymore.
The Daddy Diaper Pack made by Daddy Scrubs that is the ultimate go-to bag for dads!  Organize baby paraphernalia in durable side pockets for water/baby bottles and sippy cups.  It includes a larger pouch for diapers, wipes, and a change of clothes (and Daddy's tablet if he's bringing it along:).  And the front pocket will keep keys, money, cell phone, pacifier, and small toys all together for convenience.  There is even an insulated cooler pocket for snacks!    For getting out and about with the kids whether it's hiking or biking or going to the zoo or plane, train, and road travel, this Daddy Diaper Pack will consolidate your daddy stuff and make the trip a little easier.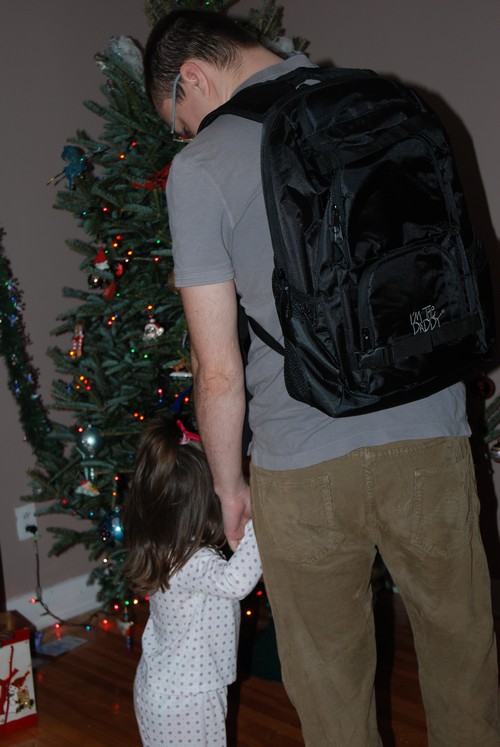 So Mommy packed up all my important things into the Daddy Diaper Pack and Daddy and I left for Grandma's house after giving Mommy a big hug and kiss goodbye.  When I got to my Grandma's house she told me we were making Christmas cupcakes, gingerbread cookies, chocolate chip cookies and sugar cookies – I was so excited.  Grandma said these would be for the holiday gatherings we are going to have but that we could eat some after they were baked and cooled down.
We started making the cupcakes and cookies – Grandma let me stir the ingredients in the mixing bowl. I loved using the rolling pin to roll the dough flat.  We didn't roll the batter for the cupcakes though! Grandma had lots of special shapes to help form the cookies – stars, trees, snowmen and gingerbread men. We used raisins to make the gingerbread men. She even let me decorate – some things we decorated before baking but others after, like the cupcakes.  I wanted to put the icing on the cupcakes right away but Grandma insisted we wait until they had cooled. I'm still not sure why but she said something 'running.' I'm not sure what running has to do with baking but you know Grandma, she's old school and has lots of quirks!
Once we finished all the baking and had put the nice cookies and cupcakes into special fancy tins we discovered that I had dropped flour and a few other ingredients on my clothes. Grandma wanted to check if Mommy had sent a change of clothes for me.  We went into the living room and Grandma saw the Daddy Diaper Pack that Daddy had brought.  Grandma loved it – there was so much room in the backpack that Mommy had packed two changes of clothes plus all the other stuff.
I was carrying my sippy-cup while grandma was looking in the Daddy Diaper Pack and I spilled some juice on it.  Grandma got a cloth and wiped it up, she said it was really easy to clean and left no stains.
Grandma called Mommy and told her how much she loved the Daddy Diaper Pack.  I think Mommy will buy one for Grandpa for Christmas.  He can use it when I sleep over and they take me out for some fun activities.
Time passes fast when I am visiting my grandparents and my Mommy called and told Grandma that Daddy was coming to get me.  I ran to get my Daddy's "Daddy Diaper Pack" for Grandma so we could start packing all my things back up. Daddy Diaper Pack is so roomy that there was space for the two containers of cookies and cupcakes that I was taking home for Mommy and Daddy, they were going to be so surprised! I had a fun day at Grandma and Grandpa's house.
If you want to make your Daddy happy this Christmas – have your Mommy go out to buy him this backpack – the must have for anywhere daddy and baby go together!
Happy Holidays!
Disclaimer: Tourist Meets Traveler has not received any payment as a result of this review. We were sent the product for the purposes of review.  All opinions are our own.