Fresh Produce Clothing Review – Traveling in Comfort and Style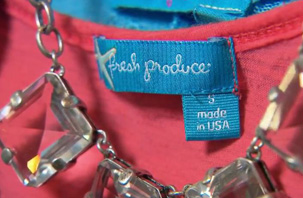 When deciding what to wear while traveling, it comes down to that age old question…style or substance? I prefer both, but sometimes options can be limited. Fresh Produce provides styles that are extremely lush and make you yearn for the coast.
The overall feel of the brand's offerings are bright and colorful on an easy going level. Cashmere and cotton mix together in cocktail of comfort and softness that echoes a trip to a beach in the Hamptons. It's a lux comfort that has styles ranging from tops to dresses that prove that sometimes less is more.
The story of how Fresh Produce came to be is one that inspires. The seed of the idea grew from a love and understanding of how color impacts style and confidence. It turned into 26 company-owned retail boutiques, online sales and at more than 500 independent retailers throughout the continental US, Canada, Hawaii and the Caribbean, including 13 'Handpicked' dealer locations.
I was able to experience what the brand has to offer first hand. I am currently in an cold tundra of snow and ice. So, I opted to try the Cobblestone Sweater. It is a 80% cotton and 20% acrylix so the stretch is nice, but not so much the fabric hangs. I am a huge fan of cowel necklines, so it was a happy addition to the sweater. It also features a waffle knit cuff that adds an understated intrigue. It catches your eye without trying to hard.
What I loved most about the sweater was its ability to translate from a casual look to an evening look. I paired it with a long black skirt and a necklace for my son's Holiday Program. I had three compliments before I got to my seat! A few days later, I wore the sweater with a pair of skinny jeans and boots to do some shopping and it was so comfortable and I felt it played well with the modern twist.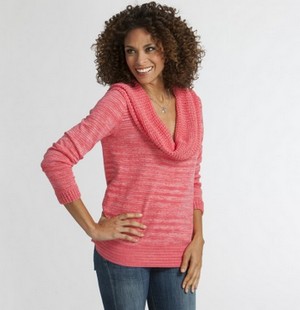 Next, I wore it on a 3 hour road trip to visit with family. I fell asleep in it and it didn't show. (I can't say the same for my hair though!) It also packed well. Top it off with the fact that Fresh Produce clothing is primarily made in America and you have my vote!
The fit was a bit on the generous side. I have a larger chest, thanks to my three kids, and normally take a large. I could have fit in the medium, but found I appreciated the extra room. The color options feature a citrus lemon hue, a red that feels more like a deep coral and black with a dash of grey.
Options are not just limited to clothing. Among the dresses, accessories, pants and tops, you can also find some jewelry and home goods. Candles, platters and even a kitschy radio are offered.