Majestic Colonial Punta Cana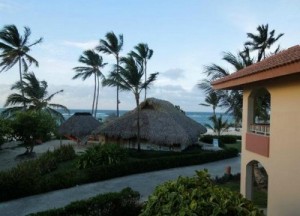 In late April 2012, my husband and I returned to the Majestic Colonial for fourth time. We arrived right after a fire had ruined the Steakhouse/Seafood/lunch complex next to the beach, the swim-up bar and the spa. So, we were a little nervous.
Check-in went smoothly, but when we received our room it was right in the middle of the construction noise! Obviously, not the best when you are traveling with an 8-month-old child. I quickly returned to the front desk and expressed our concern as we had a small child. The employee disappeared for some time and then came back and offered us and upgrade to an ocean view room! Great service!
The ocean view room was very nice and very clean. I love the set up of the Majestic rooms with a nice jacuzzi near the washroom.
We were a little bummed that we didn't get the return guest sign outside our door and no special treats like we usually received each day in the past (no biggie though). However, after mentioning it on Tripadvisor while updating future guests on the status of the hotel a manager wrote me and apologized. When we came back to our room the next day, we had all the stuff we missed and more – lots of water for our daughter, alcohol and lots of coffee refills.
The resort set up a beach hut with a bar and provided lunch on the beach each day. We actually loved having a bar on the beach where we could easily get drinks. The food was also good.
The food at the Asian restaurant is the best. We didn't care for the Spanish restaurant.
Don't hesitate to go to the Majestic. They did their best during an unfortunate situation. So, I believe they can fix any problems when things are normal!