Marathon Family Road Trip across Canada and The USA to Orlando, Florida In Our 2013 Chrysler Town & Country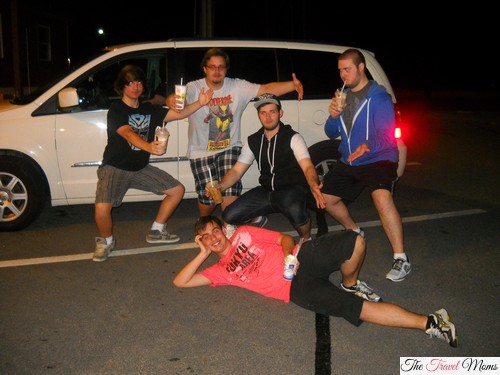 We started off our road trip from our hometown of Montreal, Quebec into America and across nine states to Orlando, Florida. When planning our trip, that included my husband and I, along with five boys aged 17 through 18, we had to decide on the right vehicle. We needed something with lots of room for seven passengers and our luggage.
We also had to take our comfort into account as the drive takes approximately 26 hours of sitting in the vehicle. The new 2013 Chrysler Town & Country was an obvious choice of vehicle for us to rent. Not only has it received more awards than other popular vans, it is remarkably versatile with its added storage area under the seat floor board as well as the amazing deep storage in the rear.
All seven of us were extremely comfortable and we loved the automatic sliding doors for added convenience. The Parkview rear back up camera was a surprise that we didn't know about until we were backing up! It really came in handy when you are reversing as you get a clear picture of what is behind you.
Driving through nine states is a long way and the vehicle handled very smoothly, in fact the boys slept for a good portion of the trip because they were so comfortable.
We are very thankful for the fuel economizer in this powerful V6 engine; you can't imagine how much gas it takes to drive across two countries and nine states, the money we saved on gas we are using to go to Universal Studios.
Thanks to Chrysler, for the best touring van that our family has ever experienced.
Disclaimer:  The Travel Moms has not received any payment nor promotional products as a result of this post.  Chrysler is in no way sponsoring, nor are they administering, this post.  All opinions are our own.