MSC Divina Completes Maiden Voyage in True Diva Style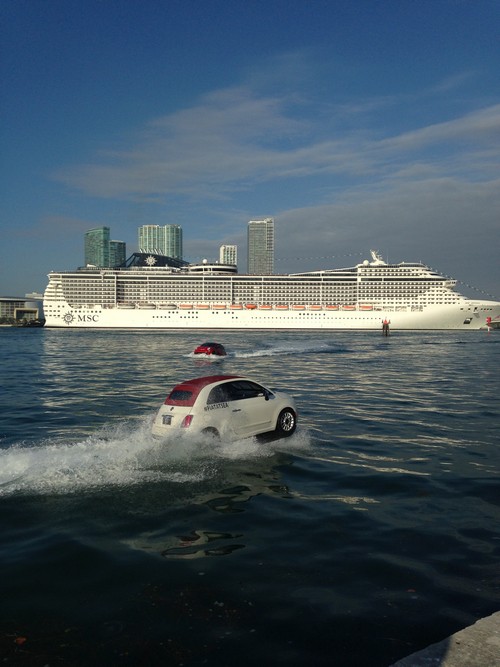 In Miami this morning, the MSC Divina made its dazzling debut. And she arrived in style. The MSC Divina was led in by several high-powered FIAT personal watercrafts. This marks a special day in history because, with today's arrival, the MSC Divina becomes the first MSC Cruises ship to sail year-round from North America. We wish her well on all her future journeys!
Richard Sasso, President and CEO of MSC Cruises USA, said of the ship's arrival: "With MSC Divina's debut, we are thrilled to welcome one of our finest and most innovative vessels to North America. Today marks an important milestone for MSC Cruises as we continue to grow in this region, offering more destinations and appealing to wider audiences.  We look forward to offering North American cruisers something new and fresh."  
So what are some of the sparkly new features on board this amazing new vessel? The MSC Divina will offer two spectacular dining experiences, "created in partnership with Italian restaurant emporium Eataly in Manhattan, New York" and includes "the upscale Ristorante Italia and spectacular regional steakhouse, Eataly Steakhouse, fashioned after the famed restaurant in Eataly's Manhattan location." Eataly is a fairly big name in the restaurant world, as it was founded in 2007 by Oscar Farinetti and launched in the U.S. by Mario Batali, Lidia Bastianich, and Joe Bastianich (the mean, Italian judge from Masterchef).
The MSC Divina will also be the first ship to offer Aqua Cycling, a new fitness craze that puts a spin class in the pool! In addition to some of the usual perks found on board MSC Cruises, the MSC Divina will introduce the MSC Yacht Club for the first time in America. The club provides guests with an unparalleled amount of luxury, including "several private venues, including Le Muse panoramic restaurant, Top Sail Lounge, pool and relaxation area, and private access to the MSC Aurea Spa."
Wow, we want to take a journey on this fabulous ship right now! Come with us! For more information about the MSC Divina, please check out www.msccruisesusa.com.