The Storr – Isle of Skye, Scotland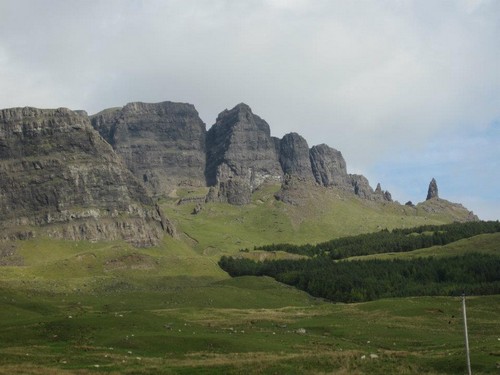 In May of 2012 we traveled to Scotland.  We decided to rent a car and drive through the highlands of Scotland and visit several locations.  One of the places we wanted to visit was Isle of Skye.   No one prepared us for the crazy driving conditions of Scotland, the twists and turns.  The roads are narrow, and at times with oncoming traffic.  But regardless of the treacherous driving, the views are spectacular and well worth it.
One of the things we wanted to see at the Isle of Skye was The Storr.  The path to the Old Man of Storr is one of the most popular on Skye and it is understandable, it is spectacular.  The Storr is a rocky hill on the Trotternish peninsula of the Isle of Skye. The hill presents a steep rocky eastern face overlooking the Sound of Raasay, contrasting with gentler grassy slopes to the west.
The Storr just captivated our attention with its eerie beauty.  I could almost imagine my kinsmen walking among the rocks!
[CLICK ON THE PHOTOS BELOW TO ENLARGE]