Top 5 Tips for Cruising with Kids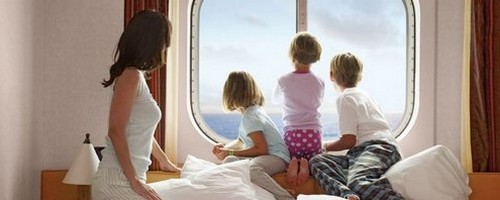 I have been lucky enough to go on several cruises in my life. My first was in 2004 for my honeymoon. It was a Royal Caribbean boat and, while I had a great time, it was a bit boring for me. Since then, ships have progressed to amazing heights and are now packed with even more entertainment. However, I didn't really have fun until my third cruise…with my kids.
I like to think of myself as young at heart, but my kids are what brings out the true joy in having fun. I asked myself when was the last time I played. Really played. The answer was on a Disney Cruise with my family.
5. On Board Babysitting – Ships are becoming more and more accepting of children. We can probably thank the obvious supply and demand factor for parents who don't have a babysitting option. Disney seems to be one of the best out there for the younger crowd. They are currently the most baby friendly accepting tots who are as young as 3 months. Personally, I suggest waiting until your kids are kindergarten ready to maximize the fun and minimize potential for trouble. Those kiddos who aren't potty trained might find they aren't allowed in the pools as swimming pools on a ship share the same filter system, so if you have an accident in one pool…they have to shut down all the pools.
4. No Mommy, what's for dinner?! – I am a control freak and I love to coupon while on vacation. (Click HERE for tips on how to do that…) I hunt down anything that promises kids eat free. However, it frustrates me that kids menus are still pretty limited to chicken fingers, hot dogs and burgers. So when we are on cruise and I hear, "Mommy, what's for dinner?" I can proudly answer, "Anything you want!" and that is true. Cruises typically offer a buffet of nonstop service. You can pick a sit down service or a more casual eat whatever you want because the price of food is already factored in. So when your tot takes one bite of her food and deems it "yucky" you can easily replace it.
3. Kid Approved Entertainment – Cruise ships will usually break the kids into age appropriate groups with complimenting activities. This way your 12 year old isn't stuck face painting and your 5 year old isn't trying to bungee jump. Everyone gets to enjoy what they want while supervised. Make sure you get a breakdown of age ranges and if they will be separated while doing activities without you.
2. Different Boats, Different Strokes – Just because you heard ABC Cruise Line is the best from your pals, doesn't necessarily make it the best for you. Make sure that while you are researching your cruise you take into account that different boats from the same line offer different amenities and entertainment. Also consider stateroom sizes by looking at the square footage. Some of those rooms look great in the images, but shrink when you step inside the actual space.
1. Dramamine for All – Even if you and your kids love roller coasters, love fishing or you've never had an issue with being seasick… take non-drowsy Dramamine with you. The brand also has a kid friendly dosage. Trust me on this one – it is far better to have it and not need it than to need it and not have it. Some boats will make you go to the infirmary to get some and, depending on policies, could rack up extra charges.