Unique Accommodations and Hotels to Spice Up Your Travels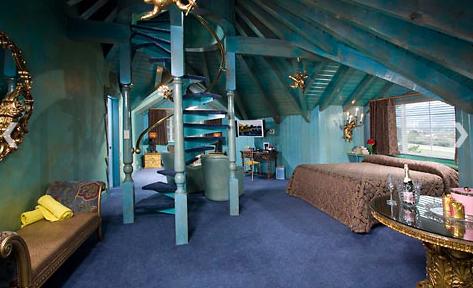 I love an adventure. There is something about the thrill of experiencing something new, and maybe even a little daring, that can make a vacation even better than your average summer jaunt.
My family makes a yearly pilgrimage to Florida to see family, enjoy the sun, visit the Orlando hot spots and, yes, Mickey Mouse. After enduring years of the same thing, I thirsted for something new and fun.
Jules' Undersea Lodge, Florida – If you are a fan of scuba diving, then this might be a fun place for you. The dwelling, 6.4 meters underwater, is a unique and the first of its kind.
Cedar Creek Treehouse, Washington D.C. – This bed and breakfast takes me back to my favorite movie as a child, 'Swiss Family Robinson.' The cottage is 50 feet in the air in a Red Cedar in the woods of Mt. Rainier. It looks like SO much fun. You might want to save this trip for a romantic getaway as children under 10 are not allowed.
Madonna Inn, California – For those who are just wanting to dip their toe into adventure, the Madonna Inn is a little more demure, but still unique. The hotel boasts 110 individually decorated guestrooms, each with a distinct theme and color. They have everything from a "caveman" room to accommodations with a private view of the heavens.
Winvian, Connecticut – This establishment has a collection of 18 unique cottages and a suite. It boasts 5 star accommodations in a 4,000 acre forest. Each cottage has a theme of its own and range from a library to digs in a helicopter. It comes with a larger price tag, but worth a try.
The Wigwam Motel, Arizona – Vintage kitsch lovers will dig these. They are located off Historic Route 66 for a piece of Americana that is easy on the wallet. My kids loved it because they recognized the tie in to 'Cars.'
Turpentine Creek in Eureka Springs, Arkansas – Bring the zoo factor into your trip. It started out as a rescue shelter for big cats – lions, cougars, leopards and tigers. Now, you can sleep among these fierce felines in either an RV spot or one of their lodges that includes a treehouse bungalow.
Some of these places can be pricey. To make our stay budget friendly, we usually only book one or two nights of our vacation at these unique stops. It spices things up and keeps the kids moving.