The Travel Moms Giveaway: Win A Theradem Skin Renewal System with Peptide Hydrator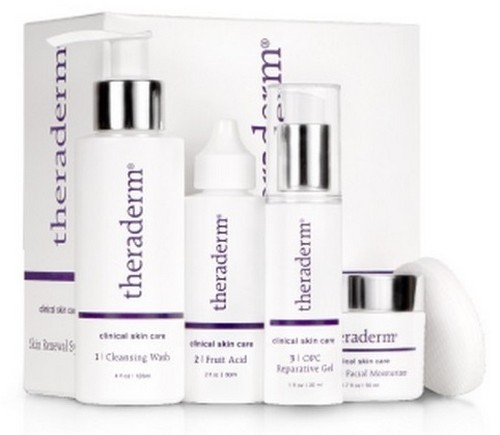 Can't handle gluten? Sick of skin care products that are filled with chemicals and harsh on your skin? Well, the solution is the Theraderm's Skin Renewal System with Peptide Hydrator, Simple -, daily skin care system which was formulated specifically by a plastic surgeon.
The system has been a godsend for me, especially because it does wonders for my oily skin. The products are designed for normal, combination or oily skin, and it works equally well for everybody. It reduces the oil and maintains balance for anyone with acne-prone skin, and it keeps the skin moisturized for those who are prone to drier and flakier skin.
The product works both as a preventative and anti-aging product because it enhances the skin's health and its ability to restore itself, as well as combat damage caused by environmental factors [otherwise known as free radicals].
The system includes a cleansing wash, a fruit acid exfoliant with gentle action application pad OPC reparative gel, and a peptide hydrator..
Although this system works for daily use, it's actually a miracle package for air travel. Airplanes are awful on skin, with their dry air and the way they suck out the moisture from every pore. This package comes in travel size, small enough to tuck into a carry-on bag or purse, and it allows for your skin to stay hydrated and nourished, even with the horrible environment.  The application pads work really well with removing dirt, the wash and exfoliant are refreshing without being harsh, and the gel feels very cool and light. Overall, I recommend it highly – no matter the skin type. And even if you can't get the daily use package for whatever reason, you won't find a travel kit that takes such good care of your skin anywhere else.
Theradem and The Travel Moms have teamed up to provide one (1) lucky The Travel Moms reader with an awesome giveaway.
Theraderm Skin Renewal System
Full size Skin Renewal System with Peptide Hydrator
Skin Renewal Travel System with Peptide Hydrator

a Rafflecopter giveaway


DEADLINE TO ENTER:  Midnight October 5, 2013 (make sure to include your e-mail address with you entry) – contests are  open to U.S. and Canadian Citizens.

Good Luck!

To find out more about Theraderm's great products, visit their website [CLICK HERE]

Disclaimer: The giveaway was provided by Theradem, but Theradem is not a sponsor, administrator, or involved in any other way with this giveaway.  TTM was provided the products for review.  All editorial content has been created by me and reflects my personal opinions.