Play and Learn With View-Master National Geographic Dinosaurs VR Experience Pack #Giveaway
What kid doesn't love dinosaurs? There's something magical about the prehistoric creatures that totally infatuates kids of all ages, and my nephew Jayden is no exception. He's the proud owner of dinosaur books, movies, toys, posters, and so much more. When I learned that National Geographic had the Dinosaurs Virtual Reality Experience Pack, I knew I absolutely had to get it for Jayden.
View-Master toys have come a LONG way. Ten or fifteen years ago, a view-master toy simply looked like a pair of red binoculars that you put a film wheel in to and looked at different pictures. Sure, at the time it seemed amazing, but technology has come a long way.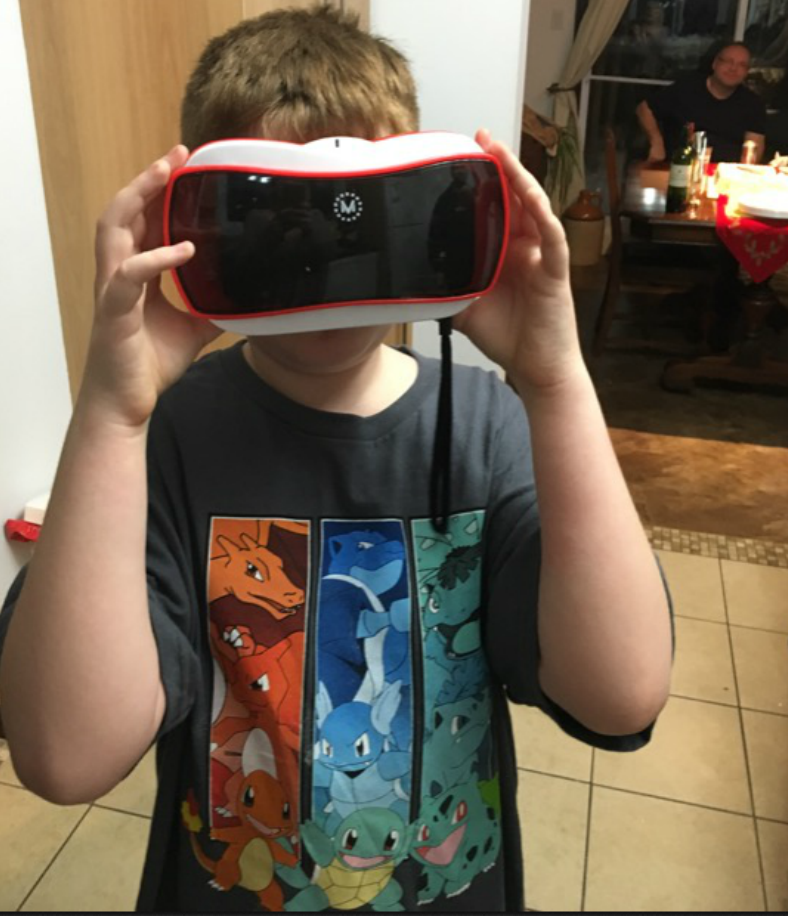 View-Master virtual reality goggles literally transport you into an entirely new world. The goggles provide 360-degree immersive experiences. When you turn your head, your view changes as if you were really there, whether you look left or right, you are seeing new images thanks to panoramic photography.
When our View-Master Dinosaurs Virtual Reality Experience Pack arrived, my nephew Jayden couldn't wait to get started. Being the cautious one I am, I began gingerly reading through the set-up guide and instructions. Before I made it past the first page, my 9-year-old nephew had set up the View-Master all by himself, it was truly that easy.
View-Master virtual reality set-up is a cinch! You will need a smartphone, I used an Android system and it worked fine. Head to the play store and download the free View-Master Destinations VR App. Then you slide your phone into the View-Master, choose the experience of your choice, add the film reel and you're done!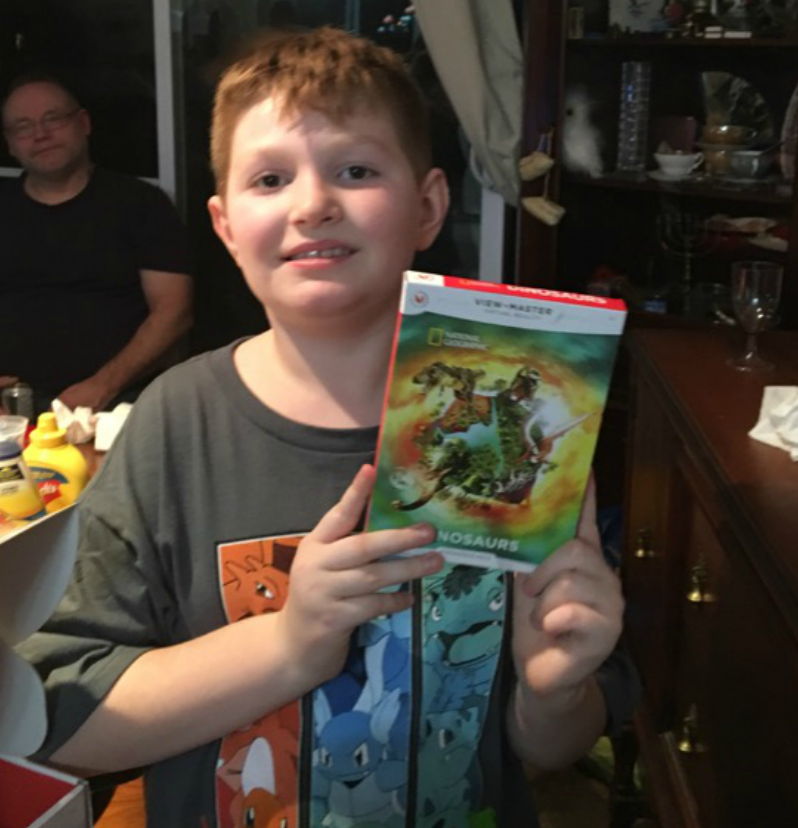 The National Geographic Dinosaurs Virtual Reality Experience Pack is just one of many different reels you can purchase for View-Master. Jayden is head over heels in love with dinosaurs, and he spends hours on the View-Master, traveling to prehistoric worlds and hanging out with the massive creatures. His favorite is the T-Rex, of course. The virtual reality pack includes a survivor game, and some fun dinosaur trivia and facts.
The National Geographic Dinosaurs Virtual Reality Experience Pack came in very handy on a recent trip. Kids get antsy and anxious in the back seat, and no one wants their kids glued to a video game or tablet for 4 hours straight. Instead, Jayden was hanging out with T-Rex, learning about the prehistoric era, and rattling off facts about dinosaurs while we cruised down the highway!
There are times that Jayden even jumps a little in his seat while he is using the View-Master because that's how REAL the virtual experience is. The National Geographic Dinosaurs Virtual Reality Experience Pack is intended for children ages 7-11 years old, but I can see how some younger kids could get a little scared of the dinosaurs, just because they look so real.
If Dinosaurs don't pique your little one's interest – then National Geographic does offer other virtual reality experiences through the View-Master. There's also The National Geographic Wildlife Virtual Reality Experience Pack, which is packed full of beautiful photographs of animals that seem so real, you want to reach out and touch them!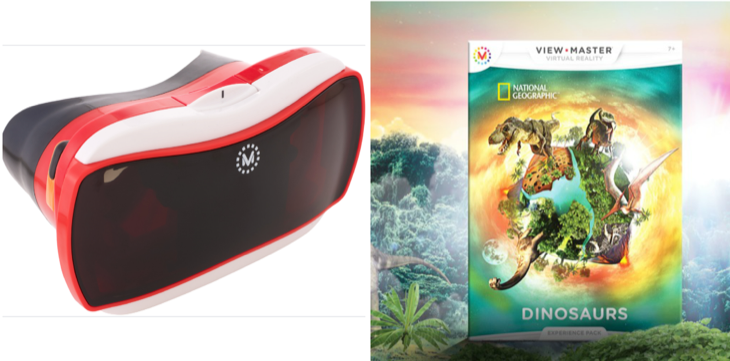 If you are in the market for something educational, yet FUN, I highly recommend trying out the new View-Master Virtual Reality pack, and heading over to National Geographic Kids Store and picking up the amazing Dinosaur experience pack. But, be warned, your little ones will follow you around for days quizzing you about the prehistoric eras and tyrannosaurus rex!
Transport yourself to prehistoric eras and encounter massive dinosaurs in Virtual Reality with View-Master National Geographic Dinosaurs VR Experience Pack. Play a survival game and learn fun facts!  You can purchase the pack HERE, or on lucky Tourist Meets Traveler reader can win a View-Master Dinosaurs Virtual Reality Prize Pack.
THE GIVEAWAY!
Prize: A View-Master Dinosaurs Virtual Reality Prize Pack
RULES: Giveaway is open to US and CANADA, ages 18+ years of age.
The giveaway ends on 01/26/17
I will notify the winner by e-mail and you have 48-hours to respond or I will have to choose another winner.  Good Luck!!
Simply follow the Rafflecopter entry form below for your chance to win. Be sure to return tomorrow to complete the daily entries. It takes a bit of time for the Rafflecoppter to come up, so don't rush away.
Disclosure: I am a National Geographic Kids Insider and was provided with gifts as a participant in this promotion. The opinions in this post are 100% mine.
a Rafflecopter giveaway