Visiting Wangfujing Snack Street, Beijing, China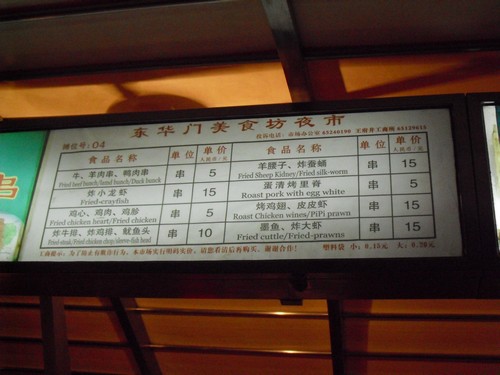 My husband and I visited China in November 2011. We were planning to go to Thailand however, Bangkok was suffering from severe flooding and we thought it best to change our travel arrangements. We normally travel alone but this time we went with a tour that stopped in Beijing and Shanghai.
Shanghai has often been described as the New York of Asia. After visiting, I can clearly understand why. Shanghai is a major financial center with great public transportation, tall skyscrapers, a variety of cuisines; it even has a bull similar to the charging bull in front of the New York Stock Exchange. Our hotel was across from the Bund – beautiful at night with all the lights and colors. We ate some of the best steamed and pan fried dumplings from small vendors along the street.
Beijing was a lot different than Shanghai. There was a lot more history and culture. We trekked one portion of the Great Wall but were a bit disappointed to find out that it ended when we got to the top. We went to the Forbidden City, Tiananmen Square, Summer Palace, and Lama Temple but the highlight of our entire China trip was definitely Wangfujing Snack Street. This is definitely not part of any tour but I highly recommend checking out a snack street while you are visiting. There are a lot of snack streets in Beijing with similar delicacies but we choose this one because of the online reviews and the proximity to our hotel.
Just looking down the row of red stands can be pretty overwhelming, not to mention the sellers hollering and pushing for you to try their foods. I am not as adventurous or daring so I just had the pork dumplings and candied fruit. My husband tried the fried starfish on a stick but that was about all he could handle. Even if you don't want to try these exotic snacks, it is fun to experience and see what they fry up and put on a stick!
If you are ever in Beijing and have free time, definitely check this place out. It is a must see…and taste for all you adventure seekers!
[CLICK ON THE THUMBNAILS BELOW TO ENLARGE]