Join Us For A Fun Murder Mystery Weekend: Dundee Resort & Golf Club "A Death In Dundee!"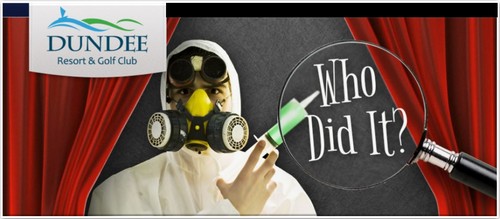 The Travel Moms are really excited to be heading to Cape Breton, Nova Scotia for a Murder Mystery Weekend.  The event is being held at the beautiful Dundee Resort & Golf Club and it will be a weekend to remember.   The weekend is being presented by the "Have A Laugh Players."  They are a, "a positive, energetic, compassionate group of actors that provide a weekend full of fun and funny sleuthing for the guests."
The weekend is for everyone and there will be many laughs and loads of fun guaranteed.  It all happens May 17 – 19, 2013.
If you have never been to a Mystery Weekend let me tell you what to expect.  The fun starts Friday May 17th, 2013 with a Meet & Greet and the murder happens.  You get to meet the characters who will be twisting and turning the murder plot for the weekend.  You can even ask questions about the murder – but be observant because you never know who is giving you a clue and who is misleading you!
On Saturday May 18th the day starts with a yummy breakfast to get you ready for a fun day.  But even though you will be having fun, you will have to pay attention because you don't want to miss any clues.
Get ready for Friday dinner and an after dinnerthemed dance.  The theme of the dance is Mad Scientist/Nerdy Scientist and you are encouraged to dress up.
Are you up for the challenge? If so, then consider booking your spot today: check out their website here for more info.
And don't be shy . . . . Let your friends in on the mystery party by tweeting them using the following handles: @capebretonvacay #ADeathInDundee