20 Tips, Tricks and Secrets for Visiting Diagon Alley in Universal Orlando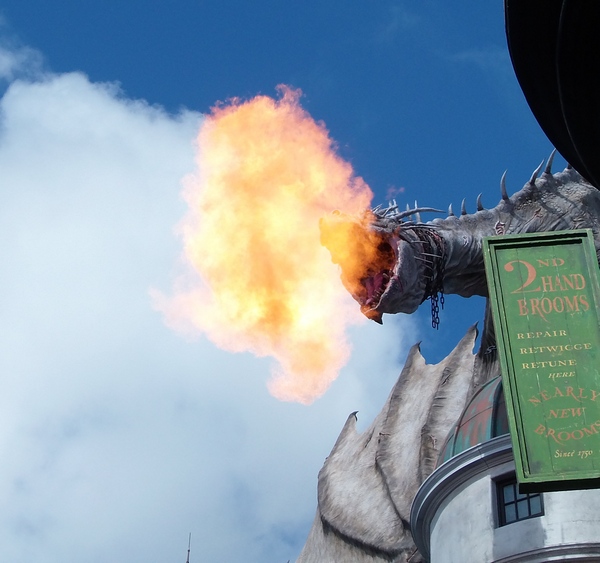 Thanks to my trip to Diagon Alley in Universal Orlando (courtesy of the company) these tips,  tricks and secrets I discovered will help you save you money, time or enhance your experience. For a full review of Universal Orlando's Wizarding World of Harry Potter: Diagon Alley, click here.
1. One of the first things you should do is find out the times for the puppet shows in Carkitt Market. A troop of charming wizards capture the same hauntingly beautiful depiction of 'The Tale of the Three Brothers' circa 'Harry Potter and the Deathly Hallows'. The time vary from day-to-day and, sometimes, are limited. Celestina Warbeck and the Banshees is also a can't-miss. It's not uncommon for Celestina to pick someone from the audience, usually a shy guy, to don a feather boa and join her on stage.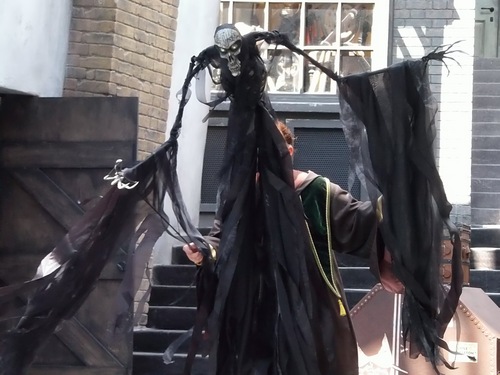 2. Gringotts Money Exchange is an experience and a shop. There are a few Gringotts souvenirs you can't find anywhere else in the area, but the highlight is the goblin. Talk to him. Ask questions like, "Do you know Harry Potter?" or "Has Gringotts ever had a break-in?" You can also keep it simple by asking his name or what he thinks about the weather. You can also exchange your Muggle Money for wizard currency. You can keep if for a souvenir or spend it anywhere in Universal Resort, including CityWalk.
3. Visit the Magical Menagerie even if you aren't interested in plush pets. Look up towards the ceiling and you'll find a Kneazle ("either a very big cat or quite a small tiger") and a Crumple-Horned Snorkack. For Potter enthusiasts, take a peek at the giant snake in the window closest to the bathrooms next door outside of the store. No, it's not Nagini, but it does speak to you! Only those witches and wizards who can speak Parseltongue will know what he is saying though.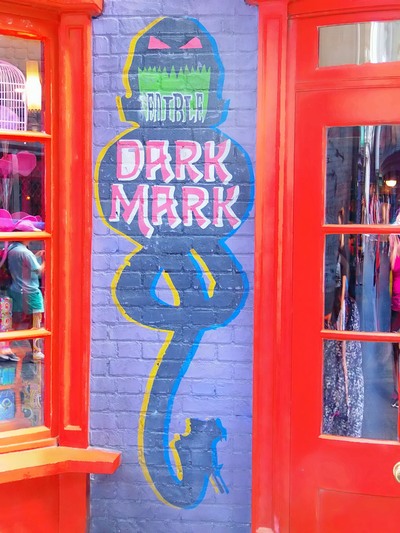 4. True to the books, the Weasley Twins bought Zonko's. Some of the gear has been absorbed into their offerings. So, if you are looking for beloved Zonko's merchandise, take a peek into Weasley Wizards Wheezes. In Hogsmeade, only the Zonko's storefront remains. Inside, Honeydukes has been expanded to fill the space.
5. You can only get some merchandise in Diagon Alley. If see something you want in Diagon Alley, buy it at that moment because it might not be available in Hogsmeade.
6. Like some of the items in stores,  all of the new beverages are only sold in Diagon Alley. Butterbeer and Pumpkin Juice  can be found in both areas of the Wizarding World and you can only get Hog's Head Brew in Hogsmeade.
7. Gringotts is still experiencing some glitches. Universal strives to ensure the guests' ride is a pure experience, so if something goes wrong, they pull riders and cycle empty carts 3 times before letting guests back on. If this happens and you cannot wait, ask a ride-operating witch or wizard for a pass to ride it later. There is no Fast Pass option for Harry Potter and the Escape from Gringotts, but those who have waited in line and failed to ride will get the option for a speedier queue later.
8. Madam Malkin's Robes for All Occasions has a mirror that is fashionably sensitive…it also speaks its mind! Visit the shop and stand in front of the mirror. It will give you advice. You can also find Hermione's Yule Ball Dress and Dumbledore's attire. Don't forget to ask a witch or wizard about the items in the case to the left of the cash-wrap (as you are facing it). You might find some intriguing pieces with a tale of their own.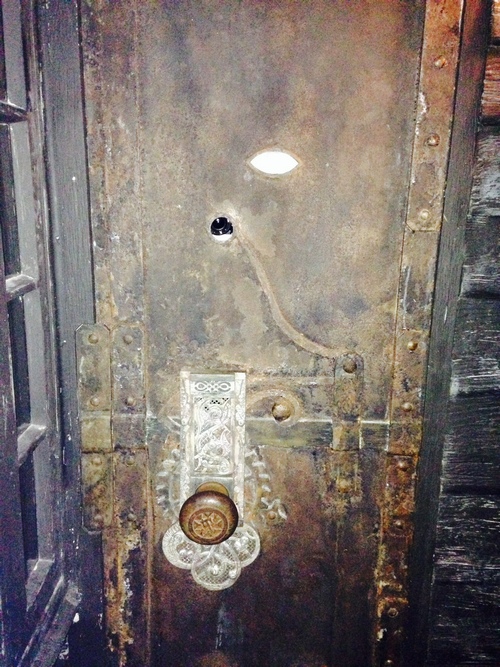 9. In the box your new, interactive wand comes in, you will find a map with locations where you can perform a spell. However, there are two additional spots not on the map. Try waving your wand everywhere. If you can find the extra magical spots, ask an Ollivanders witch or wizard for a hint.
10. If you want a less crowded experience when wand shopping, go into Carkitt market and look around Wands by Gregorovitch. They have the classics and it will give you more space and a better chance to speak with a knowledgeable witch or wizard.
11. Take a peek in all the windows and store doors. These displays are a Potter enthusiasts dream. If you venture down Knockturn Alley, try opening the door with an eye keeping watch in the center. You'll get surprise. Also visit Borgin and Burkes and listen carefully near the Vanishing Cabinet.
12. In need of refreshments? Both The Hopping Pot and the Fountain of Fair Fortune will serve you drinks. If one has a longer line, try the other to save time. Also note, the Butterbeer mug is different from the mug served in Hogsmeade. This was a must-have for my collection.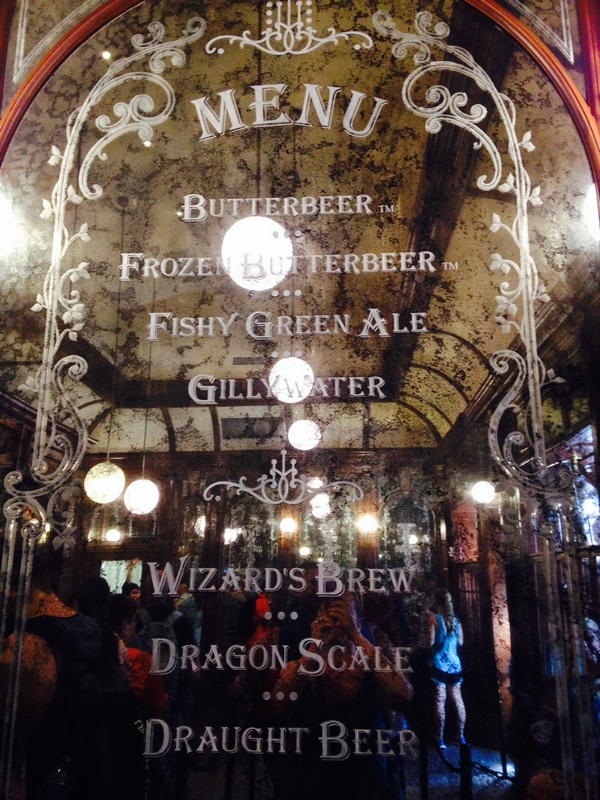 13. The dragon breathes fire throughout the entire day. You will hear a grumble followed by a small roar before he unleashes a fireball. So, get out your camera when you hear the rumble and get ready to point and shoot. If you missed it, wait about twenty-five minutes for the next must-see moment.
14. Watch the windows in #12 Grimmauld Place. Kreacher will peek out every few minutes.
15. If your child isn't tall enough to experience a ride, ask a ride attendant for Height Certificate. This will allow the child to get an express pass to return the ride when they are tall enough.
16. Locate the bright red phone box outside Diagon Alley in Muggle London. Step inside and dial M-A-G-I-C for surprise.
17. If you aren't sure how much time you are going to need and what corresponding ticket package to purchase, note that you can upgrade your tickets in the parks any time before closing. So if you purchase a 2 day pass, but find you need another day, simply upgrade your tickets while in the resort and you will get the discounted multi-day rate.
18. Note the giant perfume ad in Kings Cross Station. It's a replica of the ad used in 'Harry Potter and the Half Blood Prince'.
19. Look for the wizard-photo of the Weasley Family in Egypt while in the pre-show for the Escape from Gringotts ride.
20. In the window at Mr. Mullpepper's Apothecary, you'll find a set of sharks teeth in tribute to the JAWS ride.
Disclosure – Any and all opinions expressed are that of TouristMeetsTraveler.com. No compensation was received, however the experience was provided by Universal Orlando. Please click here for further information and our detailed Privacy Policy.