Universal Orlando's Food Fare is Beyond Compare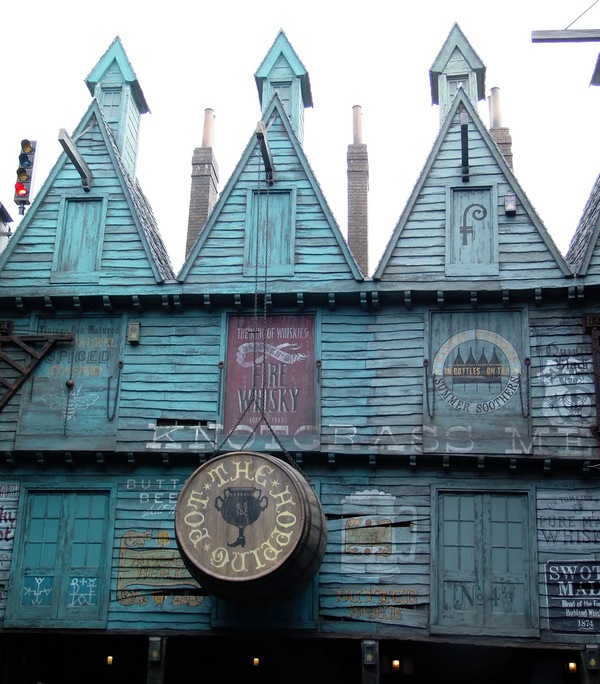 Universal Orlando Resort has quickly become one of my favorite places in the world. Guests could spend days getting lost in the amazing worlds the park has created. The imagination, creativity, and, perhaps more importantly, respect regarding the way the team has handled the creation of areas and updating is simply remarkable.
The details in the concepts, designs, and creation process show in the result. From the atmosphere to the rides, from the merchandise to food, nothing goes with out a quality and creative touch. I was fortunate enough to be invited to experience this slice of ultimate-vacation-heaven firsthand, courtesy of Universal Orlando. Click HERE for a full, detailed review of Diagon Alley or visit this page for tips and tricks and even a few secrets for your visit.
Typically, when you think of theme park food, it doesn't conjure up the greatest of images. However, Universal has obliterated those stereotypes with fare that is made on-site, from scratch and exclusively for the park. Note that dietary restrictions and allergies are taken very seriously by the staff. When I asked about gluten-free options, one of the witches serving at The Leaky Cauldron provided me with a notebook that featured their accommodating dishes. Same for peanut allergies. I was already impressed and I hadn't taken a bite yet!
BREAKFAST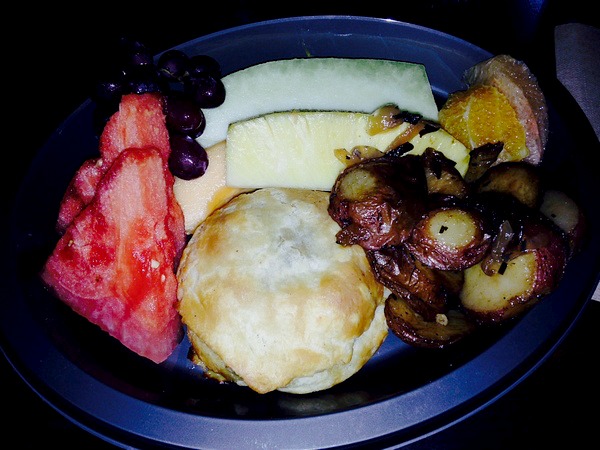 It was my first experience with breakfast in any park. Normally, my family scarfs a bowl of cereal and heads out, but breakfast at the Leaky Cauldron is not to be missed. It is part of the vacation packages that Universal is offering – found by clicking here.
At Diagon Alley location, you have a choice of:
Traditional English Breakfast – Farm-fresh eggs, savory sausage links, black pudding, thick English bacon, baked beans, grilled tomato, sauteed mushrooms, and breakfast potatoes
Pancake Breakfast – Three fluffy buttermilk pancakes, crispy bacon, a link sausage, and croissant
American Breakfast – Fresh scrambled eggs, a mound of breakfast potatoes, bacon, sausage link, and a buttery croissant
Apple Oatmeal Flan with Yogurt and Fruit – Freshly baked flan of apples and oatmeal that is served with yogurt and fresh fruit
Egg, Leek & Mushroom Pastry – A delicious pastry wrapped scrambled eggs, mushrooms, and leeks served with breakfast potatoes and a heap of fresh fruit
There is also a smaller portion of the Pancake Breakfast for children. Each came a choice of a drink and ranged from $12.39 – $15.99.
The star meal at our table was the Egg, Mushroom and Leek Pastry. The fluffy filling is packed with flavor. Leeks are seriously underrated and seriously delicious. The pastry encompassing the eggy-goodness was savory, buttery and that perfect mix of flaky crust. The generous portion of fruit balanced the slight richness of the entree. It was my favorite dish and a vegetarian-friendly fare.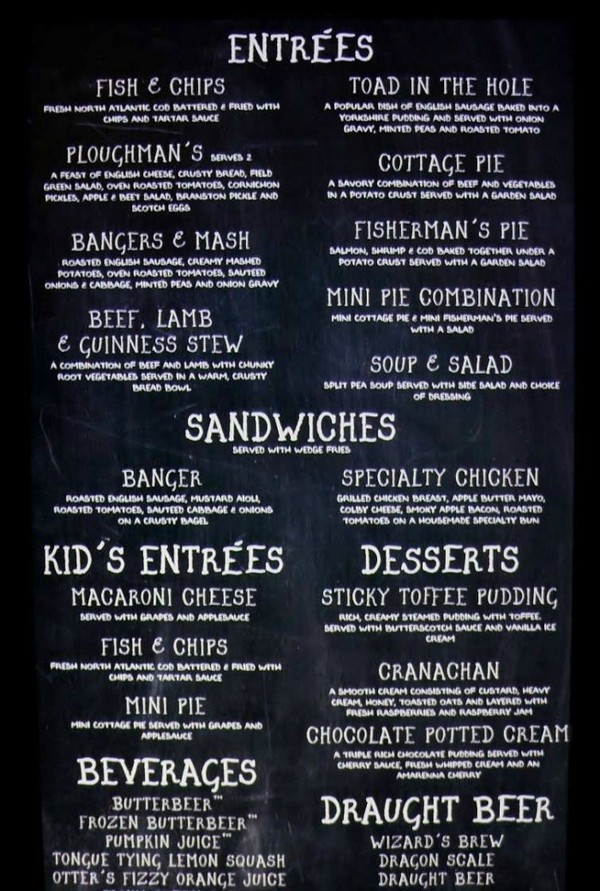 For lunch/dinner there is a larger array of choice that still uphold the British fare, but provide different options from the Three Broomsticks…
Bangers and Mash – Sausages with creamy mashed potatoes
Toad in the Hole – Sausage baked into a Yorkshire pudding and served with onion gravy
Cottage Pie – Combination of meat and vegetables in a potato crust
Fisherman's Pie – Salmon, shrimp and cod baked together with a potato crust
Mini Pie Combination – Mini cottage pie and mini fisherman's pie served with salad
Beef, Lamb & Guinness Stew – Savory bits of beef and lamb in a hearty Guinness broth served in a bread bowl
The Ploughman's – A platter of English cheeses, crusty bread, cornichon pickles, apple beet salad, Branston pickle and a Scotch egg
Soup and Salad – Split pea soup served with a side salad
Banger Pub Style Sandwich – English sausage, mustard aloli, roasted tomatoes, sauteed cabbage and onions on a bun
Specialty Chicken Sandwich – Grilled chicken breast, apple butter mayo, Colby cheese, smoky apple bacon, roasted tomatoes on a housemade specialty bun
Fish and Chips – North Atlantic cod battered and fried, served with french fries
I was impressed with the vegetarian options on the menu. The Soup and Salad or Ploughman's served as two delicious choices and I went with the Ploughman's.
The salad was a pleasant mixture of greens. While I prefer a vinaigrette dressing, it came with ranch. So make sure you ask for other options if you aren't a fan of the creamy-standard. The bits of bread were modest, but enough to pair with the variety of cheeses. The tiny pickle was sour and tart, but delicious after a bite of the Scotch Egg. Oh, the Scotch Egg…I could have eaten them like popcorn at good movie. As a meal, it was a great veggie-fan option. It would also make a spectacular appetizer to share among the table.
My photographer had the Beef, Lamb & Guinness Stew and, begrudgingly, let me have 2 bites before inhaling the rest. It was hearty, rich and the meat was tender. The portion looks small, but it is extremely filling. Trust me when I say you will have a full belly. My kids refused to stray from the Fish and Chips after falling in love with the fare at The Three Broomsticks when Hogsmeade first opened. It delivered the promise of deliciousness and they asked for another round at dinner.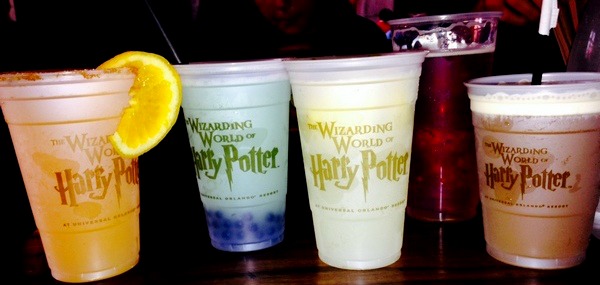 The drinks in Diagon Alley are the must-try and headliners. Aside from Pumpkin Juice and Butterbeer, the new drinks are exclusively available in the Diagon Alley area.
Fishy Green Ale – This was the most unique drink and turned heads as I slurped on it. A mint-green colored bubble tea is a sweet almost milky mixture. However, the giant straw and black colored beads that linger in the bottom of the cup are the eye-catchers. With each sip, the beads that strongly resemble fish eggs, explode a sweet blueberry flavored liquid into your mouth. Together, the flavors mix into a final taste of what I felt was licorice.
Otter's Fizzy Orange Juice – By far, this beverage was my table's favorite. It's a lightly carbonated juice that isn't overly sweet, but the sugar rim with a hint of magic and cinnamon, garnished with an orange slice was a repeat order throughout the day.
Tongue Tying Lemon Squash – A lighter lemonade that tastes like it is from a farmer's market. I thought I detected a hint of vanilla, but it might have just been a bit of magic.
Peachtree Fizzing Tea – If you like peaches, ginger and carbonated beverages, this tea is for you.
Wizard's Brew – A darker stout that is surprisingly sweet. Both beers were crafted exclusively for Universal from the same brewery that brought Duff beer to life.
Dragon Scale – A malty brew that isn't shy and has a sweet-streak similar to the Wizard's brew, but lighter.
Gillywater – Alone, it is simply a cool bottle of water. Mixed with one of the offerings at Eternelle's Elixir of Refreshment in Carkitt Market, you have fantastic way to customize your wizarding world beverage. Choose from: Draught of Peace – Mixture of berry, Babbling Beverage – Tropical fruit punch, Elixir to Induce Euphoria – Pineapple, mint and apple, or Fire Protection Potion – Watermelon, peach and strawberry. The Gillywater is a part of the beverages you can get if you utilize the dining program.
Florean Fortescue's Ice-Cream Parlour
This parlour features an amazing array of unique flavors. In the mood for spicy ice cream? They have it.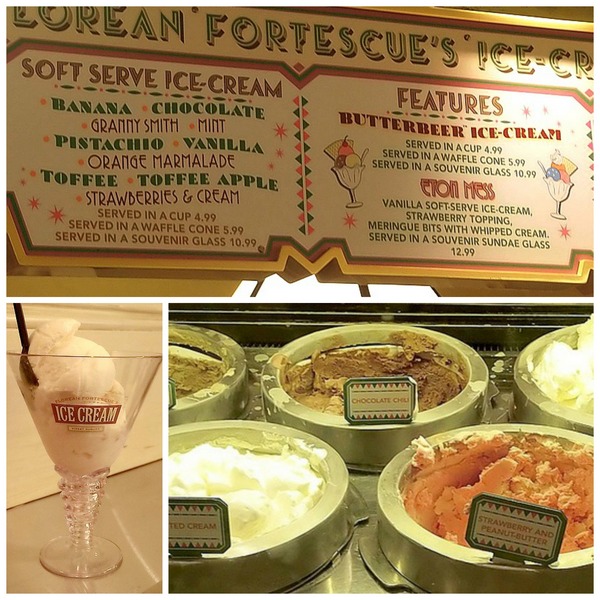 Hard Packed Options:
Chocolate Chili – At first, it tastes like regular chocolate ice cream, but it quickly turns into a fiery tingle.
Apple Crumble – One of the top three flavors, it tastes like an amazing apple cobbler.
Vanilla – For those who like classics, this is a create canvas for extras like chopped nuts or shortbread crumbles.
Salted Caramel Blondie – This is the most popular flavor according to the witch filling up my cone. It's easy to see why. Bits of caramel are swirled through the amazing balance of sweet and salty.
Chocolate – For the purists, add some sprinkles or meringue bits for a kick.
Early Grey and Lavender – The tea was subtle and complimented the lavender so well I felt like I was eating a creamy cup of tea. I highly recommend this for vanilla fans.
Sticky Toffee Pudding – This offering could be the brother to the Slated Caramel Blondie, but has a sweeter finish.
Clotted Cream – A truly English flavor, its a bit on the tart side.
Chocolate and Raspberry – It's the ice cream flavor Hagrid presented Harry with when he ventured into the Wizarding World.
Strawberry and Peanut-Butter – Another Potter classic, the marriage of the two flavors works like, well, peanut butter and (strawberry) jelly.
Soft Serve Options:
This melts faster but it won't matter because you will inhale the Butterbeer flavor. Banana, Chocolate, Granny Smith, Mint, Pistachio, Vanilla, Orange Marmalade, Toffee, Toffee Apple, and Strawberries & Cream will have you inhaling this cool treat.
You can get any of these in a cup or waffle cone. Spend a little extra and you can have it a plastic souvenir cup. Each hard scooped option comes 2 scoops, so you can mix and match flavors. The Salted Caramel Blondie with a scoop of Strawberry Peanut-butter is a thing of dreams.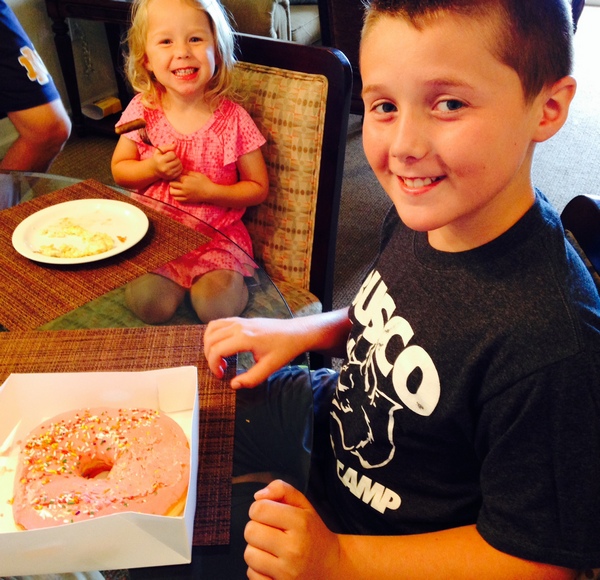 Outside of the wizarding world, you can find equally unique and delicious food. At Moes, you can belly up to the bar and order up a Duff beer or The Flaming Moe – an orange soda drink that smokes for a solid 3-5 minutes. You can then head over to the attached eateries and eat a Krusty Burger or stop by Cletus' Chicken Shack for a Chicken and Waffle sandwich.
A food truck with tacos and other tasty quick-eats sat next to a small donut stand featuring a large Lard Lad donut that caught the eye of my 10-year-old son. It was the size of his head and decked out with pink frosting and sprinkles.
Universal raises the bar on theme park food. It's not just boring burgers or children's chicken nuggets anymore. We haven't even covered the amazing dining options on CityWalk yet! Look for full review of CityWalk's foodie features coming soon!
Disclosure – Any and all opinions expressed are that of TouristMeetsTraveler.com. No compensation was received, however the experience was provided by Universal Orlando.