Orlando Hotel Review: Universal's Cabana Bay Beach Resort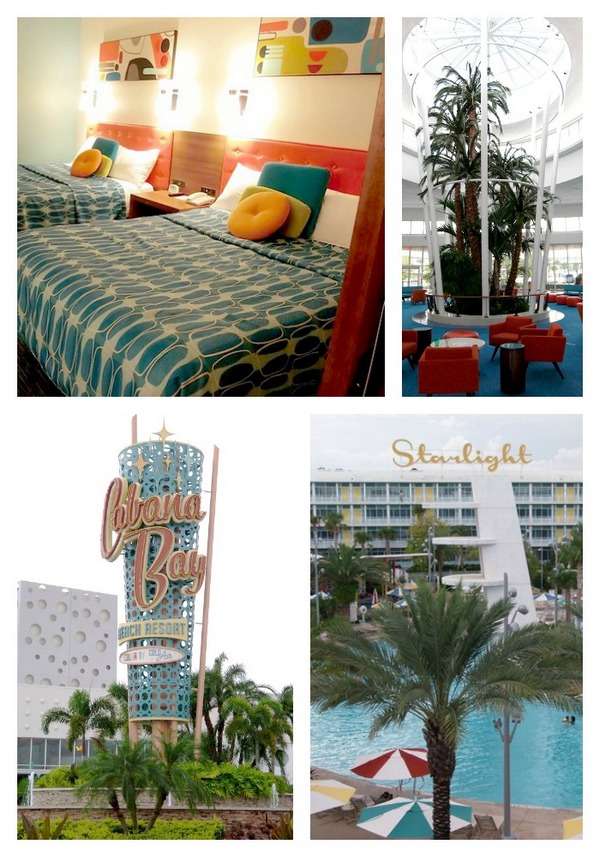 During my coverage of the many wonders of Universal Resort Orlando, I stopped in at the Cabana Bay Beach Resort. Courtesy of Universal, I spent 2 days checking out the hotel.
Cabana Bay manages to encompass a fun theme that isn't pandering. The kitschy 50's-60's decor is spiked with modern tones and conveniences that are truly thoughtful. Along with most of the perks that come with staying onsite, the "value" resort features benefits like:
Early Park Admission to The Wizarding World of Harry Potter
Free shuttle buses to Universal's CityWalk and both theme parks
Room key charging privileges
Complimentary delivery of merchandise purchased throughout the resort to the hotel lobby.
Shuttles to Wet 'n Wild waterpark, SeaWorld, and Aquatica
Express Passes, Water Taxis and Priority Seating at select resort restaurants that come with the "Deluxe" line of accommodations are not complimentary, but it will save you funds on a nightly rate. The exception of those perks seem to be the only thing the resort doesn't offer.
ROOMS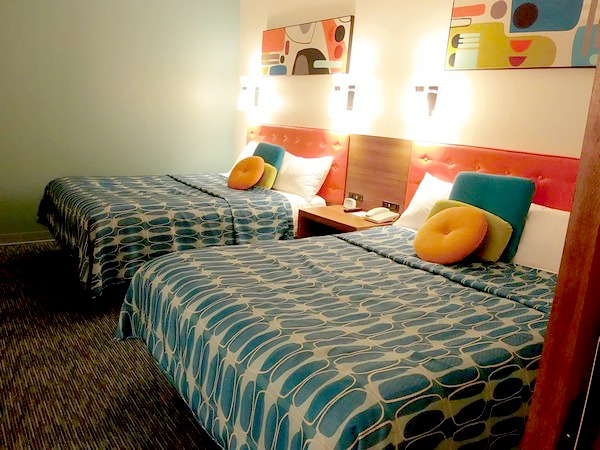 We stayed in the Family Suite to accommodate my 5 member crew. A small kitchenette, complete with microwave, sink and mini-fridge, was stocked with a few plastic plates, bowls, and utensils. If you grab a box of cereal from a convenience store, you will have a place to have a quick and easy breakfast without worrying about the milk spoiling. We also grabbed a few bags of microwave popcorn for a nighttime snack.
Two-queen sized beds gave us plenty of room. Typically, you will find a couple of double beds in hotels, so this extra bed-space was very welcomed. It would easily accommodate a family of four, but the sofa in the living room area pulls out into a comfy full size bed! You could fit a total of 6 guests in the space and still have space.
I credit the design. The two-queen sized beds face a large TV that is mounted in the wall like a piece of art. The absence of a stand creates an open space to move around the room. Don't fret on space to store your things. A few built-in drawers are tucked away in the wall that separates the sleeping area from the living room. Plus, there is a closet-esque space where you can hang clothes, stack your suitcase and even iron.
A second TV sits in the living area on top of cabinet/slash dresser. The sofa is almost magical. It's quaint and chic, but transforms into a full-fledged bed without having to ask Harry Potter for an extending charm. The cushions even double as a soft headboard!
The bathrooms are spacious. A sink area and large mirror is open to the two beds, and a room for the toilet is on one side and another sink with shower/tub is on the other. So, one person could be using the restroom while another applies makeup and a third has privacy in the shower. I am thinking of adopting this design at home to stifle fights over restroom occupation!
But the best part was the pocket-door that slid shut, providing a separation from the beds and the living room space. While my youngest took a nap, I kicked back in the living room and watched a bit of TV while my older kids hit the pool. Everyone was happy and I didn't have to sit in silence, hesitant to move or make a sound.
RECREATION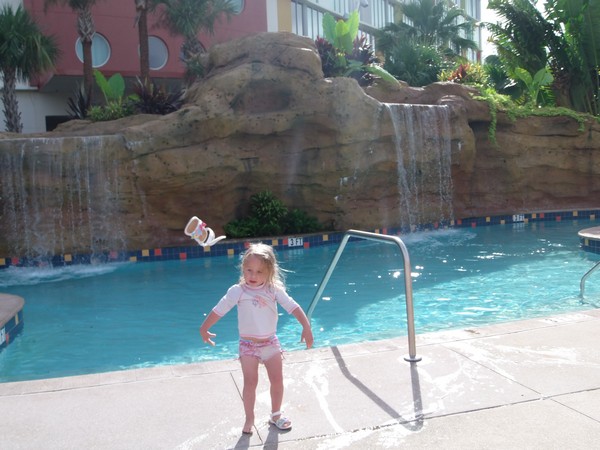 A lazy river, ping-pong, a place to build sand castles, several gorgeous stone-chess/checker boards, two pools, bowling, and fire-pit are just a few of the recreation options.
Cabana Courtyard sits on the right side of the property housed between the "Starlight", "Thunderbird", and "Castaway" buildings. There are a couple of shaded pavilions to find shady solace for a lovely picnic or break from the sun. The Kids Splash Pad is perfect for wee ones and the Hot Tub is a soothing break for adults spending a long day in the parks. To wind down for the night, each side offers a fire pit, but the nightly family-friendly film on the lawn draws the kids.
The pool on this side of the bay features a fun water slide that hovers on the tame side of the thrill-factor and it is zero-entry, perfect for tiny swimmers.. Private cabanas are available for rent to provide a shaded retreat, comfortable chairs, HDTV, Wi-Fi access, a fan, and fridge along with some personal space. During the popular summer season, these might be a sanity-saver.
The Lazy River Courtyard is located across the lobby, between the "Americana" and "Continental" building. Along with the river, guests will find another zero-entry pool and splash pad. Ample areas of relaxation are offered, but here you will find one of my very few concerns…
Tubes to float along the lazy river are not complimentary. If you don't have your own, plan on purchasing an inflatable item ranging from $3-$12. Cash isn't accepted, so have your chargeable room key or credit card ready.
If your family needs a break from the water, poolside adventures await. Bean bag toss, ladder ball, hula hoops, pool tables, giant Jenga games and even sidewalk chalk art will be a fun alternative. For some cool, indoor entertainment, adults can hit the gym at Jack LaLanne Physical Fitness Studio. Families can even go bowling at Cabana Bay's onsite alley, Galaxy Bowl, after stopping at Starbucks located below the 10 lanes. Gamers can find a mixture of vintage and modern video games in Game-O-Rama.
DINING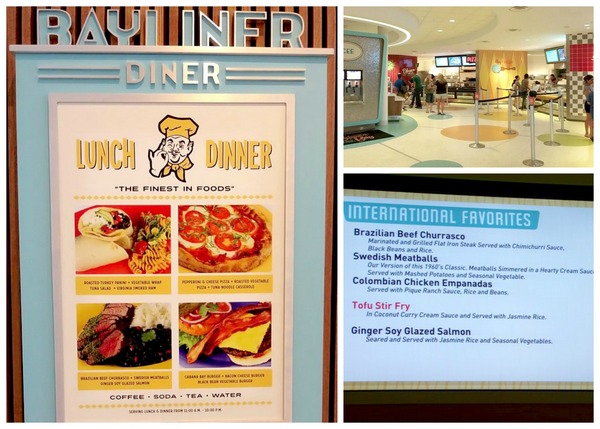 Hotel dining can bring up upscale images, which is great, but this family-friendly value resort has a brilliant solution for groups who can decide on one genre of food. The Bayliner Diner is a mix of food court and lunch room. You have a choice of 6 different stations: Deli Station, International Station, Pizza Station, Burger Station, Salad Station, and Dessert Station. If you are in a hurry or just want a snack, there is a "Grab and Go" area with cold sandwiches, quick eats, and beverages (both alcoholic and non-alcoholic).
My family loves a unique experience, so we took the advantage of the International Station and ordered the Swedish Meatballs with a side of vegetables and mashed potatoes, and Brazilian Beef Churrasco with a side of black beans and rice. My kids shared a pizza along with a kids portion of Baked Macaroni and Cheese. Portions were generous, but controlled – which I immensely appreciated. Flavors were punchy without being overbearing and the kids inhaled the pizza.
It was refreshing that everyone got something they wanted and the options were limited. You walk to whatever station you fancy, grab your grub and then pay when everyone has gotten what the wanted. Smooth process and everyone is happy and I wasn't stuck eating pizza for the third time.
Above Starbucks, you will find Galaxy Bowl has its own restaurant. It's your standard alley fare of burgers, pizzas and cold beer. We didn't dine there, but I heard positive things from happy guests I spoke with.
If you get peckish poolside, you can get a quick bite from The Hideaway Bar & Grill. Otherwise, you are down to cocktails from Swizzle Lounge and Atomic Tonic.
OVERALL
The two-days I spent there weren't enough. Between exploring the parks, playing in the pools, grabbing a bite to eat and simply walking around the resort, there is so much to do! Cabana Bay Beach Resort is wonderful for families. Plan an entire day to simply spend at the hotel to make the most of your stay.
PROS: Family Suite is spacious and accommodates up to 6, tons of recreation activities, accommodating to all ages, diverse offerings, no-schedule-needed free shuttle to and from the parks operating early in the morning through the day and late into the night, plenty of seating in the courtyards, onsite Universal ticket counter, early access to The Wizarding World of Harry Potter, multiple pool areas
CONS: A daily parking fee, Lazy River tubes are not complimentary
TIPS FOR STAYING AT CABANA BAY BEACH RESORT
*It's a bit of trek from one side the other. If you prefer to hang out on the Lazy River side of the resort, ask to stay in the "Continental" or "Americana" buildings. Want a view of the slide or be closer the rentable Cabanas? Ask for digs in "Starlight", "Castaway", or "Thunderbird" buildings.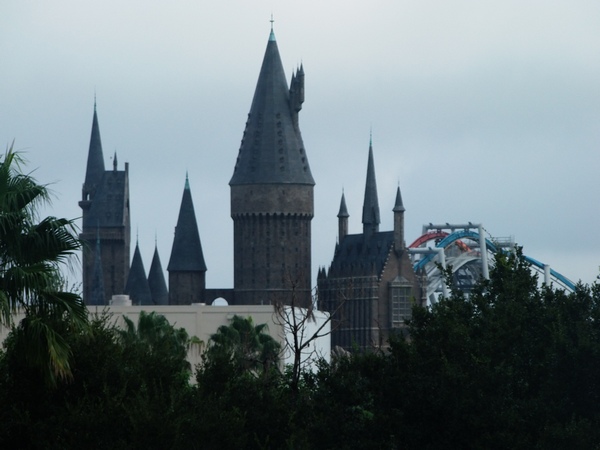 *Rooms 2401, 2403, 2405, 2407, 2409, and 2411 located in the "Thunderbird" building all have a view of Hogwarts peeking from the neighboring treeline!
*You'll find DJ's spinning tunes from the 50's on both courtyards. Cabana Courtyard has music from 2-6 p.m. on Saturdays and 11 a.m. – 3 p.m. on Sundays. The Lazy River Courtyard has groovy sounds on Fridays from 4:30 p.m. – 7:30 p.m. and Saturdays 4 p.m. – 8 p.m.
*There is a Universal Orlando Resort Ticket Center located in the lobby. It is often still cheaper to buy tickets online, but you can print them out at the kiosks in the hotel to save yourself time.
*Cabana Bay also has onsite laundromats. Save yourself some room in your luggage by packing less and giving your clothes a quick wash.
*Family Suites have the option of "connecting rooms" that would be awesome for those traveling in a large group or with multiple friends and family. Make sure you ask for a "connecting room" when you book. (Yes, connecting rooms ARE different from adjoining rooms! Connecting rooms will have a door connecting the rooms while adjoining rooms are simply located next to each other.)
Disclosure – Any and all opinions expressed are that of TouristMeetsTraveler.com. No compensation was received, however the experience was provided by Universal Orlando.