Adventure @UniversalORL Vivo Italian Kitchen and CityWalk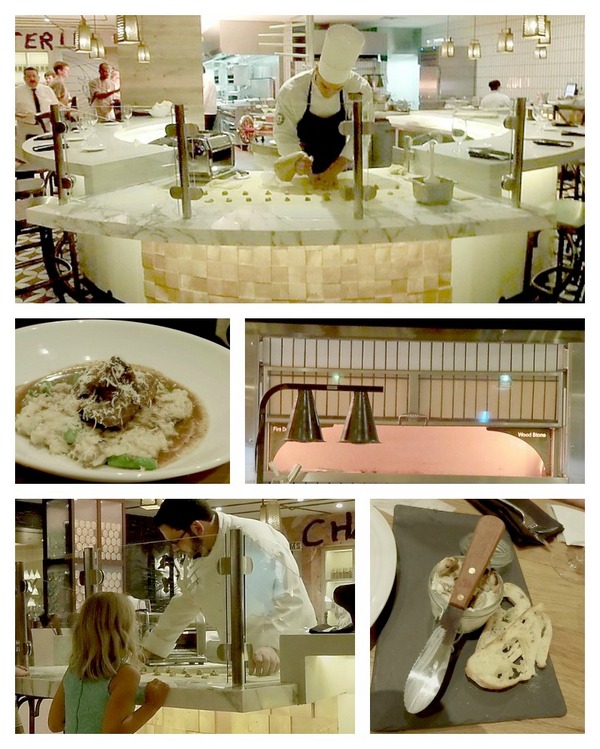 Universal Orlando Resort provided me with an amazing adventure. From enjoying the recreation-packed value Cabana Bay Beach Resort, full review found here, to enjoying the new addition of Diagon Alley to The Wizarding World of Harry Potter, my trip was eye-opening. For tips and tricks for visiting the Potter expansion, click here.
CityWalk is a venue on its own. Shopping, movies, full service and quick service eateries, mix with clubs, music and even mini-golf. It's comprised of a dash of everything set against the backdrop of the theme parks. Note that you do not need park admission to enjoy the entertainment and retail district.
Nightlife headliners like Red Coconut Club, Velvet Bar and Jakes American Bar sit on top for those looking to mingle. Catch live music at Hard Rock Live or karaoke with a live band at Rising Star. Grab an amazing dinner at Antojitos Authentic Mexican Food or enjoy a legit hand-tossed, fire-baked pizza at Red Oven Pizza Bakery.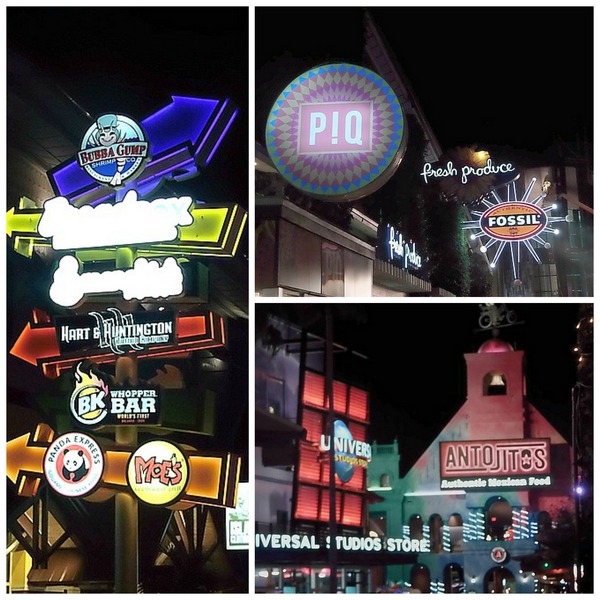 At CityWalk you could grab an amazing meal while watching a volcano blow at Jimmy Buffet's Margaritaville, indulge in some retail therapy, take in a movie, karaoke with friends, get a tattoo at Hart & Huntington, catch a live show and then dance the night away in one of several clubs – all in one place.
You can enjoy one of their 8 new venues, but I can personally recommend Vivo Italian Kitchen after enjoying it firsthand.
I have to preface the review with a bit of setup…
I took my 3 children along for this adventure to see the family-friendly factor. Before we even stepped foot into the restaurant, I told my 10, 6, and 3 year-old how important it was to be polite, courteous of other people enjoying their dinner and careful.
I hadn't even sat down after situating my toddler into her highchair when I heard the small explosion of glass. My family made it about 30 seconds before breaking something. My 10 year-old son was red faced, wide-eyed and repeating apologies – "Mom, I am so, so, so, sorry! I didn't mean to. I can't believe I broke a glass after your big speech about being nice and everything. I am so, so, so, sorry."
The staff couldn't have been nicer about it. They assured him it wasn't a big deal and cleaned it up quickly insisting he need not apologize. So that was already a plus in my book.
Tim, our waiter for the evening, was outgoing, knowledgeable, and quickly turned the embarrassing moment into a night about the food. He pointed out a few of his personal favorite dishes from the chic metal menus. His favorite, the Risotto, swayed my photographer into making a final decision. I had picked out my Squid Ink Seafood weeks in advance after peeking at the online menu. The kids menu doubles at little postcards children can scribble a message or picture on and send out family and friends.
After Tim took our order, he dashed away and quickly returned with bread I was convinced was made by Italian Angels. The outside crust was crunchy and practically sang a fresh, crisp tune as you pulled it apart to taste the still-warm inner-bread. My kids began to argue over it, but finally agreed to share after my reminder of being polite.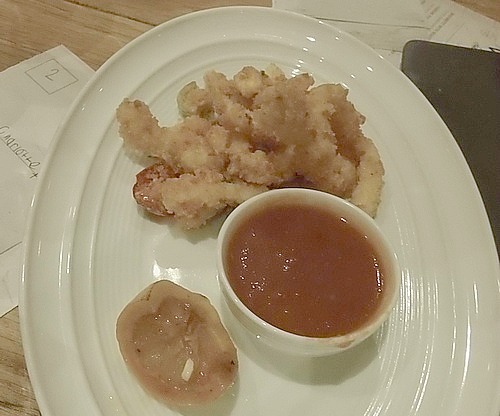 I must note a special thank you to Tim for urging me to experience Vivo's calamari. He explained that there is a to of restaurants who serve it, but it typically is frozen, fried and overpowered by accompanying dips. Not at Vivo. In this chic and darling restaurant, it's done right.
I liked calamari and have had it before, but he brought a plate of culinary education. The offering was a thick piece of squid perfectly breaded with a simple crunch that let the fare speak for itself. It shamed every other piece of calamari I have ever had. There was no elastic, tough texture. It didn't need any sauces or spices. It was a tender, succulent bite I didn't want to share. This alone schooled my taste buds.
We also ordered an appetizer of ricotta with candied walnuts mixed in a charming Mason jar. It was a simple flavor that had a silky, creamy texture. The candied walnuts shined on the clean accompanying ricotta which was refreshing to see it used in a sweet combo.
After being shown what good calamari is and nibbling on the ricotta, I couldn't wait for our meal. My hunger only grew as I took in my surroundings. Several chefs were working diligently, behind a large pane of glass. Guests can watch as pasta is rolled out, individually filled, and tucked in by a second blanket of fresh dough. A large, fire oven flickered humbly in the background as dished were thoughtfully pushed in. The entire kitchen is open, inviting and hides nothing. I loved the feel of seeing the culinary magic happening; featuring the culinary creation as part of the experience.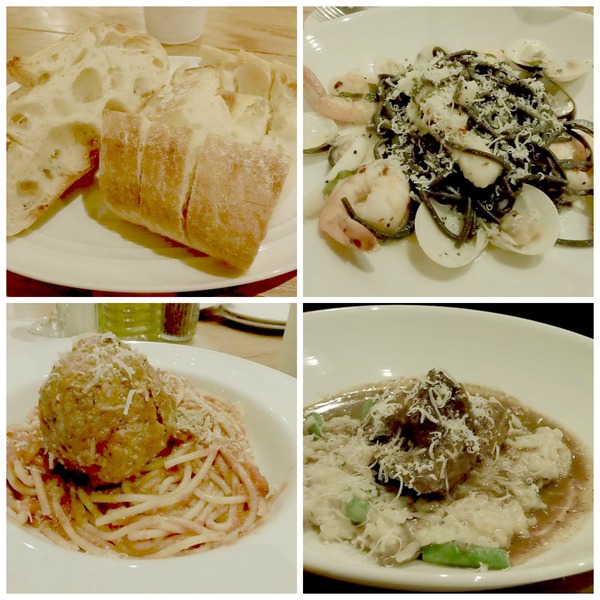 Our meals arrived in a timely fashion. Presentation is simple, clean and doesn't need gobs of parsley to make it "pretty". It's honest and lets the main components of the dish shine.
My Squid Ink Seafood delivered. It had an unexpected, but welcomed heat. The noodles were al dente and hearty. Shrimp mingled with clams and more wonderful squid in wine, basil and butter. The shrimp was somehow delicate enough to play so well with the rice, but represented a thick and hearty protein. The clams were tiny bites that spiked the dish with flavor that I can only describe as the ocean refined into a savory nibble. I love trying new foods and have an adventurous hunger, but it would be hard to return and not order this dish again.
That is…until I tried the risotto.
Again, I have had risotto before and know cooking arborio rice can be a challenge. Timing has to be near perfection to get that silky but al dente bite. Often, it is over-cooked and mushy, but still flavorful. This laughed in the face of time and was plated at the perfect moment went the rice bends to the chef's will and becomes a gorgeous, amazing culinary delight.
My son inhaled the adult meal he ordered due to his penchant for lasagna. I didn't get a single. bite. Not one. It was presented a homey-dish. Sort of a tiny pan that was made just for you. It looked delicious and my son informed me, "Your lasagna is so good mom, but this lasagna could end wars." My jaw dropped, but I could only agree based on the amazing meal I had just inhaled. (I also noted that he picks up on my jargon and comments and might want to keep that in check!)
My youngest daughter has always been picky. In the three years of her life, she has tried a bit of everything, but tends to stay in the realm of chicken nuggets and peanuts has her main source of protein. After her spaghetti and meatballs were placed in front of her, I feared the meatball would go untouched. I was so wrong.
She begrudgingly took a bite of the meat, at my insistence, and I thanked her for being adventurous and gave her permission to dive into her noodles. Returning to my meal, and being encompassed in a world of texture and flavors crafted by skilled hands, I didn't think much about her meal until I finished mine. Only the noddles remained on her plate as she rubbed her belly and insisted she couldn't eat another bite. I swiftly looked to the floor and my purse, fearing she had tossed the ball and it was sitting in saucy puddle somewhere. I asked what happened to it and she pointed to her sauce-lined mouth. She had eaten the entire meatball that was the size of my palm.
Indulgence of appetizers, savory meals and more bread than I care to confess, left no room for dessert. However, the menu for sweet treats was tempting array of Italian favorites. Chocolate Pana Cotta and an Orange Walnut Cake danced with the idea of ordering Zeppole and Ricotta Cheesecake. Alas, I will have to save those for another time.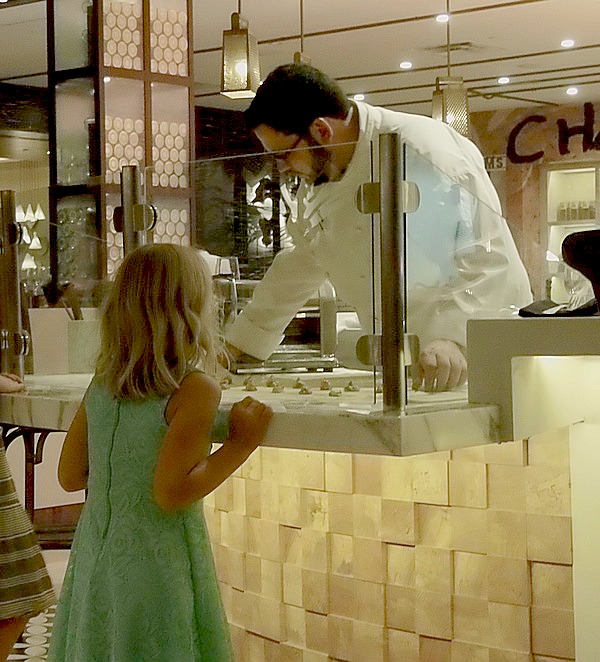 One of the managers stopped by our table twice to talk food, atmosphere, and history. Rajiv, a delightful and welcoming man described the life of the restaurant. Pastamore was opened on CityWalk in 1999, but closed in January of 2014. Vivo took over and opened a little under a month before my visit. The eatery, still in infancy, didn't appear to have any hiccups. From start to finish, my meal was smooth and enjoyable…aside from the destruction of a glass.
Chefs Luca, Gian, Chris Colon and Executive Chef Steve Jayson bring the talent in the kitchen. It shows in every dish. That Orange Walnut Cake I was intrigued by…it's a 75-year old recipe by Jayson's Nonna (Grandma). I regret not making the space, but it makes for a great excuse to return!
Check it out for yourself at CityWalk's Vivo Italian Kitchen. You can also find the details on the rest of the food options in Universal Orlando's theme parks by clicking here.
Disclosure – Any and all opinions expressed are that of TouristMeetsTraveler.com. No compensation was received, however the experience was provided by Universal Orlando.