3 New Magic Kingdom Must-See Attractions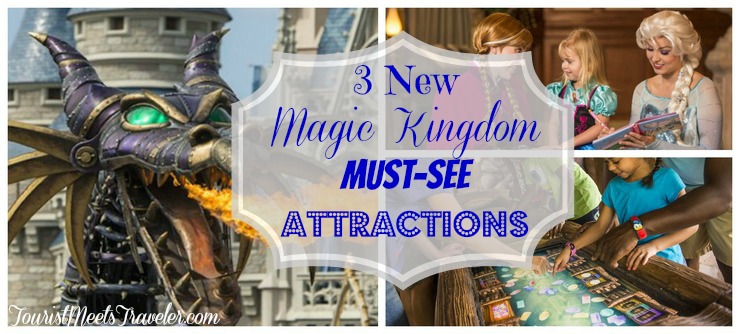 After covering several new family attractions that are friendly for even the tiniest of tots, I had to cover Disney's latest additions!
The Magic Kingdom in Orlando has been upgrading portions of the park like Mad Hatters. From minor facelifts to major overhauls, Disney World will enjoy several new features just in time for the height of the 2014 Spring/Summer season.
1. Seven Dwarfs Mine Train – The new "story-coaster" has been highly anticipated for months and will open on May 28th. It is a family-friendly coaster, but riders must be 38 inches or taller. Guests get a view inside the world of the dwarfs as the journey begins in a forest and makes a stop in a mine, glowing with gems. Scare factors include several steep hills and a few plunges no deeper than a 41 foot drop. You can view a preview video of the ride by clicking here. The dwarfs' cottage has also been meticulously created outside the ride exit. But, the real question is – what about that line? It's going to be long, but it has several "stations" that are filled with details and even a few things to do including jewel washing, shape matching and some fun with water and music!
2. 'Frozen' Princesses Anna and Elsa – I am sure you have heard 'Let It Go' at least 100 times if you have 'Frozen' fans in the house or watched a group of military men belting out the tune on Youtube. Anna and Elisa will join fellow Disney royalty at Princess Fairytale Hall! Character meet-and-greets will be available until nighttime. Be prepared to wait in lines for the one-on-one experience. Otherwise, you can catch them later in the parade.
3. Festival of Fantasy Parade's Dragon – Universal Studios will have a fire-breathing dragon astride Gringott's Bank in Diagon Alley and Disney will have their own. A gigantic, 26-foot tall "steampunk" version of Maleficent in her scaly form. The 53-foot long beast will be the highlight of the rebooted parade featuring gorgeous costumes, floats and eye-catching displays.
Do you have a favorite part of the park that is your personal "Must See" area? Share in the comments below!