5 Best St. Patrick's Day Destinations in the US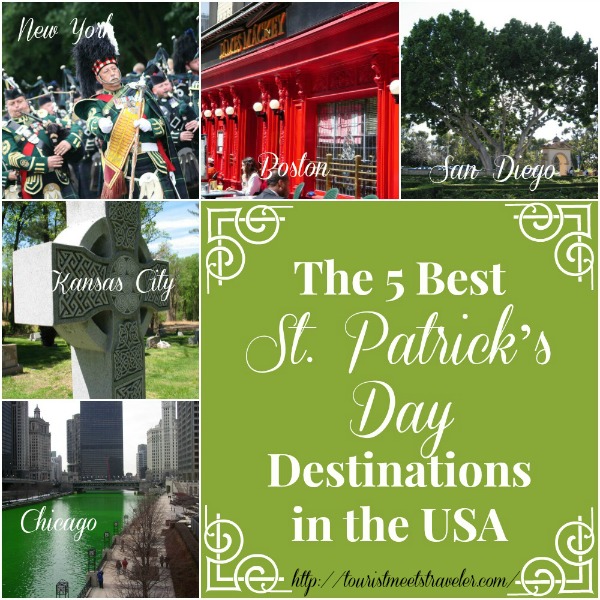 The United States has more than 36 million citizens that can claim Irish ancestry – that's nearly 12% of the total population! No matter where you go there's bound to be some celebrating. Everyone is Irish on St. Patrick's Day. If you want to celebrate with thousands (and even millions) of others then be sure to visit one of these destinations this year.
St. Patrick's Day Parade in New York City
This parade is the largest St. Patrick's Day parade in the world and is over 250 years old. Around 150,000 people march in the parade that boasts upwards of two million spectators. Many of the marchers are firefighters and police brigades – two professions that have long and deep Irish roots in the United States. Numerous New York Irish pubs go all out to celebrate St. Patrick's Day in style – you'll have no problem finding Irish food and plenty of Irish beer!
Chicago Green River
On St. Patrick's Day the city of Chicago dumps nearly 100 pounds of green dye into the Chicago River to dye it green. Since 1843 Chicago also has held it's own St. Patrick's Day parade that starts promptly at noon and marches through downtown. Floats and traditional Irish dancers are just some of the groups that make up the parade. Chicago's Irish American Heritage Center also has special events on St. Patrick's Day.
San Diego ShamROCK
If the west coast is more your style, San Diego is the place to be. In the morning enjoy a St. Patrick's Day parade and then head down to Balboa Park for the Irish Festival. At the festival enjoy traditional Irish food, an authentic Celtic Village and Kids Zone – not to mention two beer gardens. From 4pm until midnight the ShamROCK takes over Gaslamp Quarter with over 80,000 square feet of Astroturf. The celebration recreates a 150 foot Irish pub on the streets and numerous stage performances of Celtic, Irish Rock, Irish Punk Rock, and other Irish classics fill the air.
Celebrate in Boston
You might not find a city outside of Ireland as proud of their Irish heritage as Boston. St. Patrick's Day brings in more than half a million visitors to the city. The first celebration held here occurred in 1737 and today has one of the largest parades in the world! Held in South Boston nearly a million people attend the parade. Venues around the city feature Irish music acts and dozens of Irish pubs showcase traditional Irish eats and green beer in the days leading up to and on St. Patrick's Day.
Kansas City, Missouri…really?
It might be the last place you would think of to celebrate but Kansas City has it going on. Not only do they have a great parade but they give back to. The "go for the green" food drive is an opportunity for people and businesses to help combat hunger in the community. They have combined the day's events with the food drive for the last 29 years. A Gaelic Mass is held at Redemptorist Catholic Church and is open to all to attend – Irish or not, Catholic or not. It's a way to remember the patron saint, St. Patrick, the man behind the holiday. A golf tournament is also.
For some handy recipes you can make for a St. Patrick's celebration right at home, check out our post on The Flavour of Ireland: Plan Your Vacation and Enjoy St. Patrick's Day Recipes at Home