Celebrate Dr. Seuss' Birthday With Rides and Recipes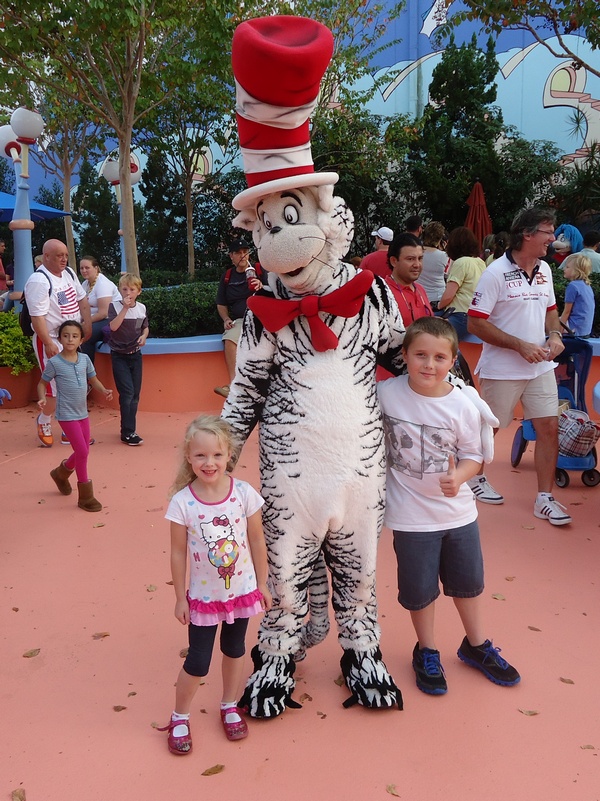 March 2nd is Dr. Seuss' birthday! Libraries, schools and colleges will be celebrating the special day with reading fun and family treats. Check your local newspaper or calendar events for a event near you. I am sure you will be surprised with all the offerings!
If you are in sunny Florida, you can always stop by Universal Orlando's Island of Adventures for some fun! Seuss Landing is full of rides, shopping and even a chance to run into Thing 1 and Thing 2.
The area is wonderfully family friendly. Rides cater to all sizes, big or small, short or tall. (I couldn't help myself!) Families can live the Cat In the Hat adventure or take a ride on those fishes from one of my favorite books. One Fish, Two Fish, Red Fish, Blue Fish – think of it as Dumbo's ride but with the chance to get wet. Caro-Seuss-el is another ride that welcomes all. It's just like your normal carousel, but the unique twist has the unusual creatures from the imagination of Dr. Seuss.
Make sure you also stop at Oh! The Stories You'll Hear! to see and meet characters. Tales of strange creatures in Dr. Seuss glories, By tellers of rhymes and poems and his stories, Just go to Seuss Landing and open your hearts, The players perform and the silliness starts!
To celebrate on your own, try a fun recipe that will compliment one of the most popular Seuss stories – Cat in the Hat Cupcake Pops!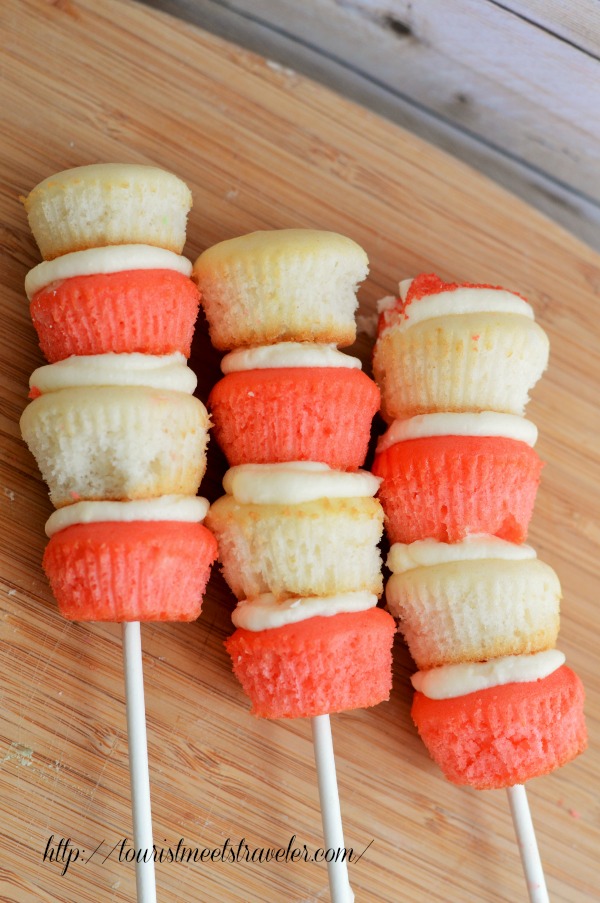 Cat in the Hat Cupcake Pops
• 1 white cake mix
• Wilton Icing Color, Red
• Buttercream Frosting, recipe follows
• Lollipop sticks
1. Line mini muffin tin with papers. Spray with non-stick spray and set aside.
2. Prepare cake mix as directed, omitting ¼ cup of water. Divide batter evenly between two bowls. Tint one bowl to the desired shade of red with the Wilton Icing color.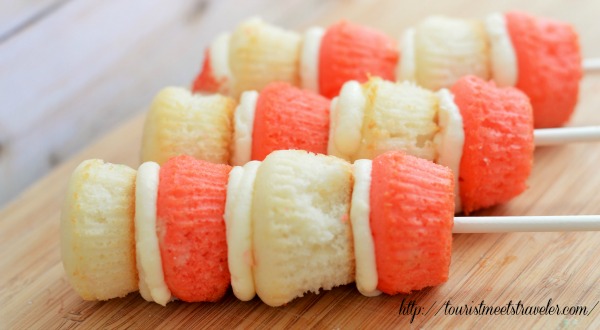 3. Pour 1 TBS batter into each muffin liner. Bake as directed. Cool on wire rack.
4. Prepare the frosting. Scoop into frosting bag fitted with star or round tip.
5. Place a red cupcake on a lollipop stick. Outline with frosting. Repeat, alternating colors, until you reach the top of each stick.
Buttercream Frosting
• 3 cups powdered sugar
• ¾ cup butter
• 1 tsp vanilla
• 1-2 TBS milk
Beat powdered sugar and butter with electric mixer until combined. Add vanilla. Mix in milk 1 tsp at a time until frosting reaches desired consistency.
Click HERE for another great Seuss celebrating recipe – Celebrate Dr Seuss' Birthday With Cat in the Hat Pancakes