Sneak Peek of Diagon Alley Wizarding World of Harry Potter Leaky Cauldron Menu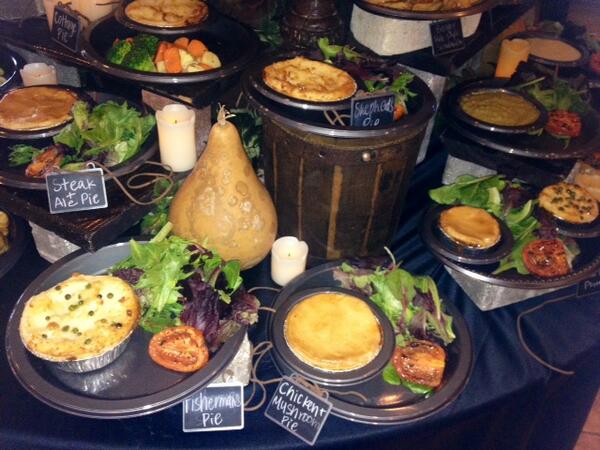 We here at Tourist Meets Traveler have been incorporating recipes and foreign fare into the site to bring even more culture and diversity. Food is universal language that brings a new experience to traveling.
Combine that with news trickling out from the Wizarding World of Harry Potter's Diagon Alley expansion, and you have my full and undivided attention! Theirry Coup, Senior Vice President of Universal Creative, and Tom Schroder, Universal Orlando's Vice President of Public Relations, tweeted pictures featuring the new menu items from The Leaky Cauldron.
Sticking to the British experience, items like steak & ale pie, chicken & mushroom pie, fisherman's pie, toad in the hole and, my very favorite, bangers and mash, are all being tested out. Dessert will be equally delicious! Apple red currant tarts, blueberry cookies and chocolate potted cream were all teased in the images.
Tom also confirmed that the wizards creating the food are also hard at work cooking up recipes for Florean Fortescue's Ice Cream Parlour!
"Did someone say ice cream? Our culinary team has created great special flavors – just for Diagon Alley. Brilliant!"
No hints were given regarding what flavors were being created, but Hogsmeade already offers strawberry and peanut butter ice cream. (I highly recommend you try it even if you aren't a fan of the flavors. I was pleasantly surprised!) In the books, Hagrid bought Harry a chocolate and raspberry ice cream with chopped nuts. Hopefully, we will see that on menu.
I have long been a fan of British food. You can check out my Shepherd's Pie recipe here… Just in case you aren't familiar with the foods mentioned, you can find a description of each dish below.
Fisherman's Pie – It's a bit like Shepherd's Pie, but white fish in a creamy white or cheese sauces is blanketed by a potato crust.
Toad in the Hole – This is another personal favorite dish. Sausages are baked in a Yorkshire pudding – which is just a simple batter of eggs, flour and milk. Often, it is served with a vegetable gravy.
Steak and Ale Pie – A pub favorite, steak is stewed in gravy (often made with Guinness Stout) and baked in a pastry shell.
Bangers and Mash – My kids go crazy for this dish. It's combo of sausages floating on cloud of mashed potatoes, all drenched in an onion gravy.
Merlin's pants! I am starving now!
[Images Via Twitter]