Classic British/Irish Cuisine: Shepherd's Pie Recipe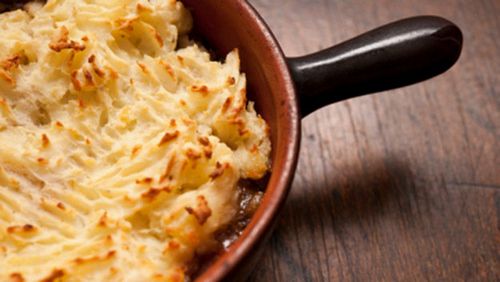 I have a soft spot for all things British and Irish. The United Kingdom is such an amazing area of the world and much of our personal history can be traced back to English roots.
The fare focuses on simplicity with a hearty and filling flair. Fish and Chips, Cornish Pasties and Yorkshire Puddings are a few of your staple meals, but Shepherd's Pie is my personal favorite. It is minced meat pie with a mashed potato crust. It doesn't look like your traditional "pie," but it's a rich and delicious way to sneak veggies into your kids' meals!
You also see it on the menu of The Three Broomsticks in the Wizarding World of Harry Potter located Universal Orlando. I have a feeling it will also show up at the new expansion that includes The Leaky Cauldron. It's not confirmed, but the fact that traditional British fare will be served has been announced.
In early cook books, the dish was a means of using leftover roasted meat of any kind. For a healthy and easy version, I use ground turkey. However, ground beef will also work along with ground lamb. It can also be served in individual dishes, but I often do one large pan to feed my family of five.
You will need:
2 lbs lean ground meat: turkey, lamb, chicken, beef and even pork will work
1 large carrot, diced
2 stalks celery, diced
2 cups onions, peeled and diced
2 fresh thyme, chopped
2 garlic cloves, chopped finely
2 tablespoons tomato puree
3 ounces Worcestershire sauce
4 cups chicken stock
2 lbs boiled potatoes
butter
milk
ground pepper
salt
red wine – optional
oven preheated to 400 degrees
1. In a large frying pan, something with tall sides, season the meat with salt and pepper to taste and set heat at a medium range until it is cooked through. Remove from pan and drain grease.
2. In the same pan, heat 2 tablespoons olive oil and fry diced carrots, celery and thyme. When they are almost soft, add onions and garlic then fry for an additional 3 minutes. While that cooks, heat water in a large pot and begin boiling the potatoes.
3. Return meat to pan with vegetables and add tomato purée, then sprinkle the flour onto the meat. Cook, stirring constantly, for 2-3 minutes.
4. Add the red wine (optional) and Worcestershire sauce and cook until the liquid has reduced to half the original volume.
5. Add the chicken stock and bring back to the boil for 15 minutes.
6. Meanwhile, make your mashed potatoes by draining the potatoes and mashing or mixing with butter, salt and pepper. Add enough milk to make a smooth mixture. (Avoid adding too much as the runny potatoes aren't ideal for the topping.)
7. Spread the meat mixture into a baking pan or individual oven-safe dish making sure to leave room the topping.
8. Dollop on the mash mixture and spread evenly across the meat.
9. Sprinkle on a bit of your favorite cheese like cheddar. (This step is optional.)
10. Bake for 15-20 minutes in a 400 degree oven.
11. Remove from oven and serve!