Ice Fishing On Lake Erie – The Thrilling Winter Beauty of Lake Erie Shores & Islands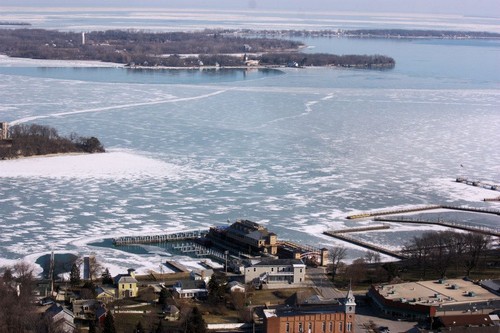 What better way to spend a day than outdoors with your kids, wife or best buddies on a quiet lake ice fishing?  The excitement of feeling that tug on your line and then battling the fish as you try to haul it up through the dark waters and out of the hole is an experience you'll never forget. Winter on a frozen lake provides an opportunity to see nature as you might never have before.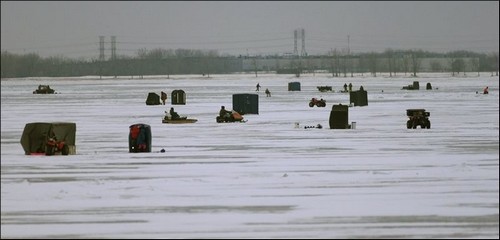 Imagine looking out for miles across the vast frozen expanse of one of the Great Lakes while your lines are in the water – waiting for a giant walleye or another fat yellow perch to bite! Ice fishing on Lake Erie is in full swing now – particularly in the Lake Erie Shores & Islands region. Cold winter temperatures and healthy snowfall has Lake Erie covered in thicker ice than it's seen in two decades so the ice fishing season will be long and active. The ice is so think in some locations that it's quite possible to drive a car right out onto the lake, although it's obviously not recommended, but you know you are safe and solid… and those fish are down there hungry for your bait.
The gentlemen below just caught a massive 37″ Walleye, which is huge by any standard but absolutely magnificent  considering he had to haul the monster through a 12″ diameter hole in the ice!  That lunker has a girth almost as large as the hole.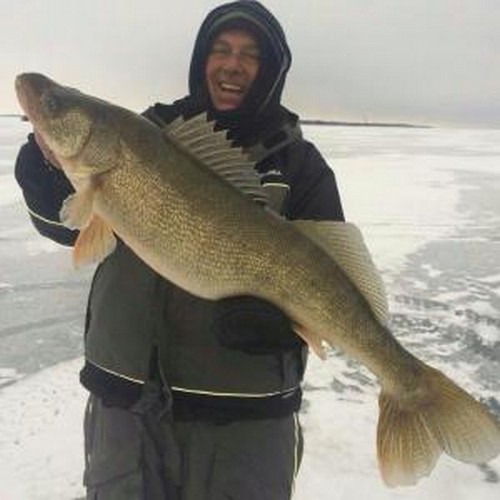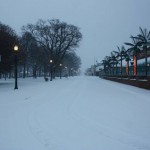 For some, ice fishing during the winter months is not only a rite of passage, but a way of life. Particularly residents of Put-in-Bay on South Bass Island. This popular winter destination island playground sees its population swell due to tourists and locals alike coming in to enjoy the amazing ice fishing followed by dining and nightlife. The village of Put-in-Bay owes its historical significance to Perry's International Peace Memorial which stands 352 feet above the western basin of Lake Erie, paying tribute to Commodore Oliver Hazard Perry and his heroic victory over the British during The Battle of Lake Erie in 1813.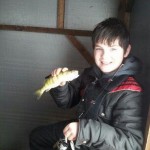 For others it's a chance to knock something very unique and cool off their bucket list. Guys like South Bass Island fishing guide Bud Gehring (419-261-0165) and Buckeye Fishing Charters are more than happy to help visitors take their first shot on the frozen lake.
While walleye and yellow perch are the two most sought after fish during the ice fishing season, there are plenty of other species in the mix including crappie, bluegill, and pumpkinseed sunfish.
Venturing out onto one of the frozen Great Lakes seems unique and adventurous and it is, but it's also important to take the proper precautions and prepare so as to get the most out of your experience. Calling the local area bait shop is a great idea since these folks know exactly what you'll need in terms of clothing and equipment and can help you to do it all – this includes renting or purchasing bait and tackle, shanty rental, heaters, and hole drilling, as well as getting together with a trained ice fishing guide who will ensure that you have a productive smooth experience. The Sandusky Fish Research Unit (419-625-8062) is a great resource and place to start when delving into the world of ice fishing.
In addition to the marvelous sport of ice fishing the Lake Erie Shores & Islands region offers adventurers and nature lovers even more. The best way to hook up with the right outdoors activity for you is to talk to your local bait and tackle shop or guide – these people live and work in the area and can provide the connections you need.
I've fished the year 'round all of my life – from Quebec, Canada down through Vermont and upstate New York on Lake Champlain and west to the Great Lakes and I can honestly state that some of my very best fishing experiences have been on the ice. Winter is a time when most people want to hide indoors but ice fishing opens up a new horizon for safe outdoor fun. Get your line in the water through that hole drilled in the ice and sit back and wait for that first strike. You never know if it will be a chunky 1 pound perch or a whopper walleye of over 10 pounds on the end of your line! Proper clothing, gear and preparation allow you to get right up close to nature and the friendly helpful professionals of Lake Erie Shores & Islands are always available make your ice fishing experience the best!
Photo credits
:
Miller Ferry, Timmy Niese, Mary L Staley, Lora Mycoskie, PIB Chamber