5 Ways Discount Travel Booking Sites Are Costing You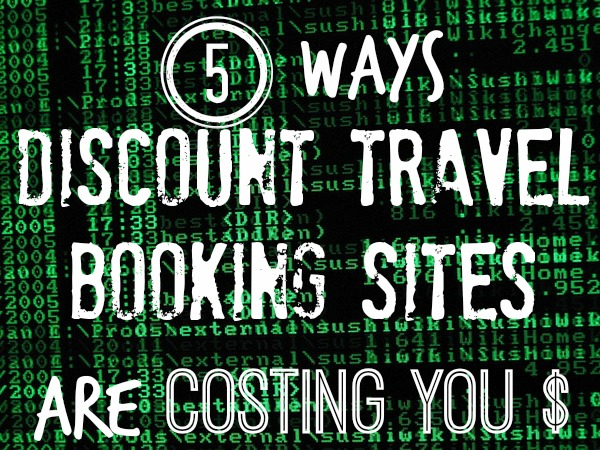 When the question, "Which discount travel booking site do you use for the best savings?" comes up, I cringe. The answer is – "None of them."
When these sites began to pop up, they were a slightly different beast than they are now. Sure, they are often convenient, make discounts more accessible, and have nifty phone apps you can use on the go. However, you might be paying more for the undesirable rooms than other guests who booked also online or by phone. Why? For starters, these are just 5 ways discount travel booking sites are costing you…
1. Hotels know how you booked. If you used Expedia or Orbitz, they will know it – obviously. However, the hotel wants guest loyalty. If you booked via a discount site, it tells them you picked them based on rates and, most likely, you won't repeat your visit unless another discount is offered.So,  guess what room you are going to get? The worst rooms, are more likely to go to those bookings taken by 3rd party reservations. Hotels will save those upgraded, renovated, or quiet rooms with a view for VIPs and loyal guests.
2. Many company websites offer the same if not better rates. Find a specific hotel or airline using a general aggregator like Kayak. Then, go directly to the company's website. You might be surprised to see different rates, special offers, or different route options for flights. For example, Groupon is offering a "Getaway" for the Palmer Hilton in Chicago for $109 for the double bed room. When I called to ask the hotel a question, I was informed that $109 was the standard rate for the room during my travel times. I checked the Hilton's website and it was, in fact, the standard rate. The agent quickly offered me a discount to book through them, free cancellation, and I didn't have to pay a dime until check-in.
3. They are tracking you. Your gadgets could be costing you. Sites will track your cookies, your rates will likely see an increase if repeat visits are tracked to the deal because it conveys interest. Once you see the prices going up, it encourages you to book now before more price hikes. Northeastern University recently released their study on this topic. Major e-commerce sites personalize prices per customer. They base these gouges on the user's software and browser history (which are mentioned above).
4. Those "personalization" options are actually practicing price steering and price discrimination. According to Northeastern University's study, Orbitz and Cheaptickets offered cheaper prices to customers who are logged on to their site. However, Orbitz had a habit of promoting pricier hotels specially to Apple users. Expedia and Hotels.com also engage in A/B testing that steers a subset of users towards more expensive hotels. Meanwhile, Travelocity users on mobile devices had the same steering, along Priceline, who "personalizes" search results based on the user's history of clicks and purchases. It is noted that airfares were not subject to these practices.
5. The browser, operating system, and device you use matter along with your location. Different browsers were also used in the study along with Macs versus PCs, and tablets/mobile phones. Mac users tend to see higher prices and results sorted by high-to-low price points. Contrarily, Travelocity "alters hotel search results for users who browse from iOS devices". Prices were typically higher for those not using iOS.
The big question in all this…how can consumers avoid these practices?
I'm sure there are several solutions, but my tried-and-true favorite is calling the hotel directly. Don't bother with the generic 800 number. Make sure you call the actual hotel. You are more likely to get discounts with a human if you are polite and ask.
If you feel you must book online, make sure you clear cookies, start a private browsing session, and write down the lowest price you find. Once you have found your ideal rate, compare it to what the specific hotel/airline's website offers. You are still more likely to score better rates by calling the company directly, but you might score perks discount sites don't offer.
Also, don't forget some companies, like Southwest Airlines, specifically leave themselves out of these aggregated search engines and third party sites.