Best Exclusive Clubs for Celebrity Spotting and How To Get In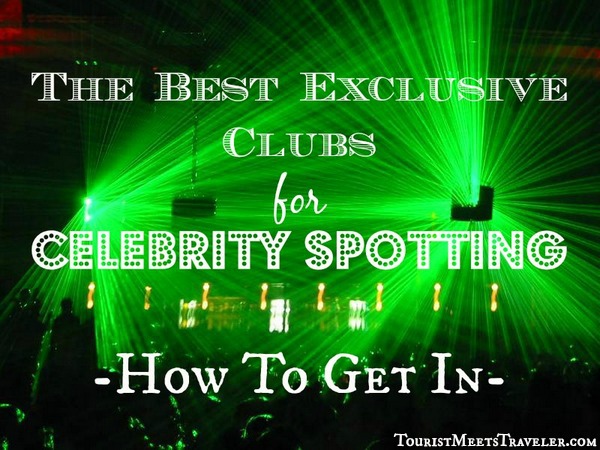 If you are looking for a place to see the kind of stars that walk read carpets, these clubs will be some of the best locations for celeb spotting.
California – Los Angeles
Greystone Manor Supperclub – Rihanna is fan of this club. Maybe its the velvet rope and its gatekeeper that only let the VIPs in or the large ornate chandeliers, plush couches or famous DJs spinning that draw celebs like Jennifer Lopez inside.
Get Inside – Just like any other hot spot, you won't be able to walk right in. To ensure you get past that rope, book a dinner in advance, reserve bottle service or purchase a VIP Fast Pass.
AV – Johnny Depp, Lindsay Lohan, Leonardo DiCaprio and even Mel Gibson are repeat visitors to this Baroque-themed club. Sid Vicious, Shift and Vice often spin while go-go dancers on multiple platforms get the party started.
Get Inside – This place is easier to get into, you will need dinner reservations or arrange a private event.
New York – NYC
PH-D – You might catch a glimpse of Tyson Beckford at this rooftop club. Set atop Dream Downtown Hotel, the penthouse bar is pricey, but celebs seek it out to enjoy a VIP experience.
Get Inside – Be prepared to put a dent in your credit card. Your average Joe won't make it inside without a reservation and pre-purchased bottle or two. Aim to go during the week to increase your chances for spotting a celeb.
Provocateur Café – Justin Timberlake is a frequent flyer of this jet-set crowd. It is located on the backside of the Gansevoort Hotel and one of the hardest places to get into in New York City.
Get Inside – Unless you are tall, lanky model with hookup, you have nearly a zero-chance of walking in the door. Owner Mike Satsky has stated the VIP exclusivity is so stringent that less than 1% of average civilians get passed the doors. However, a limitless credit card, reservations and mini-skirt will help your situation.
England – London
Shoreditch House – Located in a warehouse building, this is a members only club that lets celebs of all status unwind in peace. There is a little bit of everything housed in the three levels. Sitting rooms for relaxing, game rooms for some indulgent fun and the rooftop club cater to your desires.
Get Inside – It's members only, but those guests who stay in one of the 26 bedrooms will get access to the club without a membership.
The Cuckoo Club – There isn't a shortage of pink, burgundy, and purple hues or a style-sensitive crowd. Wear gym shoes, no matter how upscale they might be, and you will get a snort of derision. Diddy and royalty alike will party in this chic and uber-trendy club.
Get Inside – Dress to impress, reserve a table, put your name on the guest list online and…did I mention dress to impress? Members will get easily.