Break Winter Blues in Midwest Hotspot – Sandusky, Ohio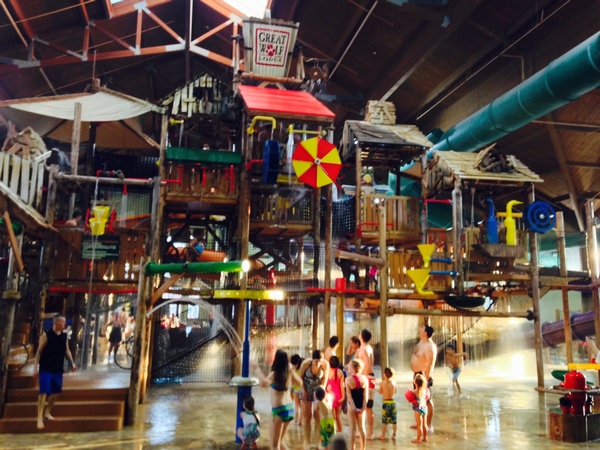 When most hear Sandusky, Ohio, their mind immediately conjures up images of 120-mph roller coasters that has 80-degree drops at the Roller Coaster Capital, Cedar Point. I remember riding the Raptor as a child during our yearly pilgrimage to the amusement park. Every summer we'd conquer the ever-growing list of roller coasters.
But, I never realized the adventures the entire city offers, even in the doldrums of winter. This record breaking season has just about everyone yearning for sun, the beach and swimsuit weather. When I discovered the indoor winter blues breaking experiences, I packed my one-piece and headed for Ohio.
Great Wolf Lodge has a string of indoor water parks that let you escape the frigid temps and snow. We arrived at the Sandusky location and my children gasped as they feasted their eyes on the slides that emerged from the side of the building and disappeared back inside. After checking in, we were delighted to find every room was a suite. Our digs boasted two double-beds and a sofa that converted to a pull-out bed. It was cozy and was also equipped with a microwave and mini fridge that was perfect for storing and reheating pizza from the on-site eatery, Hungry As A Wolf.
Pizza isn't the only dining option, two other eateries were just an elevator ride away. If you have a sweet tooth, I recommend the fudge and popcorn from the Bear Paw Sweets & Eats shop. Several flavors and other options will satisfy the need.
Activities were constantly available. Face painting, crafts, and story time just before bed in the main hall of the lodge were all offered. An arcade called to my son every time we passed it on the way to the water park. You could spend days indulging in the options, but the main attraction was the water…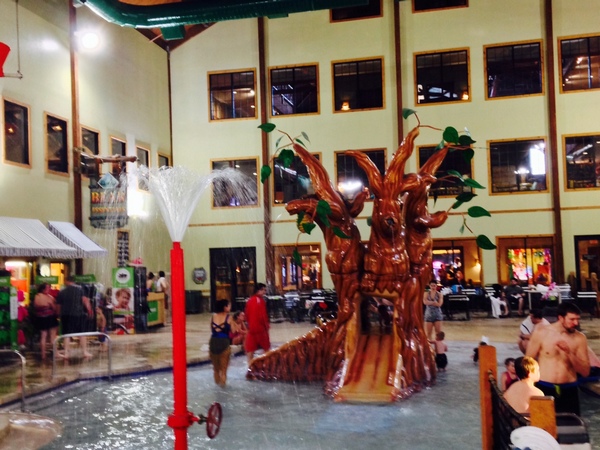 Six different areas, all suited for different needs, are waiting for you. A toddler section with a zero-entry area surrounding a tree that doubles as two kiddie-sized slides kept my 2 year old busy along several fountains raining down water. I noted several babies enjoying the splashes as my daughter squealed with glee every time she conquered the sides which have a special soft, padded landing to ensure safety.
A lazy river was small, but just the right length for your average child's attention span. Larger slides were busy, but not packed as tweens and teens made loop after loop riding each one. Separate slides for those in-betweeners (not a little kid, but not a double digit either) immediately had my 6 year old addicted. An area just for swimming even had a giant log and snake for swimmers to sit on or, my 10 year old who made a few friends, used to play some gladiator style "King of the Log" in which they straddled the giant anchored float and attempted to wrestle each other off of it.
The biggest draw was the fort-meets-obstacle-course which had nets, hoses, tunnels and bridges that led to another slide. This was all immensely fun, but the giant bucket that sat on top of the fort had kids abandoning whatever they were doing the second the foretelling chimes began to ring. As the chimes ended, the bucket emptied over the play area and soaked cheering guests.
In need of a break from the water adventure? Just minutes down the street from the lodge and Cedar Point is Ghostly Manor Thrill Center. If you want to venture into the world of haunted fun, you can hit up the castle encased building guarded by a giant dragon. Inside, you will find that a skating rink, small arcade, glow-in-the-dark mini golf and 5 giant bounce houses, slides and obstacle courses accompany the haunted house. The experience was better suited for tweens and teens so our family didn't indulge in the scary options. It was too bad, as I think that was the strongest offering worth the price of admission.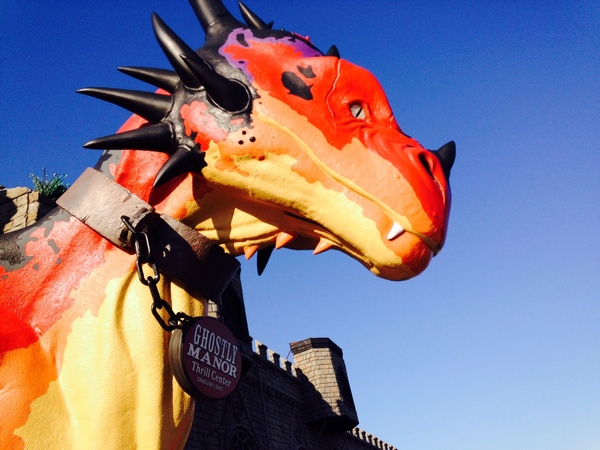 The Travel Channel featured the horror-filled experience and it was named one of the Top 25 Most See Haunts by Haunted Attraction Magazine. So, if scary adventure is just what you need, then I recommend you see how far you can make it!
All along the road that runs through the heartbeat of the area you will find restaurants, most of which are your typical chains. But, just a few minutes from the lodge, tucked away in Ohio, you will find Berardi's Family Kitchen. I am a huge fan of quirky dives, unique eats and local gems. I was delighted to find this place. It looks just a little family diner that has survived a few ages, but it is so much more than that. The hostess was a charming lady who brought us drinks to help out our busy, but super sweet waitress.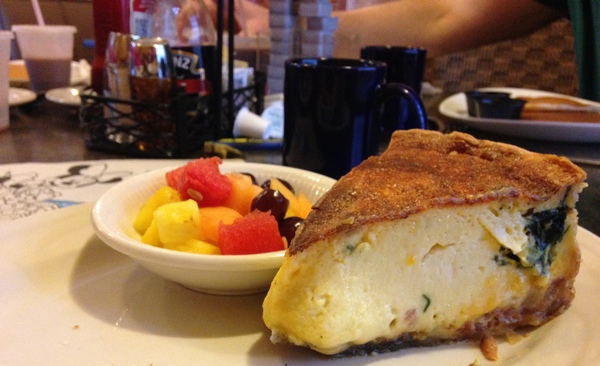 We arrived for breakfast and I attempted to scarf down an entire order of Mile High Spinach and Bacon quiche, but it was gloriously filling and I was forced to share. The kids loved the Mickey Mouse Pancakes, French Toast and the Cinnamon Swirl Bread that was deliciously dripped with a sugary glaze. However, I saw fellow patrons ordering French Fries. I am such a fan of breakfast staples, I had to ask a fellow diner – French Fries for breakfast? Then I tried one….Go home steak fries. You're out waffle fries. These were some of the best fries I had ever had and the question for deep fried potato for breakfast was answered.
For nearly 70 years, this place has been around and cranking out these insanely delicious fries you can find at Cedar Point. You wouldn't look and it and realize that it is currently ranked at #13 of the 158 restaurants in Sandusky. The menu offers family-fare focused on quality. Just about everything is made and hand-dredged right there. The case featuring pies, cookies and puffy concoctions stuffed with cream and goodies is simple, but houses some amazing creations all made in the hidden gem. The menu also offers healthy protein focused dishes and gluten free options.
Oh, Ohio. You have won my heart.
Stay tuned for more of my trip to the midwest! My Cleveland adventures will follow.