Bring The Taste of Rome Into Your Home! Pork Minestrone Soup Recipe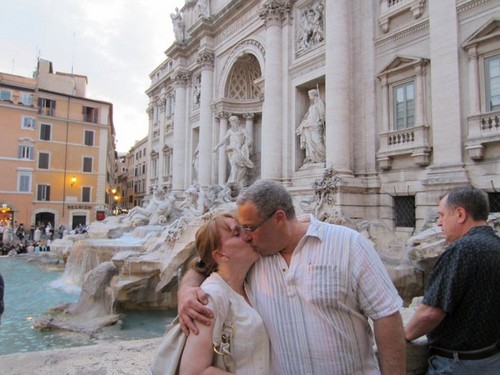 Rome is amongst the greatest cities of the world for travel. If you love history, art, architecture, walking, great weather, friendly people, amazing food and tremendous wine then you will love Rome. For many centuries Rome was the capital of the Western World and it shows – the greatest minds and powers found their way to this city and left it changed for the better.
My husband and I have been regular visitors to Rome since we first traveled here in 2010 and fell in love with the city. We spent one of the happiest vacation weeks of our lives on that trip and before we left we vowed to return.  Although people told us when we first went to Rome that we would be able to see everything in one week, they were wrong. Since that first vacation we have returned four more times and each trip we continue to find things to see and do that are new to us – new museums and churches – new restaurants – new walks, and new shops.
We are going back to Rome this June and believe it or not there are still many things we have not seen or done there.  We love Rome for its history, climate, beauty, art and architecture – but what we really look forward to most is the food and drink!
Some of our favorite restaurants in Rome are:
My husband and I are obsessed with Italian food so when we are there we buy lots of seasonings, olive oil and other ingredients so when we get home we can make many authentic Italian dishes. With the cold weather in the Northeast one of the dishes we use to satisfy our Italian cravings is the hearty Pork Minestrone Soup recipe below.
Bring a touch of Rome to your home.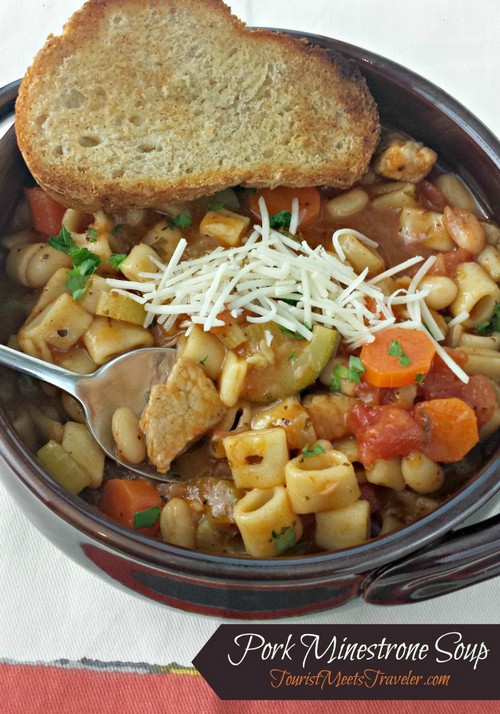 Pork Minestrone Soup
Prepare the Pork:
1 tablespoon olive oil
1lb pork, cubed
½ teaspoon paprika
1 teaspoon granulated garlic
1 cup onion, diced
1 tablespoon fresh parsley, minced
Salt and Pepper to taste
Prepare the Soup:
1 tablespoon butter
1 tablespoon olive oil
2 large carrots, diced
2 celery stalks, diced
1 small zucchini, diced
3 small cloves garlic, minced
1 (14.5oz) can fire roasted stewed tomatoes, chopped
1 (14.5oz) can Great Northern Beans, drained and rinsed
2 tablespoons tomato paste
1 cup water
½ teaspoon dried marjoram
1 teaspoon paprika
½ teaspoon dried basil
4 cups chicken stock
1 cup ditalini pasta, uncooked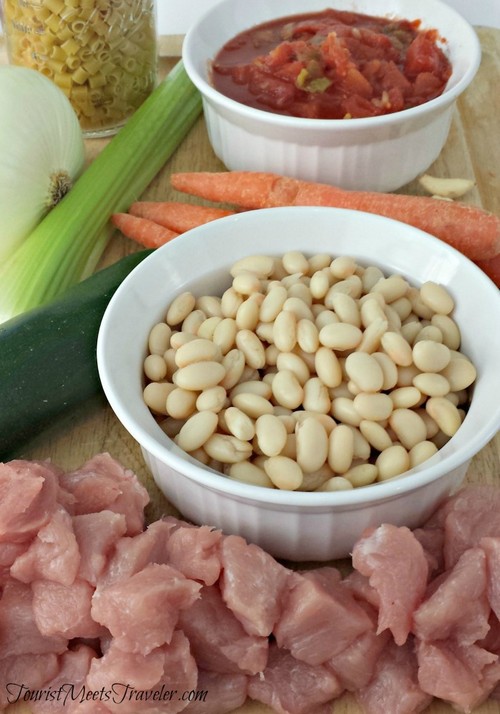 Directions:
Heat a pot of water to boiling and cook the pasta for 8 minutes. Drain and set aside.
Add the olive oil and butter to a large stockpot and combine the zucchini, carrots, and celery.  Cook over low heat.
Meanwhile, in a large skillet, heat the olive oil and add the onion.  Cook on low until the onions are soft.  Add the pork and turn the heat up to high.  Season the meat with the granulated garlic, parsley and paprika.  Brown the meat, then transfer the mixture to the stockpot.
To the stockpot, add the beans, tomatoes, and chicken stock.  Microwave the water in a measuring cup with the tomato paste and stir to combine. Mix in the tomato paste mixture.  Season with marjoram, additional paprika and basil and increase the heat, bringing the soup to a simmer.  Cook for 30 minutes.
Serve with Parmesan cheese for garnish if desired.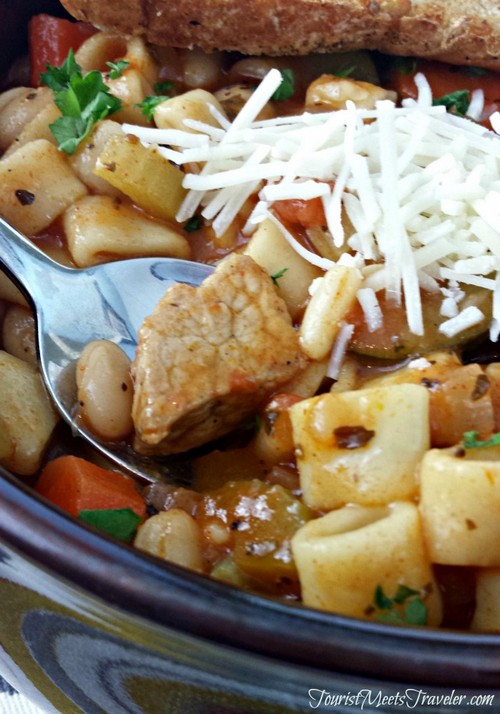 Buon Appetito!