Celebrate the Opening of Diagon Alley in Universal Orlando with this Homemade Pumpkin Juice Recipe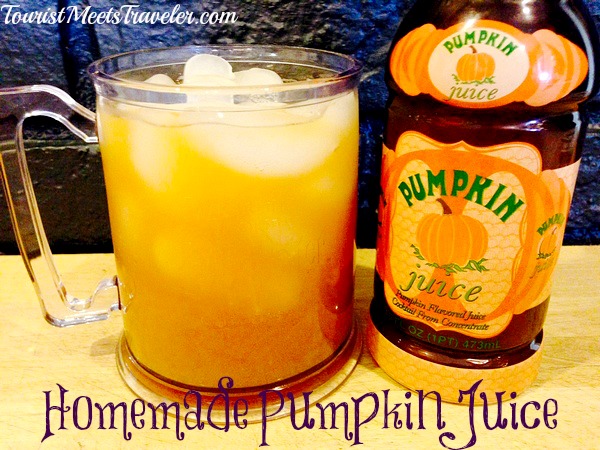 The official date of the opening of Diagon Alley – Wizarding World of Harry Potter in Universal Orlando is…still unknown. BUT, all signs point to a mid to late June opening.
Several super-lucky muggles have been invited to a Media & VIP Preview set for June 17-20, 2014. This leads one to deduce that if they are playing out the event the same way they did during the last unveiling, Diagon Alley might open on June 20th, 2014!
While wait for the official opening of the WWoHP expansion, you can make your Homemade Pumpkin Juice using this tested recipe…
Being a devoted Potter fan, I located my souvenir bottle of Pumpkin Juice and checked out the ingredients label to create the most authentic pumpkin juice I could brew up. In order: water, apple juice concentrate, pumpkin puree, apricot puree, sugar, natural and artificial flavors, citric acid, acesulfame potassium, sodium benzoate.
I attempted several variation of the recipe. The third time proved to be the charm. Most recipes insist on using apple cider. Being a bit of Potter-purist, I stuck to the ingredients label and used apple juice concentrate. Feel free to swap out the apple juice for cider.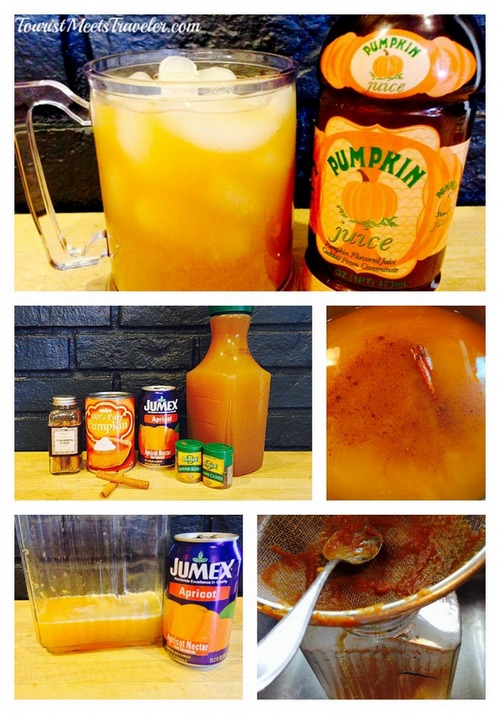 You Will Need:
1.75 L (59 FL OZ) of apple juice concentrate
1 can of pumpkin puree (you can find this in the baking section of your local grocer)
2 cans of Apricot Nectar (I found cans of Jumex brand nectar in the foreign food section at my grocer)
1/4 cup of brown sugar
1 and a half tablespoons of pumpkin pie spice (mix of ground ginger, cinnamon, allspice, cloves, nutmeg)
1 tablespoon lemon juice
1 large vessel to store the juice in
1 large pot to brew up the juice
1 mesh or wire strainer
Homemade Pumpkin Juice Recipe:
Pour half of the apple juice, both cans of apricot juice and lemon juice into the vessel you will be storing your juice.
Mix the remaining half of the apple juice, pumpkin puree, brown sugar and spice into a pot.
Heat gently over medium-low heat for five minutes, stirring into a silky smooth mixture.
Set the strainer over your apple/apricot juice filled vessel and slowly pour the pumpkin mixture through the mesh. You might have to stir and pour in batches to prevent clogging.
Serve over ice or warm it up for a yummy cold weather drink.
You can skip the heating part, but I really think it helps the spices release their flavors and infuse the juice with the pumpkin puree. However, you will need to strain the puree.