Diagon Alley in Universal Orlando News – Food, Rides, Shopping Details Plus Photos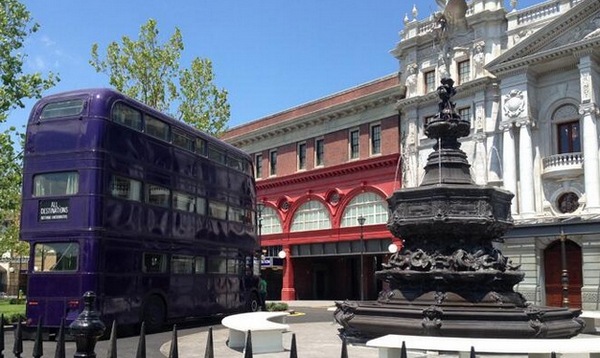 The walls hiding the Wizarding World of Harry Potter's Diagon Alley are down and the reveal is well worth the wait. We still don't have an official opening date, but vacation packages featuring Diagon Alley begin June 29th 2014. However, media outlets are scheduled to arrive June 18th and 19th, along with a few of the film's stars. (James and Oliver Phelps joined Bonnie Wright for a sneak peek late last week.) This would lead eager fans to assume a soft opening would follow immediately afterward.
Diagon Alley, Universal Orlando – FOOD
Universal's blog shared a peek at the new food that will be offered at The Leaky Cauldron. It will be a similar serving setup as The Three Broomsticks, but the menu will feature new dishes…
Bangers and Mash (traditional roasted sausages with creamy mashed potatoes)
Toad in the Hole (traditional sausage baked into a Yorkshire pudding and served with onion gravy)
Cottage Pie (a savory combination of meat and vegetables in a potato crust)
Fisherman's Pie (salmon, shrimp and cod baked together under a potato crust)
Beef, Lamb & Guinness Stew (served in a bread bowl)
Ploughman's (a feast of English cheeses, crusty bread, cornichon pickles, apple beet salad, Branston pickle and a Scotch egg)
Split Pea Soup
Banger Pub Style Sandwich
Fish and Chips
When creating the menu, the goal was to stay true to the book, but the only mention of anything on The Leaky Cauldron menu was split pea soup. The rest of the offerings are a lineup of traditional British fare that is a welcomed change from the typical theme park burger. It's hearty and found in the typical pub across the pond. In fact, some of the ingredients have been imported from England!
The official flavors of Florean Fortescue's Ice-Cream Parlour were also confirmed. (We shared a few them on Twitter a few weeks ago!)
Granny Smith
Earl Grey and Lavender
Chocolate Chili
Clotted Cream
Apple Crumble
Sticky Toffee Pudding
Salted Caramel Blondie
Chocolate and Raspberry
Strawberry and Peanut-Butter
Orange Marmalade
Butterbeer
The magic will also extend to the drinks. Pumpkin Juice and Butterbeer will be joined by several new refreshments…
Fishy Green Ale
Otter's Fizzy Orange Juice
Tongue Tying Lemon Squash
Peachtree Fizzing Tea
Wizard's Brew (draught beer)
Dragon Scale (draught beer)
Gillywater
At a cart located the new addition created for Universal Orlando, Horizont Alley, you will find Eternelle's Elixir of Refreshment. Here, you can select "elixirs" like Draught of Peace, Babbling Beverage, Elixir to Induce Euphoria or Fire Protection Potion and then add them to Gillywater to create your own custom beverage.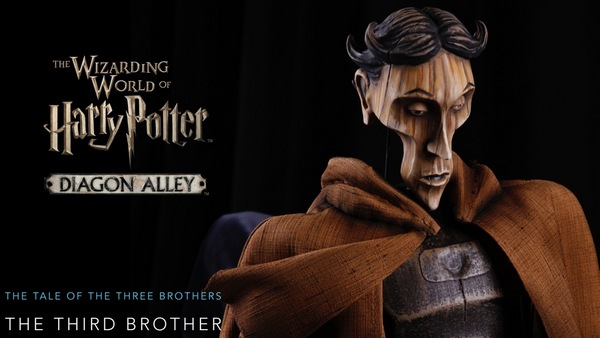 Diagon Alley, Universal Orlando – ENTERTAINMENT
As for the entertainment, The Hogwarts Express and Harry Potter and the Escape from Gringotts will be the new feature attractions. We have sneak peeks of both found here and here.
Carkitt Market is another new area re-created for guests to enjoy a truly immersive feel for traveling between the wizarding world and the muggle world. Here, you can catch the wizarding band, Celestina Warbeck and the Banshees, singing old favorites like "A Cauldron Full Of Hot, Strong Love" or "You Stole My Cauldron But You Can't Have My Heart."
The Wizarding Academy of Dramatic Arts will put on trunk shows of "The Tale of the Three Brothers" and "The Fountain of Fair Fortune" from the 'Tales of Beetle the Bard" will also delight guests. If they are anything like the film's beautiful rendition, we are in for an amazing treat.
Diagon Alley, Universal Orlando – SHOPPING
Crack open your piggyback, there will be plenty to drop an significant amount of cash or "Wizarding Bank Notes" on. Yes, the park has created a special method of payment (a tiny bit like gift cards) for muggles to exchange currency.
Ollivanders will have a second location that is larger than the first. Upgraded wands can purchased and they will be worth the extra expense – they are interactive within the park! Special effects will be triggered by the new versions of the must-have souvenirs. Potter enthusiasts should also look for a hint of Gregorovitch, the one-time owner of the Elder Wand, here too.
For the fan of the dark arts, check out Borgin and Burkes for Death Eater masks, skulls,costume replicas, apparel, accessories, jewelry, collectibles all befitting the dark witch or wizard.
At Wiseacre's Wizarding Equipment is home to wizarding wares and supplies that includes crystal balls, telescopes, binoculars, armillary spheres, compasses, magnifying glasses and hourglasses.
The Magical Menagerie is a place, I foresee, being popular with the younger crowd. (My kids still have nightly arguments over who gets to cuddle with Crookshanks while they sleep.) You will be able to find more cuddly options here including cats of every color, ravens, sleek black rats, and fat white rabbits that transform to and from a silk top hat. Nifflers and Cornish Pixies might be available too.
Images Via: Universal Studios, Twitter