Dining in Paris: Enjoy Heavenly Soufflé At La Cuisine de Philippe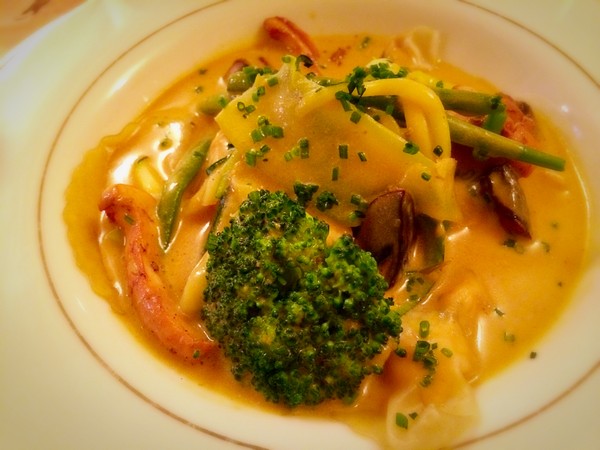 Every city has their signature dish. You can't visit Rome without savoring the richness of a carbonara dish, or leave Valencia without sharing a sizzling skillet of paella with friends. In Paris, there are a number of famous dishes to choose from: pain au chocolat, croquet monsieur, crepes, escargot—the list goes on and on. For me, I couldn't vacation in Paris without having the perfect soufflé.
After being turned away from a fully booked restaurant the night before, I learned my lesson and made reservations at La Cuisine de Philippe. Parisians usually fill up the best restaurants around 8 pm (nearly every night of the week) so you do not want to find yourself without a reservation. I felt especially lucky to have a reservation at this Luxembourg Gardens-adjacent restaurant when I saw that they were turning away walk-ins. La Cuisine de Philippe is run by a lovely couple with the chef, Philippe himself, manning the kitchen and his wife taking care of business in the dining room.
While I very much enjoyed the seabass and seafood ravioli entrees at La Cuisine de Philippe, the star at this eatery was the soufflé. As appetizers, both the crab and lobster soufflé and cheese soufflé were heavenly. These puffed up cups of euphoria were both light and rich. Oh, but my soufflé extravaganza did not stop there. For dessert, I had the pistachio soufflé : a lovely blend of pistachio, eggs, and chocolate.
In California, souffles are a rarity on restaurant menus and when they are found, the average chocolate soufflé is nothing to brag about. For that reason, I appreciated the unique experience I had at La Cuisine de Philippe for giving me a taste of a French specialty that I would never attempt at home and am seldom impressed by in restaurants. During my time in the restaurant, Philippe took a break from the kitchen to greet me as he did with every patron there that night. He shook my hand, introduced himself, and made a lasting impression. I appreciated the care both Philippe and his wife put into their work and their wonderful establishment.